So you've started your affiliate business but you're not seeing success with that. Well, I know how you feel because I've been there before. When I started my affiliate marketing journey for the first one and a half years I barely made anything. So, I decided to ask other successful affiliates in my niche, why can't I make money from affiliate marketing? And this is what most of them told me.
There are so many reasons why you could not be making money in affiliate marketing. It could be that you're not working long enough thus, giving up too quickly, and also, you're not providing enough value to your audience or you're targeting the wrong audience. It could also be that there is something wrong with your product and your landing page.
For instance, if you're getting thousands of clicks to your offer you're still not making any money from it, that simply means you're targeting the wrong audience.
By the way, getting clicks on your link is very important, meaning you have a higher chance of making a sale. 
However, getting an irrelevant click to your offer is what is wrong. But, to avoid that, make sure you promote the right offer to the right audience.
Remember, you can't promote 'Dog food to Cat owners', it's not congruent and they are not going to buy that product.
Make sure you check those things if you're struggling to make sales in your affiliate business.
Read on to learn more about your question. Plus the best way to start affiliate marketing and make money from it.
With that being said, let's dive in.
|Click Here To Get The FREE Affiliate Marketing Training Course You Need To Succeed Online|
But, Can You Really Make Money From Affiliate Marketing?
Yes, you can possibly make money from affiliate marketing. However, in order to earn a significant income, it's going to take a lot more work than you can expect.
You need to focus on creating more super detail and valuable content for your audience to consume in order to build trust with them.
If you're just promoting your affiliate link without providing any real value to your audience, guess what? They're not going to trust you and if they don't trust you, they won't buy from you.
Remember, your audiences are not that stupid. They can easily sense when you're just trying to help them by providing valuable information for FREE. 
So, rather than just trying to get them to buy your product. 
Try this approach…
Try to put their needs first by adding value to their lives to first build trust and relationships with them.
And when you establish that TRUST with them, overtime, you'll start to see results.
However, to be honest with you, building that trust with them, it's going to take you a fair amount of time and a lot of work to achieve that. 
But, once you've built that trust with them and you keep it.
There's nothing that can stop you from making money with affiliate marketing.
Okay, now that you know it's possible to make money from affiliate marketing. Let's take a look at some of the things that are preventing you from making your first sale from your affiliate business.
Here Are 12 Reasons Why You Are Not Making Money From Affiliate Marketing
What is affiliate marketing? Affiliate marketing is a type of performance-based marketing in which a business rewards one or more affiliates for each visitor or customer brought by the affiliate's own marketing efforts. Source
My definition:
Affiliate marketing is a process whereby you send traffic to a company website or online retailer, who in return pays you a commission for every purchase your referral makes.
Now, for you to successfully earn this commission, you need to send or generate good targeted traffic to your affiliate link.
Why?
If the people clicking on your link are not the right, targeted audience, guess what? You won't make any sales.
Let's take a look at the factors that play a huge role in this:
How targeted was the traffic? If you don't target the right people, your chances of making a sale from your affiliate offers are slim.  Make sure you target the right audience.
How good was the sales page? If you're getting the right audience but still struggling to make a sale. It could be that your sale page isn't of good sufficient quality. Make sure to have a good, attractive and well optimized sales page.
How warm was the traffic? Now, if you have targeted traffic, a quality sale page but still getting no sales. This is a whole thing all together. This could be that the audience you're attracting are not a-ready-to-buy-customers. They're just some kind of freebie seekers. If that happens, change your traffic source.
So, what can you do to increase your chances of success in your affiliate business?
Create Quality content. Produce fresh valuable, high-quality, relevant, and  interesting content for your audience to consume and they'll keep coming back to your site for more once they find you. 
Driving Targeted Traffic To Your Offer. In affiliate marketing if you don't get traffic, you're not going to make any money. However, don't just drive any kind of traffic to your offer but rather leverage quality traffic sources to attract qualified, targeted audiences to your offer. In simple terms, make sure your traffic is highly targeted.
Promote Quality Product. Don't just promote any kind of offer to your audience just for the purpose of making commission. Your affiliate offer must address or solve your audience's needs or issues. 
Read On As I Share With You Reasons Why You're Still Making Enough Money Sale In Your Affiliate Business You Need To Do To Avoid That:
1. You Are Not Providing Enough Valuable Information
A lot of people focus on making money to the extent that they even forgot their audience's NEEDs and why they came to their site.
Remember, people don't visit your site just to buy a product. They came there for a solution or answer to their questions or problems.
If all you focus on is to sell to them without providing any kind of value to them, well, I can tell you from personal experience, you won't go far.
Move from that state of mindset and become a CREATOR. 
I mean, figure out what your audience's biggest problems and pains are and provide a solution to that.
Taking this approach – they will start to see you as an expert, get-to-person for help, and trusted source in your industry.
Positioning yourself in your industry as a trusted and reliable source will bring in more sales into your business rather than just spamming your audience with your affiliate link.
Now, as you've built trust with your audience by only providing helpful information to them. 
You can then offer additional solutions to their problems and thus, by recommending a product and service that YOU think will further help solve those problems for them.
See… I know you're here to make money, but sometimes if you're not an affiliate of the product that you think will help solve that particular problem for them, still recommend it to them.
Why?
You know what, we're trying to build strong and long-term trust with them. Which will even pay off much more in the future.
Success is not the result of making money, earning money is the result of success - and success is the direct proportion to our service.
Click To Tweet
2. Your Site Is Not Looking Professional And Trustworthy
I believe you have heard this saying before: "Don't judge a book by its cover" yes, that's absolutely true but not in all cases.
Back in the day, you could set your website and put any ugly design on it and your visitors would still buy whatever you're promoting or selling on that site.
Well, in today's internet age, that doesn't work anymore. 
If you want to build an affiliate website that will bring you more sales and profits, you need to have the following:
You need to have a good looking website (nice design)
Your website needs to load quickly and faster
Make sure your site is mobile-friendly
Good easy-to-read content ( make your content easier to scan and read. Don't have huge paragraphs)
Use headlines and subheadlines to break up your content
You need to be trustworthy (proof that you're a real human being)
I want you to take note of this: If a visitor can't trust your site, they aren't going to buy from you. They see it as somebody who is trying to scam them.
Here are some of my recommended tools to make your site look professional and attracted to visitors:
Bluehost – Hosting plays an important role in terms of making your site load quickly for your visitors. If your site is taking longer to load, people are going to bounce back and if that happens, they won't visit your site again anytime they see in the search engines. In the hosting industry, Bluehost is considered to be one of the best in terms of making your site load faster for your users. Bluehost is user-friendly for beginners and very affordable.
Divi Theme – A theme also plays a part in page load speed, make sure you pick the right theme. Have you ever visited any website and said wow what a beautiful design? Yeah! That website might be using a Divi theme. If you want a professional, well-looking website, Divi is your best bet.
Thrive Theme – Thrive theme is also another amazing theme with tons of marketing tools. If you're a marketer, thrive theme is your best bet. They have marketing tools that allow you to capture your visitor email addresses and follow up with them through an autoresponder. When you use a theme, there's no need to pay for extra email software.
3. You Are Sending Traffic Directly To A Product Sale Page
People buy from people they know, like, and trust. 
You can't make any sale in affiliate marketing until you're able to build some sort of TRUST and RELATIONSHIP with your potential customers.
Now, to build that trust with your audience, you have to first send them to a bridge page. 
The bridge page allows the visitor to see you as a real human being whom they can trust with their money, someone with whom they can relate and connect with.
Someone who they can assume knows the problem, pain, and challenges they are facing and can somehow help them.
Now, as you've introduced yourself to them and they see and know you're a real human being, guess what? You have already built that know, like, and trust factor with them at that first exposure.
 And this takes them to a high level of trust where they might want to proceed and purchase from you. 
As I already said early on, people do business with people they know, like, and trust.
When it comes down to buying stuff online people are very much skeptical. If they don't know and trust you, they're not going to buy from you.
So, don't send people directly to a raw affiliate link. Bridge a gap between the product's sales page and first: 
Capture the visitors' email addresses. 
Introduce yourself and talk little about the product and how it going to help them, before 
Sending them to the actual product checkout page.
Why should I capture the visitors' email addresses?
Well, in case, if they don't buy the product at that first exposure, which the majority of them are not going to do. 
Now, you have a chance to remarket the same product to them over and over again until they decide to buy.
How To Build An Email List.
To build an email list – offer free bonuses or freebies to your audience. These freebies can be in a form of: 
eBook
Free training course 
Cheatsheet
Workshop, etc.
Now, create a form and link your freebies to it, and before they can get access to it they have to give you their email addresses for exchange.
Once they have opted-in their email addresses, they are now on your list. 
And you can start marketing your offer to them.
Some of these people on your list will become potential buyers that you can continue to market different products to in the future.
3. Lack Of Consistency And Patience
Making money online especially with affiliate marketing takes a lot of time, hard work, and effort, consistent posting of content, a lot of networking, and relationship-building.
However, upon all that you're not going to get the reward right away. It's going to take months or even years before you can start seeing any kind of results. 
And this is where I see a lot of people 'jump off the ship before reaching the harbor' (they give up or quit along the way before they even see any kind of success).
Now, if you approach affiliate marketing thinking you're going to make money from it overnight, you're making huge mistakes.
There is nothing like get-rich-quick online. Everything takes time.
This is the reality a lot of people don't realize and if they're into this business model for a few months or even a year and they're not making any money yet they get frustrated, discourage. 
And start complaining why they're not making any money from their business. 
Well, as I said, everything takes time. Keep working, keep posting content and be consistent. 
Let me tell you a quick story – when I first started my affiliate marketing journey, I didn't get results right away. It took me two solid years before I was able to make my first sale. 
During those moments I felt like giving up, however, I remembered WHY I started it all in the first place and that helped me keep going no matter the challenges.
I've come to realize that sometimes, knowing the reason behind why you started something is very helpful. 
Sometimes, it helps and motivates you to fight through the tough times.
Here is the thing… For YOU, I don't know how long it's going to take you to start making money with your affiliate marketing business. 
But I can promise you if you don't quit or give up along the way, overtime you'll surely start to generate sales. I'm speaking from experience.
4. Lack Of Knowledge About Your Topic Or Niche
Affiliate marketing is a broad topic full of competitions. To make money from this industry, you need to make sure you stand out among the crowd.
And to do that, you need to have in-depth knowledge about your niche. 
Why? I'll tell you why.
Here you go – so that you can be able to create high-quality content that'll outrank your competitors in the search engines.
Online content is said to be king and without it, you're going nowhere. Your success in affiliate marketing requires more in-depth informative content.
 If you can't create content that will outrank your competitor in the search engines.
Guess what? you won't get traffic and if you don't get traffic, you won't make money.
So, what am I trying to say here? 
Don't just jump into the affiliate marketing industry simply because you hear or see other marketers making a significant income from it.
But rather, you should first take time to gather some proper knowledge about it (what is it about, how it works, do's and don't, pros and cons, etc), before rushing into things.
If you want my advice, find a good affiliate marketing mentor to learn from. Someone who's already successful with what you're doing and learn directly from them. 
Or more importantly, if you have the funds you can enroll in a good quality affiliate marketing training course that will not only teach you the foundations of affiliate marketing but also in-depth about the subject.
5. You Are Targeting Multiple Niches At Once
A lot of people think marketing their product to diverse interests is going to dramatically increase their site traffic and income.
In my opinion, this is a bad idea – I know back in the days, we had sites that generally talked about multiple things on their blog and were very successful. 
However, these days those things don't work anymore.
Why?
The thing is, nowadays, if people have for instance multiple interests, they don't go to blogs that literally talk about all of those interests.
Rather, they find one that's specialized in each. 
NB: Though, you might be able to build a successful general-interest blog, however, you can't build that to authority and make a lot of affiliate sales.
If you want my advice, focus on one topic or niche until you have a significant number of users and success with that niche before moving to another thing.
[LEARN MORE HERE]… 10 Reason Why You're Not Earning With Affiliate Marketing
6. You Are Expecting Quick Result
Affiliate marketing is a real business, and just like any kind of business, it needs time to grow.
Your success in affiliate marketing is not going to happen overnight, it's going to take longer than you expect. 
However, your success will eventually come if you keep doing the work and don't quit.
Success in affiliate marketing is based on two factors:
Traffic
Trust and relationships
And both of these factors take a fair amount of time to build. 
TRAFFIC: A search engine like (Google), is not going to trust you when your site is new. 
So, for that matter, they will not send traffic right away to your content on a new site. 
It will take about 8 – 9 months or even a year before they will start trickling in a few traffic to your site.
TRUST: People are not going to buy your offer until you build some sort of trust with them.
They want to know if you're not scamming them. 
And for them to trust you and eventually purchase from you, it's going to take time.
Here is what I want you to do if you're in that stage: You should just focus on helping your audience by adding tons and tons of value to their lives. Don't try to sell to them at that stage. 
If you take that approach overtime the money will honestly follow.
7. You Are Following The Wrong Advice
Everyday, there are tons and tons of so-called 'gurus' teaching people all kinds of get-rich-quick methods, hacks, and strategies for earning money online.
Some of these 'gurus' promise they can show you a strategy where you can easily earn $1,000 a day with affiliate marketing without doing anything.
For some, they said, they can show you a method where you can set your affiliate site and leave it for a while and you'll start making money.
Well, amazingly a lot of people follow those lies blindly which leads them nowhere.
The truth is if that method really works or earns them money why are they giving it away for free? It doesn't make sense, don't fall for those lies.
Here is the thing, there's nothing like easy get-rich-quick or click a button and make money kind of stuff online.
These are all strategies those 'gurus' use to grab your attention so that they can get you to buy their expensive useless courses.
Oh! one funny thing is that most of their courses are outdated material and you can find most of them on YouTube for free. 
Following those courses will only lead you down the wrong path.
IMPORTANT: 
Find someone who has repeated success with affiliate marketing and is making multiple 6-figures per month from affiliate marketing.
Someone who shows you real proof of their success. 
Someone who's real, who knows exactly what he or she is talking about.
Someone who you can relate with.
And learn from them or if they have a course, you can enroll in it and then their proven method step-by-step.
Here is some of my best place to learn affiliate marketing for free:
And you will be surprised that most of the so-called guru's advice you're following is nothing but useless.
8. Information Overload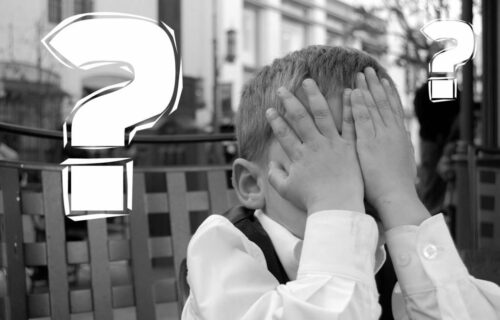 One of the reasons why affiliate marketing does not work for some people is that they are overwhelmed with so much information which gets them to a state of confusion not knowing what action to take or focus on to achieve success.
And most of the time, the majority of these people end up moving from one method to another and not actually taking any action. This is called (shining object syndrome).
I want you to take note of this: No matter how, you need to start at some point, find one method or program, test it out yourself and stick with it.
Moving from one thing to another is not going to help, it will only delay your success and eventually lead you to failure.
[ALSO READ]… Why You're Not Earning Enough Money With Affiliate Marketing And What You Need To Do About It
9. You Don't Know About The Product You Promote
A lot of people search for any product online and start promoting it for the purpose of earning commission without really knowing anything about it.
They think if they write some thin information about the product and place their affiliate link within the post and that's it. 
Well, to be honest with you, your visitors didn't come to your site just to read a summary of information about a product and buy it.
It could be that they've already read some information about the product from another site but they weren't satisfied that's why they came to your site.
Give them that extra information and they will thank you by purchasing the product through you.
IMPORTANT: Take time to learn about the product you're an affiliate for.
If you ask for my advice, I'll suggest you buy the product, use it, test it out yourself to have more experience or knowledge about it.
This will help you be able to write unique, high-quality, in-depth reviews about the product.
IMPORTANT: In your review, don't just talk only about the good side of the product, talk also about the bad side as well. 
People love it when you're being honest. 
How?
It shows that you're not trying to deceive them to buy the product but rather, you're just trying to help them to know more about the product.
And in doing so, some people will simply want to purchase the product through you because of your honesty.
10. Your Niche Isn't In High Demand
If in your niche where people are not constantly searching for products to buy. It will be very hard for you to sell your product in that niche.
Find a niche where the demands are high. A niche where people are constantly looking for products to buy. 
A niche that has enough people looking for products to buy on a regular basis. 
There are tons of high in demand niches out there online an example of some of these niches are:
Health – People are always looking for ways to be healthier, build muscle or lose weight. And they're constantly looking for products to help them achieve that.
Wealth – People are always looking for ways to increase their finances. They want a program that will teach them how to do that.
Relationship – People are constantly having challenges with their relationship either in marriage or something else and they're looking for tips, advice to help them solve the damage made in those areas.
These three niches are called evergreen niches meaning people are constantly looking for products to buy in these niches year after year.
If you have any knowledge or know of a product that you think can help people solve their problems and pains. 
You can build a profitable business around one of these areas by recommending products to people or just providing solutions to people's needs.
11. You Have A Broken Link
If you have a broken link and your visitors click on it, it's not going to lead them anywhere and if that happens, you're missing out on some important chances of making sales. 
This may be that the product you link to has been discontinued or is no longer available in the marketplace or they have shut down their account.
A broken link in that sense is useless.
So, what Do I have to do?
You can use tracking tools or plugins. This will give you an indication anytime you have a broken link.
12. You Are Spending Too much On Advertisement
People often say, 'you need to spend money to make money, yes that's true but not when you're just starting out.
Running paid ads is not a great way to go when you're just starting and not making any tons of money yet.
Though you may think it easy to scale your income using paid marketing – yes, that's absolutely true. 
However, if you don't have any proper knowledge about it: How it works,  how to run it to get the most of it, you can easily lose your money.
So in short – don't try paid ads if you don't have good knowledge about it. 
Instead use social media platforms such YouTube, Instagram, TikTok to build your followers, and overtime you can start generating decent income simply by recommending offers to your followers.
OVERVIEW
Affiliate marketing is an amazing way of earning money online, however, if you approach it the wrong way, you'll struggle to make money from it.
Find a good niche
Site up a compelling website
Produce helpful information
Promote product you believe in
 Build trust with your audience
Be patient.
Who Is Considered As An Affiliate? 
Basically, an affiliate marketer is a person or probably a company who sells or promotes various products and services created by another individual for commission. 
Affiliate marketers are like door-to-door salesmen back in the days but just that for them they are selling online.
Here Are The Steps To Start Making Money From Affiliate Marketing
Affiliate marketing is said to be an easy get-rich-quick way of making money online. That's why so many people are entering this industry.
However, the funny thing is, a lot of these people are doing it the wrong way. 
They think they will simply make money just by placing their affiliate link anywhere online.
Well, here is the hard truth… 
You're not going to earn any money if you don't first build trust with people by providing value to them that helps them in one way or the other.
Below Are The Steps To Take To Start Affiliate Marketing The Right Way:
Step #1: Choose A Profitable Niche
A niche is simply a subject, topic, or area you're interested in or passionate about or want to learn about or an area you want to focus on. 
You must start with a niche that you're passionate about. 
IMPORTANT: Don't pick a niche simply because you see other marketers making big money from it. Pick something that interests you and the money will honestly follow.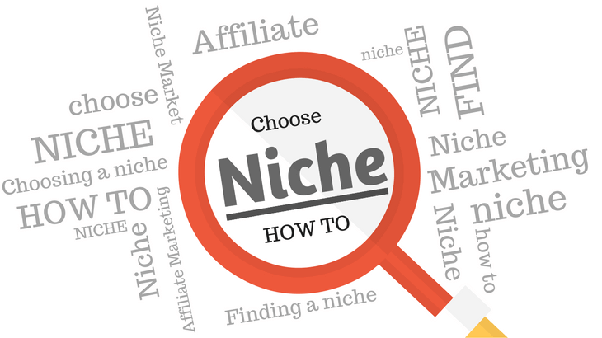 Success in affiliate marketing is built on two things: TRUST and CREDIBILITY. If you pick a niche you're interested in, it will help you be able to write quality content.
Which in the end will help you build TRUST with your audience overtime and have more engagement than if you choose a topic simply to make huge money but know nothing about it.
Also, another important thing about choosing a niche you're at least passionate about or interested in is that. 
It will help you stay focused and keep going when you hit a roadblock or face tough times.
By the way here are the three profitable niches online:
Health & Fitness
Wealth – Make money online
Relationship – Dating
These three niches have the potential of making you the most money. But you should at least have knowledge about the one you're going into before you can see success.
I have another post where I share with you some of the profitable niches in affiliate marketing, you can check out here.
Step #2: Know Your Audience Problems
This is a very important step to solving your audience's biggest pains and challenges. 
A lot of affiliate marketers don't want to nail down a specific audience because they're scared it will reduce their selling opportunity.
However, it's actually the opposite – the more narrowly focused you get on your audience, the BETTER you can identify their specific PROBLEMS. 
And there is MORE opportunity there is to make more money from solving those problems.
So, know who your target audiences are by analyzing and doing research on the challenges they are facing and provide solutions to those challenges.
For example, someone who has a skinny body. One of the problems of that person is to build muscle. 
If you give that person a solution or recommend a product that can solve his or her problem. It will make him or her want to go in for that product.
Finally, as you've identified your audience problems. The next step is to research and find quality products to promote to your audience.
If you're not gaining knowledge, connection or money, you're wasting your time.
Click To Tweet
Step #3: Research Affiliate Products
Take time to research affiliate programs before you start working with them or recommending them to your audience.
Why?
Well, to be honest with you, not all affiliate programs are legit and trustworthy. There are tons of scam programs out there.
For some of these scam programs, they don't pay out your commission after you sell their product for them.
So, it's important you do your research before you join any program out there and stay away from the ones that will run away with your commission.
I have another post where I share with you how to know if affiliate marketing programs are legit, safe, or not, you can check it out here.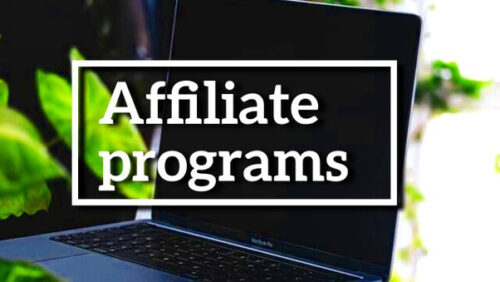 Step #4: Sign Up With Your Affiliate Program
If you have done the work of picking your niche and researching affiliate programs. Now, it's time to sign up with that affiliate program of your choice.
But make sure the program you pick is related to your niche and then choose a platform to promote it to your audience.
Here is a list of some of the top best affiliate networks to find affiliate products:
ClickBank
ShareAsale
Rakuten
Warrior Plus
JVZoo
Amazon associate
By the way, if you want my #1 recommended program to earn a full-time income online leveraging the power of affiliate marketing… You can check out my Resource Page.
This program offers high ticket products, meaning no more small commissions. They have a team that does all the high ticket product selling for you.
They also offer one-on-one coaches that work directly with you.
Step #5: Pick A Platform to Promote Your Product
When it comes to promoting your affiliate offer, you have tons of options but I'll highly recommend you build a blog and YouTube channel.
Why?
Actually, when it comes to making money online, probably with affiliate marketing, you have to drive tons of targeted eyeballs (traffic) to your affiliate links.
The key is, the more eyeballs you get on your link, the higher the chances of you making a sale.
And these two platforms: Blog and YouTube have the potential of sending tons and tons of targeted and qualified traffic to your offer.
To start your own blog which I highly recommend you do. 
I have another post where I share with you how to start a successful blog step-by-step, you can check it out here.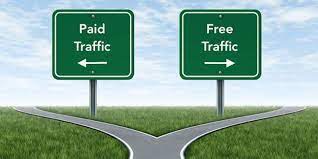 Step #6: Do Keyword Research
As you have set up that, you want to start writing content but before you do so. You should first figure out what exactly people are searching for or looking for.
Figure out what terms, phrases, or questions people are typing into the search engines that are related to your niche. 
And this is where keyword research has to come into play.
But, how do I figure out what people are searching for?
There are tons of keyword research tools out that will show you what questions people are typing into the search engines and need an answer to.
You can use free keyword research tools such as:
You can also use Google. For example, when you type 'dog' into the Google search bar, you'll see that it will auto-suggest for you. This means that people are searching for that.
By the way, if you want to get more data about what people are searching for and what type of content to write to get in front of them.
You can use advanced tools  like:
Step #7: Start Publishing Quality Content
Once you have that down, start writing content – produce relevant, valuable, helpful, and high-quality content that appeals or educates your readers.
Produce valuable content that will solve people's problems – content that your readers won't find anywhere else online.
PRO TIPS: If you're just starting out it's important you post consistently. 
Why? YouTube for instance, the longer you wait between videos, the further your channel will fall in the search engine ranking.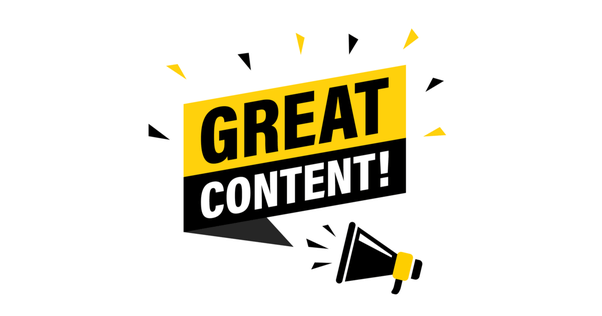 Step #8: Collect Visitors Email And Build An Audience
Take your audience through a funnel to build trust with them so that they can purchase from you.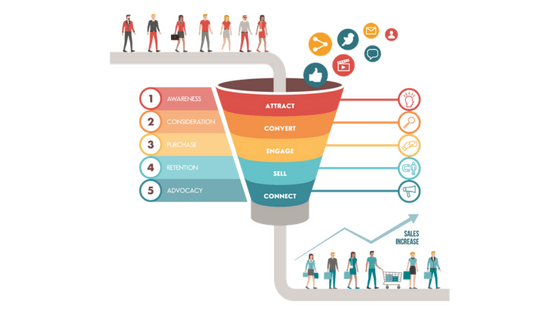 To collect your visitors' email, create a simple capture page (a squeeze page). You can use GetResponse to create one.
Here is an example of how a capture page looks like: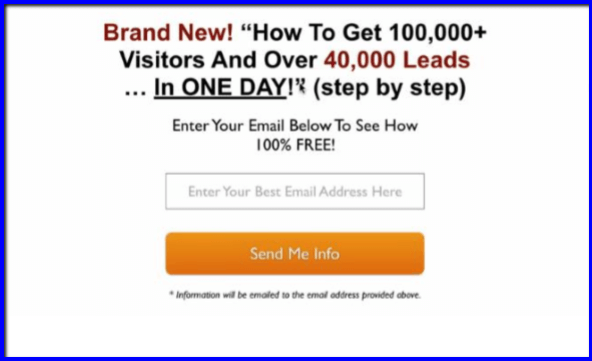 Once you have that, you want to create a lead magnet, this lead magnet can be in the form of an eBook, free training, workshop, etc.
Then, link your lead magnet to your capture page and give it away for free in exchange for your visitors' email addresses.
Then, once you have their email, follow up with them using an Autoresponder with an email sequence that educates and really provides tons of value.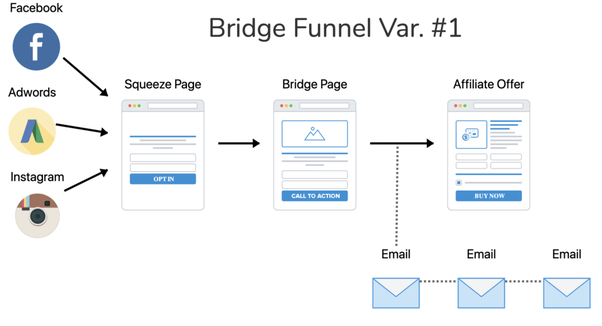 Why? 
To build TRUST and RELATIONSHIP with them. Because if you don't build trust with your list, they're not going to buy anything you recommend to them.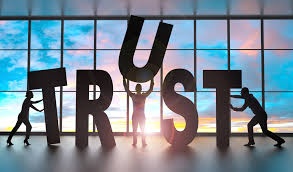 So how do you build this trust with your list? 
Well, this is simple – you do that by providing helpful information to them that teaches, educates or helps them in one area of struggles.
Step #9: Sell To Your List
Don't only provide value in your email. As time goes on and they start opening and reading each of your emails.
You should start promoting your product to them so they can buy. 
You can also drive them to a webinar. 
That webinar allows you to sell your product or service to them. In the webinar teach them something they can't find on your blog or YouTube channel.
For all the people who didn't purchase the product through the webinar.
You can follow up with them through emails and sell to them. Combining text-based email and webinars will dramatically increase your sales.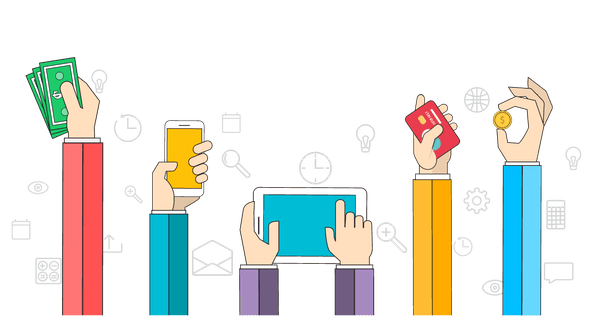 IMPORTANT: Though, you are here to make money. However, don't become a salesperson in all your emails. You should first focus more on helping your audience rather than just trying to make money from them anytime. 
People are not here to buy products, rather they are here for solutions to their problems. Give them that solution first and recommend a product to them later that you think will further help them solve those problems.
Step #10: Discipline And Right Mindset
Earning money through affiliate marketing requires hard work and commitment especially when you're just starting out.
Have self-discipline and dedicate quality time to building your business on a daily basis. Be patient and persevere through the tough time. 
You'll not get successful overnight. 
It's going to take a longer time than you can expect. Expect to work for a solid 6 to 18 months without making a dime.
BONUS Tips:
Make Sure You Understand Disclaimer
The FTC ( federal trade commission) requires that anyone selling a product online should indicate that they will earn money when a person purchases the item through their link.
This is to make sure that the customer is presented with accurate and legitimate information when he or she makes a decision of purchasing that item.
This law is mostly for affiliate links. 
Now, you must disclose when you have a product or service on your blog that will earn you money when some purchases it through you.
If you fail to state that you'll be held as a criminal and you might be jailed.
OVERVIEW
Making money with affiliate marketing is a long-term process, not an overnight process. If you don't have a solid foundation laid down, forget about making money with this model.
Now, as you know the steps to start affiliate marketing and make money from it. Let's look at how much actually you can make doing affiliate marketing.
How Much Can You Earn In Affiliate Marketing?
One thing that makes the affiliate marketing model one of the best online businesses out there is that you can start from nothing and grow your business to multiple 6-figures per month.
How much you can earn in affiliate marketing is endless. However, to make serious money from affiliate marketing is going to require the following:
A website
Quality content
Lead capture page
Email marketing tools
Right product
In my opinion, a beginning affiliate can make anywhere from $100 – $1,000 per month. An advanced affiliate can earn $10,000 – 100,000 per month. A super affiliate can earn $100,000 – $500,000 per month. 
According to a statistic, the affiliate marketing industry is expected to reach US$8.2 billion by 2022 and in the following years, this figure is expected to rise. This hockey-stick growth should tell you that affiliate marketing is worth pursuing.
However, as an entry-level affiliate, you can't make millions from affiliate marketing. But overtime if you work hard by creating high-quality content.
Building your audience through trust, then can you begin to generate some decent income from your business.
Remember, the secret to succeeding in affiliate marketing is hard work, commitment, and above all patience.
I have Another Post Where I Share With You Why Most People Fail At Affiliate Marketing and The Solutions…You Can Check It Out Here.
[Pin This Into Your Pinterest Board]

CONCLUSION!
In my opinion, I believe everyone can make money from affiliate marketing, however, the only thing that prevents people from making money with this business model is that.
They approach the business the wrong way. They're either promoting a wrong product, targeting the wrong audience or generally, not promoting their product the right way.
They're many things that can prevent you from making money from your affiliate business but it's your job to notice that quickly and make immediate changes.
Affiliate Marketing FAQ
Is Affiliate Marketing Worth It?
"Well, I absolutely think it is worth it. I know people that have built online businesses with affiliate marketing and are earning a sustainable, stable income from it. However, you need to have the right knowledge, willingness to learn and put in a massive effort in order to achieve success in this industry". Learn More Here.
What Is Bad About Affiliate Marketing?
"Well, in my opinion, there is nothing wrong with affiliate marketing. Affiliate marketing is an amazing industry for anyone to make money in. However, there are some people who approach this industry with the wrong mindset. They think it is an easy get-rich-quick model, which typically it is not (stern)".
Affiliate marketing is a long-term legitimate online business that is based on providing value to a customer in order to build trust with them before recommending a product to them and a lot of people are not willing to do that. And in the end, they end up saying it's a scam.
How Can I Succeed In Affiliate Marketing
"Becoming successful with affiliate marketing can be tough especially for the beginners. If you want my advice, the most important step to succeeding with affiliate marketing is to provide quality and relevant content to people in order to build trust with them and then build an email list which you can market your product to". Learn More Here.
Is Affiliate Marketing A Good Career?
"Yes, it is. Affiliate marketing is a fantastic career and can bring you good income without creating your own product and without any initial investment. However, you will need some proper guidance and training to become successful at it". 
What Is A Typical Affiliate Commission
"The commission differs depending on the affiliate program or network you work with. However, generally, affiliate commission rate falls between 4% – 50% and in some cases 75% typically with digital products and with physical products that number is lower".
Here is a commission rate of some of the top affiliate networks:
ClickBank: With this network, product seems to range from 50% – 70% or even 100%
Rakuten & JVZoo: Most of the product on this networks seems to offer 50% – 75%
Warrior Plus: They offer a 100% commission rate.
ShareAsale: This network offer 20% commission rate to it affiliates
CJ Affiliate: They offer commission rate between 5% – 30%
Amazon: These network generally offer the smallest commission, typically 2% -10%
Also Read!