Affiliate Marketing for beginners step-by-step…
If you landed on this post I'm pretty sure you are an affiliate marketer or you want to learn how to skyrocket affiliate marketing business.
There are many different ways to start affiliate marketing, however, there is an easy step-by-step way to start your own affiliate marketing business.
There are some benefits to affiliate marketing, the primary one is, you don't need to develop a product or service, that's done for you.
If you are a filiates or anyone who wants to start affiliate marketing the right and littery make a full-time income. And in this post, I will be sharing with you some helpful tips about how to start affiliate marketing the right way.
And of this is some you interested be sure to read to the end…
Before you go any further I want to give you something for free, it an affiliate marketing ebook with step by step on how to grow 6-figure affiliate marketing business online. You can download it HERE fOR FREE
Starting an affiliate marketing can be very overwhelming, frustrating, and confusing especially if you are not making any progress or income, trust me I've been there and I know how exactly if feel.
But today we will look at all that and how you can go about it to have success.
Before we dive into this, I want to throw some overview with you.
Affiliate marketing and Online business is the way the globe is going to go in the near future.
Gone are the days when individuals knuckled down over their office desks. This is the age where the conception of making money online is truly going to gain ground.
Are you going to be a piece of it as early as you are able to or are you going to hold off and watch till everybody has tried it out first? And making really good money before you jump in.
The ideal way is to get into this as quickly as possible and make some money for yourself in the affiliate marketing business genre as soon as you are able to.
Before we go any further with this post I want to give you a little glance at what affiliate marketing is all about…?
Affiliate marketing is when you promote people's or a company's goods or services in exchange for a commission whenever a sale is made. It is the most common way to make money online.
Affiliate marketing is typically done through blogging or social media sites like Youtube (like when Youtubers recommend products via their description boxes — often lead to a site like Amazon). When someone clicks on their link and buys, they get paid.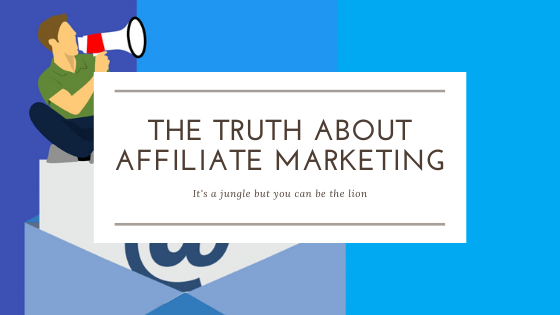 When affiliate marketing is done via a blog, affiliates choose profitable niches he or she is passionate about and topic to work in (like health and fitness, fashion and beauty, finance, pet care, toys, technology, dating and relationships and so on).
They create valuable content (written or video) about the things that people in their industries and niches are ALREADY looking for.
When you create content and promote things that people are ALREADY looking for, this brings a steady supply of traffic to your site (when you do things properly). Due to how the search engines (and Youtube) work, the income you earn becomes RESIDUAL – can post content once and continue to profit.
This is why you often hear phrases like "make money while you sleep, Travel or on vacation".
These days, virtually all brands — from Amazon, Walmart, Clickbank (and beyond) have affiliate programs. The reason why these major companies are willing to pay affiliates is that we basically save them money on advertising — one of the largest expenses for a company. Plus, whenever someone buys something from an affiliate, the customer gets put on the merchant's/brands list.
This means that these companies can promote other products to them down the line. This is also something that happens in the real world today.
The reason why you get weekly circulars went to your mailbox at the house is that you are on the merchant's list. Basically, you can think of being an affiliate like being a car salesperson — but on the internet.
Now is a great time to become involved in affiliate marketing. You have time to learn and get things going for yourself fast before the busier times of the year (Fall and Winter).
If you think affiliate marketing is something you might be interested in, be sure to read this post to the end.
Affiliate marketing is one of the best ways to make money online as a complete beginner. The best way to make your first dollar online is by starting with affiliate marketing.
With affiliate marketing you need not to do any shipping of product or any customer support service, all you need to do is just promote! Promote! promote!!!
How To Start Affiliate Marketing?
There are many ways you can start affiliate marketing and there are also proven ways you can start and get results fast, so let me share some proven ways you can start and eventually be successful with it.
Affiliate marketing is not just as easy as you may see it, picking a product, slapping up a website and hoping you will get sales and commissions and that's all.
There is actual massive work involved if you want to be successful with it, like developing an affiliate funnel. You will not only want to drive traffic to your affiliate offers, but you will want to build out a list (both e-mail and social) in order to increase your earnings.
You will not only need to set up quality content but drive target traffic to that quality content as well. Traffic that will be willing to buy what you offer.
You will want to have a Facebook group or fan page tailored to your niche, where you will OCCASIONALLY post helpful tips or products and services related to the niche you represent. The actual content versus affiliate offer information should be about 1:3 for e-mails, and about 1:7 for social media.
So here's what a typical funnel might look like:
Your Website (with articles related to the niche with calls to action to landing pages)
Landing pages (These landing pages will have calls to action to sign up to download something for free, or social groups and redirect to the actual affiliate offer)
Social Pages (You will rely on these to build a strong authoritative community based on the niche you have selected and pump out USEFUL content that people will find helpful on an area or the other and be willing to read)
Newsletter/Mailing List (You will use this to send your blog updates with articles, and also occasional offers that will appeal to your list)
Once you have your articles written you will then go about marketing in an organic way, or a paid way if you have the funds to do it…
An organic way is to share your articles via forum posts, blog comments, guest post youtube comments, youtube videos, calls to action from your YouTube videos, etc.
Be patient, and realize that building an affiliate empire is not going to happen overnight, it takes time. Unless of course, you are willing to put the required advertising budget into it to get a boost on those followers and traffic.

How To Make Money Online With Affiliate Marketing
You are going to have to start from somewhere and that shouldn't be just anywhere. That somewhere depends on where you want to reach in affiliate marketing or how you want to go about it.
For me particularly I want to reach success and have the freedom to do more of what I love. Below are the step-by-step you can follow to reach success with the affiliate marketing business.

1. Conduct researches on affiliate marketing
Affiliate marketing is very broad and could be sometimes complex for most beginners affiliate, the number one step to becoming an affiliate marketer is understanding what affiliate marketing is all about, the pros and cons, ups and downs, rights and wrongs the important concepts that every affiliate marketer should never forget is that it takes work and determination.
The good news is there is soo much-educating information about affiliate marketing on the internet nowadays and if you can dedicate just a few hours your day to read about it, you will be just good enough to dive into marketing the right way and be successful.
2. Choose a Niche
The internet is a very big place and affiliate marketing covers most of it, if not all there are a lot of niches in affiliate marketing and it is important that an affiliate marketer specializes in one or a few niches in order to remain focused on only one thing until they are successful with that before moving to different thing.
It's advisable that you choose a niche that you already know about or are passionate about that will ease the stress of having to study and understand a whole new field or even quitting fast when you are not getting the result.
If you are passionate about something you will continue doing it even if you are not getting the instant result'.

3. Choose an Affiliate Network
The best way to go into affiliate marketing is by selecting an affiliate network or program. There are a lot of affiliate networks out there, some of them are owned by well-known companies like Amazon, Clickbank, etc… while others specialize in specific types of products and services. Some other networks are owned by entrepreneurs and also have great products worth a look.
Before you choose an affiliate network, you should check out their terms and also do your research before joining them. Don't just jump into any affiliate network without first finding out about them.
And don't look at the amount they are going to pay you and run into it without doing research if the product they have is quality for your customers.
If you don't check whether the product is good and you sell that to your customer and they find out what you sell to them is not of good value, you'll lose those customers and that can hurt your business.
4. Study the affiliate product
Studying affiliate products is a nice strategy for every marketer, you should not go into marketing random products instead you should make research and select products that already have a lot of audiences to increase sales and support and also a lot of people are making money with it.
5. Socialize
With the number of people increasing daily on social networks, there is no better place to market affiliate's products. You can publish interesting and valuable posts regularly to redirect prospects to your merchant's site as engagements are more on social media than anywhere on the internet now.
6. Join Forums and participate in discussions
As a beginner, you will learn more as you get to relate with other affiliates or successful affiliates and also meet plenty of curious buyers and interested people asking questions and dropping comments. And you can take the chance to connect with them and help them in some way and probably tell them about your product.
7. Build your email list
This is the most important part of the whole thing, if you are serious about building a million-dollar affiliate marketing business then you need to start building an email list now. If you are not building an email list, my friend you are leaving money on the table. Stop reading this post and go and set up one right now…
Email marketing is a very effective form of marketing and can help boost sales of affiliate products. Though building an email list and email marketing can be stressful it is very necessary that you build an email list as a beginning affiliate, the end result is always pleasing and there are a lot of email marketing tools out there that make the task so easy.
Sign up with Getresponse here for free to build your email list…
How does affiliate marketing work step by step?
Let me start by saying that no sales/marketing system is a "get rich quick" system. If there were everyone would be doing it.
It takes research and massive work.
With that being said, there are some benefits to affiliate marketing, the primary one is you don't need to create a product or service, that's done for you and all you need to do is just sign up for an affiliate network and start promoting your link.
But let me be real with you here, it is not about just joining an affiliate program and sitting down hoping the money will roll in, you've got to put in the work.
There is a massive amount of information on the 'net on affiliate marketing. Do your research.
Here are a couple of points before you start:
What motivates you? What are you passionate about?
Pick a niche that you know something about or learn about it.
Do your research – there are a lot of affiliate companies out there that offer affiliate programs, Amazon, Clickbank, Share-A-Sale, Rakuten and a whole bunch more.
In most cases, you will need a website or platform to market your offer.
Affiliate market is otherwise known as commission marketing. It is based on performance, it is a strategy that has been in existence before the Internet revolution.
Affiliate Marketing is made of two categories; namely: Merchants and Affiliates.
What are Merchants: They are sometimes known as vendors, individual advertisers, creators or companies who wish to promote certain products or services.
Affiliate: Otherwise known as publishers are those marketers that agree to promote people's or companies' products based on performance or Commission.
Merchants set up affiliate programs and put one or two things in place while setting up affiliate programs.
Affiliate also has its own roles to play such as maintaining online presence producing valuable content to serve their ideal client in order to make sales in return.
Advertisers started by determining whether to host software or use the affiliate network. Then he decides whether to manage the affiliate program or employ an affiliate program manager, it may be a real option as managing it and may require more time. Not only that, Merchants will have to do the following:

Customize Page: This page shows what makes your affiliate program great/unique. It may feature the commission rate, sale letter, Creative materials like banners, etc
Term of Service: After the initial sign up, you set up a term of use to maintain credibility. The intending affiliate is bound to accept these terms before they can become a member.
Strong Landing Page: The landing page must be well organized as well etc powerful call-to-action to increase conversion rate such as buy now, subscribe, Take action now, etc
An affiliate might want to consider the commission rate, cookies life, affiliate program reputation, etc.

How To Start Affiliate Marketing For Free
There are many ways to start affiliate marketing for free without paying for ads and stuff.
As a complete beginning affiliate never invest money in marketing and advertising. Free marketing is the only way to start as a beginner and the way to start free marketing is creating content that people love.
Even though it's not a requirement to have owned a website, the only money you'll get to invest is,  if you want to have your own website to write blogs or something.
Then you'll have to pay for your domain name and hosting to start. Do not spend too much money on hosting right upfront. You can start with Bluehost to buy your domain and hosting for a cheap price.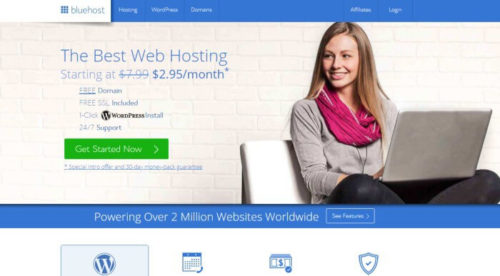 Bluehost is one of the great hosting platforms out there.
It is possible to do Affiliate Marketing for free and much more with Zero investment. To join any of the affiliate programs is free to join.
You just need to go to Amazon, Shareasale, Clickbank, Jvzoo or anyone you choose and sign up for a free account to find a product and promote it is that easy to do.
But how are you going to make money from it, unless you are already an influencer and have thousands of followers in your niches, you can promote products to.
have a lot of youtube subscribers and followers and ready to see your product review or what you promote, then you are good to go.
One of the biggest misunderstandings out there for brand new affiliates is that they think they can do the same as Super Affiliates with millions of followers are doing.
-"Ohh I'm gonna post one photo on Facebook and sell a million-dollar worth of affiliate products". No, It does not start like that and in fact, it doesn't work that way.
Those Super Affiliates you see worked hard and long term to build up their audience. It took them much more work than posting one photo. What worked for them might and might not work for you.
You need to know what will work for you. Every person is different. Some are good at building YouTube followers and getting better with it, others are good at building an email list.
You need to figure out what you are good at and what will work for you best. Blogging? YouTube? Knocking on doors, giving away something in exchange for emails? Whatever it is, first thing first, figure out what works best for you. See what you are comfortable with and put your whole strength in it.
Once you have built up an audience that Know, Like and Trust you, even if it's just a few hundred people, then see what your audience is interested in. Start slowly offering affiliate products to your audience. Go easy, don't push hard.
What you want to do is "test the waters", see how your audience responds to your offer then find a way to get along with them.
I know what you meant by not investing money into affiliate marketing but to be honest, you need to invest something a little bit into your business in other to grow your business fast but since you don't have the cash you have to put in a lot of time to create quality content and to drive traffic to the product you are promoting.
You can become an Affiliate Marketer with zero dollars to your name and that's the beauty of it but you need to invest something. You need to invest in tools to grow your business and also invest in yourself to learn new skills to become a better person.
Do You Want To Learn How To Make 6-Figure With Affiliate Marketing From Scratch?… Click Here To Join Now.

How Much Money Can You Make As An Affiliate Marketer?
I tell you one thing very frankly, affiliate marketing takes time, if anybody tells you, make money within a few days or month, then this is a JOKE.
If you do it the right way and take massive action, then affiliate marketing can gives you financial freedom.
Affiliate marketing is not a get-rich-quick scheme, so you should not expect millions instantly; this does not mean that people fail in making money through online affiliate marketing, it just that people quit fast when they hit a roadblock and mostly you should do something you are passionate in..
If you want to earn from affiliate marketing, you need to understand how it works and whether it is truly for you and you can be willing to put in the necessary work.
The affiliate marketing industry is growing rapidly now. An independent survey commissioned by Rakuten Affiliate Network found that affiliate marketing is set to reach $6.8 billion by 2020.
90% of advertisers included in the survey said that affiliate programs were important or very important to their overall marketing strategy, with the majority of publishers reporting that affiliate partnerships drove more than 20% of annual revenue to their product.
Can You Make Good Money With Affiliate Marketing?
Yes, a lot of money… Not just the money, if done correctly, Affiliate Marketing has the power to change your life and can give you the freedom to do what you want.
First of all, don't listen to the neigh-sayers: Just because they had a bad experience and result in something doesn't make it fake or doesn't work and you don't have the right to spoil it for everyone else!! Nobody owes you a damn thing, why should I show you my earnings?
How many people have you shown your payslip or bank record your earnings that you should make a demand on another person ??
Secondly, Affiliate Marketing is not a get rich quick scheme: which is why all these people that tell you it doesn't work or you can make much money with it, have gotten burnt in the process. Its people are looking for a quick fix.
You need to approach it as a business and think long term which I am assuming you are looking to either supplement your current income or quit your 9 to 5.. Therefore you need realistic expectations, as with anything new, there is a learning curve. Commit to learning new things in order to grow your business.
Third, be prepared to invest in yourself: money, effort, time. There is no substitute for this in the beginning. In order to get your business up and running as you would a brick and mortar business. Think of it as your golden goose, take care of it and it will take care of you.
Fourth, be open-minded and have a mindset of success: It's new territory and you need a paradigm shift if you are to succeed. Your old way of thinking will not help you to succeed. The biggest mistake most people make is to think you know better than the experts. Kinda like you telling the doctor you know better..(go figure). Read, research, learn learn learn.
I will conclude with this, a wise man once said choose the path of least resistance. Invest in a program and tools, there are plenty of good ones out there that can help you skyrocket.
A mentor helps is by far in any business. If you choose otherwise, then you will end up like all the rest of sour neighbor sayers, stay in the same old job, same old bills, same old boring limited life, wishing and dreaming
"Don't ever let someone tell you, you can't do something. Not even me or your family. You have a dream, you gotta protect it. People can't do something themselves, they want to tell you you can't do it. You want something, go get it. Period."―
Do You Want To Learn How To Make 6-Figure With Affiliate Marketing From Scratch?… Click Here To Join Now.

Does Affiliate Marketing Still Work In 2020?
Yes, it still works and works forever because every affiliate market program wants more profit so they find some people to promote their product and they paid some commission to the person who is promoting. It is related to real life. Everyone wants to increase their business and want more profit.
Clickbank last year paid 1 Billion for affiliate commissions, 1 Billion is a huge amount of money, so you can always have a share of it just like all other successful marketers, but you need to know the best way to market and also you need to produce content that helps others in other grow your business long.
If you think like the real world and work hard with something on the internet, you will get fast results and can be financially free.
It's the basic approach of promotion vendor's products so don't think about whether it works or not. It always works and every time with new strategies and ideas are introduced.
Do You Want To Learn How To Make 6-Figure With Affiliate Marketing From Scratch?… Click Here To Join Now.

Affiliate Marketing Companies
There are different affiliate programs out there (in-house and the ones on various affiliate networks) that follow different models. An affiliate program model can be: Cost Per Action (CPA), Cost Per Lead (CPL), Cost Per Sale (CPS), or even Cost Per Click (CPC).
Cost Per Action (CPA) model pays you for specific actions and it can be simple form submissions, downloads, surveys, etc.
Cost Per Lead (CPL) model pays for leads and it's usually a "signup" that involves email or credit card verification (because it makes the lead more valuable).
Cost Per Sale (CPS) model pays for actual sales and it means they share a percentage of sale value with you.
Cost Per Click (CPC) model as you probably know pays for "clicks" — no matter whether your referral traffic helped them generate a lead/sale or not.
The Best Affiliate Networks
Here's a hand-picked list of some of the best affiliate networks on the internet today. So you don't have to do any hard research.
1. CJ Affiliate was formerly known as Commission Junction (or simply CJ) and it's the most popular affiliate network out there…
It's one of the oldest affiliate networks and that's why it's the preferred affiliate network of Fortune 500 companies and major online retailers, you can find good-paying affiliate programs.
2. ShareASale
ShareASale is perhaps the most popular affiliate network with over 4,000 affiliate programs. There are so many affiliate programs on the internet that are exclusive to ShareASale. So if you are unable to find an affiliate program in CJ then most probably it's there at ShareASale.
3. Rakuten Affiliate Network
Rakuten Affiliate Network was formerly known as LinkShare and is present as the number one affiliate network on the web but now I don't know — for several years now — in affiliate surveys.
Anyway, it really doesn't make much sense to me as the number of advertisers on LinkShare is far less when compared to CJ (or even ShareASale).

The Best CPA Affiliate Networks
A CPA affiliate network is somewhat different from the affiliate networks listed above. However, all the affiliate networks listed above offer CPA programs and yet none of them were not classified as a "CPA Network".
The reason is pretty simple… an affiliate program on a CPA affiliate network never pays for clicks or impressions — but there are some pretty affiliate programs on CJ Affiliate that pays for clicks but it is not common.
On CPA affiliate networks, the advertisers pay you for a specific action. It can be a sale, a survey, form submission, download, or anything that requires an action by the visitor so that it can be tracked and can you can be paid for.
1. MaxBounty:
Alexa Rank: 9,023
Minimum Payment Amount: $100
Payment Method(s): Check, Direct Deposit, Wire Transfer, PayPal, Payoneer, Bitcoin
Referral Program: Yes
2. PeerFly
Alexa Rank: 12,112
Minimum Payment Amount: $50
Payment Method(s): Check, Direct Deposit, Wire Transfer, PayPal, Payoneer
Referral Program: Yes
3. FlexOffers
Alexa Rank: 23,139
Minimum Payment Amount: $50
Payment Method(s): Check, Direct Deposit
Referral Program: Yes

The Best Affiliate Programs
You can always avoid an affiliate network and join an advertiser's in-house affiliate program (when it's available) if you want these really paid good money.
Here is a list of some of the most popular affiliate programs on the internet.
And remember, they are all in-house affiliate programs so you can't find it on any of those affiliate networks listed above or anywhere.
Also, the choice of an affiliate program (or even a network) should tactically be based upon your audience's interests.
For instance, if you have an audience or a customer that's already known to purchase online then the perfect affiliate program could be the one offered by Amazon.
Who hasn't bought something from Amazon, eh?
1. ClickBank
ClickBank is one of the most popular marketplaces for digital products with over 6 million products and 200 million customers. In other words, ClickBank is for digital products.
So if you are looking for a guide, info product (or an ebook) then you can search the ClickBank marketplace and if it's there then you can instantly purchase and download it — there's no need to wait.
And if you're a digital product creator, then it's super-easy and very cheap to sell your products on ClickBank. And that makes the ClickBank Affiliate Program one of the best among all the affiliate programs on the internet.
As a ClickBank affiliate, you can get up to 75% commission on all sales (including recurring income).
2. Amazon
Amazon is also a very cool place to purchase and order things for yourself like Tv, Phone Camera, etc. You can get anything of that sort at amazon.
Conclusion!
This is my thought of starting affiliate marketing step by step for beginners, let me KNOW what you also think in the comment below.
To be successful with affiliate marketing find a topic you are passionate about and stick to it long till you are successful before moving to something new.
If you follow those steps we layout above and follow them exactly then you are on the road to success.
Affiliate marketing is a very cool way to make money online now, so jump into one and start making some money now.
If you have reached the end of this post-Bravo! You made and let us know in the comment what you think and how we can help with what you are struggling with! We can be of help and be sure to share this with others…
Download my Ebook for FREE and learn step-by-step How To Build A 6-figure Business Leveraging The Power Of The Affiliate Marketing
Retired Influencer is all dedicated to making money online with affiliate marketing, so please do come back to read more of our post on affiliate marketing and how to to become successful online
See You At The Top!
BRIGHT KERSH (Retired Influencer)