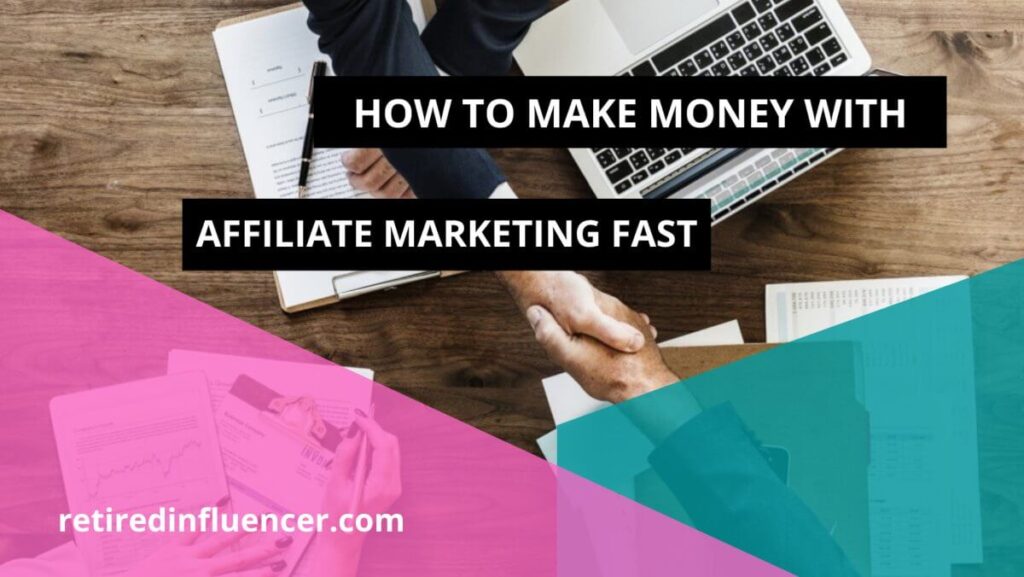 Every affiliate marketer's dream is to make money with affiliate marketing as soon as possible but is it realistic? Let's look into that and see what you can do about it.
How to make money with affiliate marketing fast?
"To put it simply – there is only one sustainable way of making money online fast with affiliate marketing and that's creating quality content that educates people and building an audience that you can convert into loyal customers over time (stern).
However, This process is not an overnight success, it takes time. It could take you 3 months, 6 months, 12 months, or more to make your first sale with affiliate marketing."
"But, if you plan on making money in just a few days, then the best way to go about this is to run paid advertisements. Only if you have the budget for it and do it correctly (stern)."
In affiliate marketing, traffic is extremely important. 
Your chances of making money with affiliate marketing will depend on the amount of views you drive or generate on your affiliate link.
If you can get a lot of quality eyeballs (traffic) on your affiliate offer, you'll probably make money as fast as you want.
Generating a lot of eyeballs on your affiliate link will probably result in the quickest sales and quickest profit in your business.
And paid advertisement is the best route if you want to speed up the process… Again, if only you have the fund for it.
So what's the best platform to run paid advertisements?
You can run paid advertisements through Google, YouTube, Facebook, Instagram, Pinterest, Twitter, etc.
NOTE: You can't promote your affiliate link directly with paid ads, you'll need to create a landing page in between your offer.
So, yes, you can make money with affiliate marketing quickly and even scale it if you go with paid advertisement.
But unless you have enough experience with paid marketing and thousands of dollars to spend on it.
If you're just a beginner with zero experience with paid advertisement, and also don't have enough funds to invest in it.
Then paid marketing is not for you. But here is the good news.
Start content marketing… WHAT!
Yes, start content marketing.
By the way…
What is content marketing? 
Here is a clear definition I found online, Content marketing is a form of marketing focused on creating, publishing, and distributing content for a targeted audience online. It is often used by businesses in order to achieve the following goals: attract attention and generate lead, expand their customer base, generate or increase online sales, increase brand awareness or credibility, and engage an online community of users. Source
Here is my definition, Content marketing is a strategy used to engage, grow, and attract targeted audiences in a specific niche. 
The idea behind content marketing is to drive quality organic traffic or leads to your business or offer.
And also to create brand awareness for a customer to purchase a product from you in the future.
REMEMBER: Making money with this form of marketing is not as easy as running paid ads, it's a long-term strategy. It may take a year or even more… 
And this may depend on a couple of factors such as the quality of your content, competition, the effort you put into promoting the product, and your promotional method.
And so on…
When you pick a promotional platform such as (Google and YouTube) then it's going to take time to grow and you need to be PATIENT.
If you don't give up along the way and you continue to put in the effort by creating more and more valuable content and stay consistent.
Over time, you'll grow your content which will start to generate tons of traffic to your business or offer and when that happens the sky is the limit. 
And you'll have success and start to make money with affiliate marketing.
TAKE NOTE: It's extremely important you promote products that you have used before, familiar with, or from a reliable merchant with a good track record.
WHY?
There are so many reasons behind that and some of these reasons are:
So, that you can be able to explain to your audience why you TRUST the product or service you're recommending. 
So, you can be able to explain how the product is going to help solve your target audience's biggest problem and pain.
So, you can create content that educates people about your product or service and then use the content to build your audience and then convert them into potential buyers.
The third point is a long-term strategy. It takes time, hard work but it's absolutely worth it, it's sustainable and more importantly there are no costs involved.
For a lot of internet marketers, this is how they've built their online business.
Now, let's take a look at the steps to make money with affiliate marketing.
But first…
What Do We Mean By Affiliate Marketing And How Does It Work?
I think before we go any further with this topic, the first thing we need is to first define what affiliate marketing is. 
Below is a great definition I found online upon running a few research.
Affiliate marketing is a type of performance-based marketing in which a business rewards one or more affiliates for each visitor or customer brought by the affiliate's own marketing efforts. Source
Here is my definition, affiliate marketing is a process of marketing a product or services created by an individual or company in exchange for a commission.
Here is how affiliate marketing work in 5 simple steps:
You find an affiliate program or network and join.
You select a product of your choice to promote.
You'll get a unique link to that product (the link is used to track and record any sale you make).
You share the link via a blog post, YouTube, Social media, or any promotional form.
Now, when someone clicks on your link and purchases the product you're promoting, you'll earn money which is termes as commission.
Nowadays, most companies are getting their business online simply because they want to sell more of their products.
And most of these companies offer affiliate programs that are free to join. 
To find affiliate programs to join, simply head over to Google and type in (your niche + Affiliate Programs) and you'll discover some great ones.
As we stated early on, in affiliate marketing you're paid for a performance. Below are the types of affiliate marketing models.
Pay-Per-Sale (PPS) – This is where a company pays you (the affiliate) for every successful sale you refer into their system. The percentage of the commission is agreed upon by the company and the affiliates.
Pay-Per-Click (PPC) – With this type of marketing, you (the affiliate) get paid for just sending traffic to the advertiser's website or landing page whether it results in sales or not.
Pay-Per-Lead (PPL) – With this one, a company pays you (the affiliate) for every complete task your referral undergoes. Thus, when someone submits their email address, filling up an online form, installing an application, etc.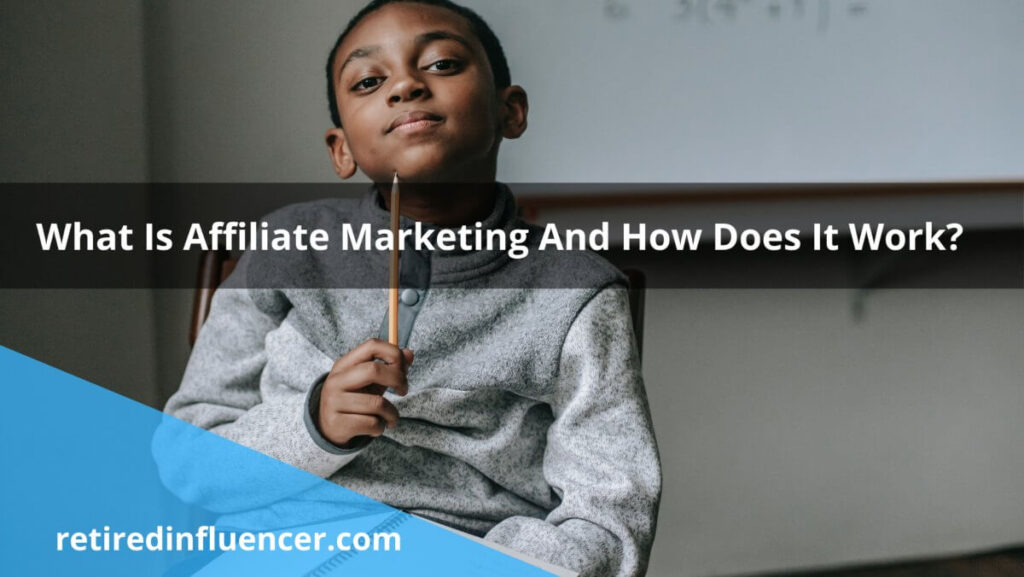 Why Affiliate Marketing? (The Benefits)
In the world we live in nowadays, a lot of people are tired of their 9 to 5 job, for some they want to be their own boss because they are fed up working for someone else.
And the majority of them turn to start their own online business. Most of them get to know that affiliate marketing is one of the best ways of making money online.
Because it's mainly a commission business. You sign up to an affiliate network or program, you promote their product or service.
You get paid when someone purchases the product from you.
Here are 5 reasons why affiliate marketing is amazing:
1. You Don't Have To Create Your Own Product
This by far one of the main reasons why many people jump into this business model.
You don't have to go through the headache of creating your own product, you simply find other people's products and promote them as your own and earn as much as you want.
2. You Can Make Money While You Sleep Or On Vacation 
Affiliate marketing can put you in a position where you get to make money passively without having to do anything again once you've put in the work and set up things properly.
NOTE: In the beginning, it takes hard work, dedication, and time to turn affiliate marketing into a passive income business. 
Be careful with those who said you don't have to put in any work to make money with affiliate marketing, it's a lie, they are just trying to make money from you.
3. It Cost Little Or No Money To Start
You don't have to invest thousands or millions of dollars to become an affiliate marketer or start an affiliate marketing business.
If you can create content that educates, teaches, and helps people on a specific topic or subject, are off to go.
Also, most of the affiliate programs are free to join. There's no cost involved.
It's just that, it takes time and effort upfront to make money from it.
4. You Don't need to be an expert
Affiliate marketing is a value game if you can produce content that speaks directly to your target audience.
Over time, they'll begin to know, like, and trust you which can eventually lead to sales.
All you have to do is to commit to learning more about affiliate marketing as much as you can (what's it about, how it works, pros and cons, etc). 
You can take courses, read books on affiliate marketing or find affiliate marketing mentors to follow and simply learn from them.
And as you learn, you have to immediately turn around and share it with others. And that's how you become an expert in the eye of people.
5. You Don't Have To Deal With Customer Service
One of the things that make affiliate marketing stand out among all online businesses is that.
As an affiliate of a certain company or product, you don't have to deal with customer support.
Refunds, payment, or shipping of the product. 
The only thing you're responsible for is to market the product to your audiences or customers.
Above are some of the benefits of doing affiliate marketing. Now, let's dive into the main reason why we are here and that's… 
How you can make money with affiliate marketing fast.
With that being said, let's dive in.
Here Are 9 Steps To Make Money With Affiliate Marketing Fast
In this section, we'll be looking at steps-by-steps and tips on how to make money with affiliate marketing from scratch. 
And also how you can grow your affiliate marketing business to a full-time income. Below are the steps.
Step #1: Start With A Niche
Everything starts with a niche. A niche plays a huge role whether you'll succeed or not. A lot of people struggle to make money online simply because they pick the wrong niche.
They pick any niche simply because they see or heard other marketers making this and that amount of income in that niche.
And they also jumped into it, without really knowing what it really takes to make money from that niche.
And in a couple of months, when they're not making any money from that niche. 
They get frustrated and give up on that and then move to another one. They just keep moving from one niche to another and to another.
And in the end, they make money from none of them. They FAIL.
Here is my requirement: Pick a topic or a niche you're at least passionate about, interested in, or want to learn about.
That way, you can be able to stick with it for the long-haul when the going gets tough.
Because making money online especially with affiliate marketing is not an overnight process, it takes time and real work.
Okay, now that you have decided on your niche, the next step is to pick an affiliate product to promote.
Step #2: Sign Up With Affiliate Programs
To find affiliate programs to join, simply hover to Google and just type in your niche name plus affiliate programs and you'll discover some really great ones.
Example: (Your Niche + Affiliate Programs). 
Or
You can just join one of these popular affiliate networks below and search for products related to your niche.
Above are some of the best places to find an affiliate product to promote. 
But Stick To One Thing: 
I suggest you pick only one product to promote. 
Pick a product that's high quality, offers massive value to your audience or anyone who buys it, and also pays a high commission.
If you want a high ticket program that pays a high commission…. Check out my Resource Page for my #1 recommended program.
This program also offers one-on-one coaching and also has a team that does all the selling for you.
Step #3: Pick A Platform And Start Publishing Content
To start, I recommend you pick only one platform for now and start publishing content related to your niche and your product.
There are tons of platform out there such as:
Blog
YouTube
Forums
Social media
Pinterest, etc
Pick only one and focus on it to generate traffic… 
To me, I'll suggest you start a blog or YouTube channel. These two platforms have the potential of driving quality and qualified traffic to your offer.
If you want to start a blog which I highly recommend you start along with YouTube. Check out this post on…. How To Start A Blog Step-by-Step.
Now, as your blog or YouTube is up and running. 
The next step is to consistently publish valuable, high-quality, relevant, and helpful content that's congruent (that matches or related) to your niche and product.
And within that content, you can place a link to your product. 
Make sure the link is placed in the part of your content that makes sense.
(Don't spam people with your affiliate link, it has to come naturally).
If it's a YouTube video, you can place the link in the description box below the video and direct people to the product via a landing page.
Here is a great example of YouTube marketing: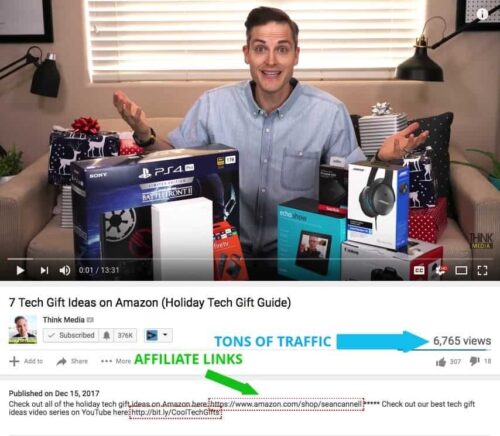 And that leads us to the next point and that's…
Step #4: Create Capture Page And Build An Email List
The mistake I see a lot of people make in affiliate marketing especially newbie affiliates (I'm also part) is that.
They send traffic (people) directly from their content to affiliate products without first capturing the visitor's email addresses. 
And do you know what happens when you do that? You're leaving huge money on the table.
TAKE NOTE: When you send people directly to your link, only a small % will buy right away, but a large % will not buy because they don't really know or trust you.
So, when you're promoting any product, make sure you set up a landing page between the product to first capture the customer's email addresses.
Before sending them to the actual product. 
And if it happens that they don't buy the product at their first exposure.
Which most of them won't.
Now, you have a chance to remarket the product to them through email using an autoresponder until they decided to buy.
Take note of this… 
Don't be a SELL in all your emails. 
In your emails try to provide helpful information that will literally help them solve a specific problem that you think your list might be having challenges with. Or
That will help them grow their own business.
Taking this approach, your subscribers will begin to Know, Like, and Trust, and even read all your emails anytime you send them.
But once in awhile, you can promote your product to them. That you think will help them.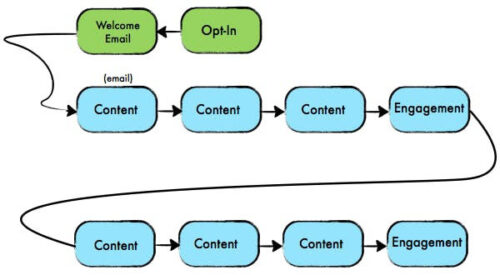 So now, how do you build an email list? Great question!
First, you need to have an email services provider. There are a handful of them out there but the one I recommend you go for is GetResponse.
GetResponse is the #1 email marketing software in the world and has some amazing features which allow you to run a successful email marketing without any difficulties.
Also, one thing that makes GetResponse so amazing is that they have both landing page and autoresponder built in one place. 
Meaning, you don't have to pay extra money for another tool, everything takes place in one place.
Read my review of GetResponse HERE.
Great, now that your Getresponse account is ready, the next thing is to create a lead magnet.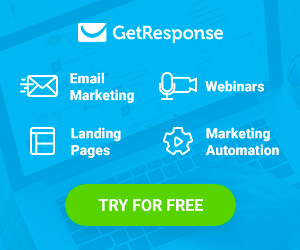 This lead magnet can be in a form of an eBook, training course, workshop, etc
As your lead magnet is ready.
What you're going to do next is to give it away for free but before people can get access to it, they have to give you their email addresses first.
And that leads us to the next step…
And that's to create a capture page (which is the same as a landing page) in between the lead magnet.
Here is how a capture page looks like: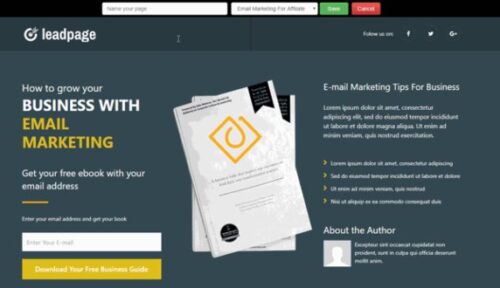 And they will have to opt-in, their email addresses in order to get access to the freebie. 
And as they opted-in their email address, the email is then saved to your list. 
And you have to immediately send what you promise to give them.
Don't worry the email software will do that automatically so far as you set up things correctly.
Finally, you have to follow up with your lead with an email sequence on a daily basis to build trust and relationships with your list and also promote your product to them.
Take note!… This email sequence has to be pre-written.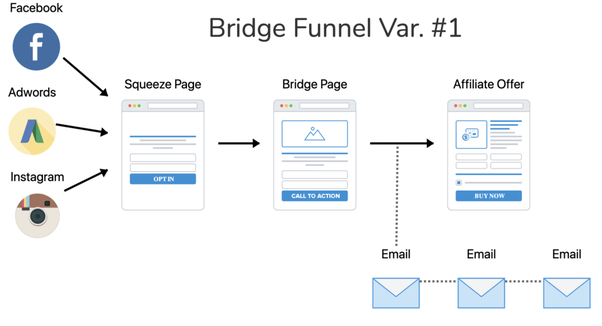 That's how you build an email list… Email marketing is an effective marketing method and it can help you boost sales of affiliate products.
Step #5: Harness The Power Of Video Marketing
Yes, I know you're like ah!.. I've been hearing of video marketing for a very long time.
Yes, that's absolutely true. 
We all have heard of it when we first started this journey but on a serious note, nobody ever told us the importance of it.
Video marketing is one of the best ways of growing and scaling any type of online business nowadays.
As video marketing is rapidly growing, it's obvious that the so-called 'Gurus' don't tell us to do it. 
In fact, most of them just focus on how they can make money from you and I by selling their course to us.
Amazingly that in their courses they don't advise us to start a YouTube channel, Facebook Live, or even Tik Tok.
But rather, they focus on teaching us how to make money without doing anything. (fake gurus), LOL… Just kidding but it's true.
Speaking of YouTube… It's the second-largest search engine in the world apart from Google.
99% of successful internet marketers in the world all have YouTube channels.
And what does that mean to them?
Free traffic.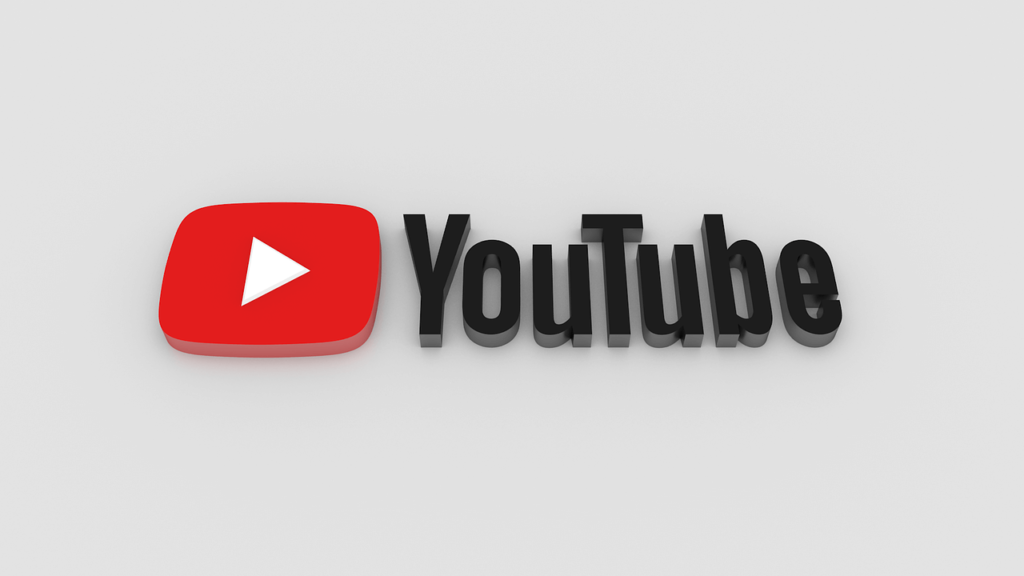 But here is the thing, you'll hear some of them telling us to do paid ads. (oh yes, paid ads are very important but not in some cases). 
In my opinion, that's not a smart way to grow an affiliate marketing business especially when you're just starting out.
NOTE: Again, I'm not saying paid ads are bad, it's good but not when you're just starting out and have no experience with it and soever.
Now, if you really want to make money from affiliate marketing or in any kind of online business, you need to start a YouTube.
Why?
YouTune is very powerful and it can change your business and your financial situation completely if you focus on it.
So now… Let me ask you, why don't you have a YouTube Channel?
Or you're going to invest in a course that will teach you how to run Facebook ads. (don't waste your money on that now).
Please after reading this post, go and create your YouTube channel today!!!
Oh yes, I know some of you will say I'm not comfortable or I'm shy being in front of a camera.
I understand you, every successful YouTuber you see online today. 
All of them feel that way when they first get started, but they do it anyway.
And you too, you need to get over that and do it anyway.
I'm sure you've heard this quote before…
If you want to be successful at something you have to do things that 99% of people are not willing to do. Click To Tweet
And also!
If you want to be successful you have to do things that you are not comfortable with. Click To Tweet
.
Step #6: Offer Bonus
This is very important. 
If you are in the affiliate marketing niche or maybe you're just starting out or you plan on starting soon, you've got to take this seriously.
Offer bonus on every product you promote.
Why?
Okay, let's take a look at some examples here so you can get a clear understanding of what I mean.
Let's say you're promoting a weight loss product from ClickBank.
And I'm also promoting the same weight loss from ClickBank. Now, I'll create a bonus around this product.
And for every person that purchases the product through my link, I'll give them a bonus.
I'll give them access to a free video course that walks them step-by-step about what to do to even lose more weight after they've used the product.
And also included in the bonus, I'm offering a free one-on-one video call where I'm going to teach them what diet to take to stay healthy.
Pause and calmly think about this for a second…
Now, between You and I, who will likely get more sales for the same product at the same price?
I know the answer is so simple and I want to hear your thoughts in the comment below.
Who in this world wouldn't want that bonus? 
I know, only a few courses on affiliate marketing that teach you to create an offer for the product you're promoting.
As time goes on, the competition in affiliate marketing is rapidly growing and if you want to dominate in your industry you need to put this practice into place.
Step #7: Think Outside The Box
There is a high level of competition in affiliate marketing than any online business out there simply because a lot of people see it as an easy business model.
For the look of things that may be absolutely true… But that's more than that.
On a serious note, affiliate marketing is very saturated. 
Being in a niche, where there's too much competition is not a good thing at all.
But the good news is that there's a way you can rise up above your competitors and dominate your niche.
 We've already looked at one of them early on.
Which is to offer a bonus on your product.
To always be ahead of your competitor, you have to think outside the box… You have to do things that other people are not doing.
So, let's find out how you can go about that…
I am going to ask you a few questions. Your answer will determine if you're really thinking outside the box.
Are you checking on what your competitors are doing and are you trying to do something better than what they're doing?
Are you providing enough helpful, valuable content to get more people on your email list?
Are you finding out what problems and pain your ideal customers are facing in your niche and are you trying to solve those problems and pain for them?
Are you in a group with or following other top affiliates in your industry to see what they are doing and talking about? To get new ideas about what's currently working and what's not working in your space? 
Go through those questions above and answer each of them and you'll get an idea about what you should do next…
Step #8: Take More Action Than Learning
I know this might sound weird or strange to you.
But after you finish reading this you'll understand why I said you should "take more action than learning".
Okay, here we go… 
If you take a close look at all the successful people in the world and moreover top affiliates as well, they all have one thing in common, and thus, they are ( action takers).
Is that true?
Yes of course. Though they commit to learning, they take courses and read books and stuff.
But…
This is what successful people do, for every 20%, they spend in learning, they implement 80% of what they learn in action.
Please read that line above again…
I'm not going to stress more on this because I believe you've already captured the whole picture.
The reason why 97% of people fail to make money online with affiliate marketing is that.
They purchase a course, they go through the whole training. They read books and be like "wow"  this is amazing, but guess what? 
In the end, they TAKE NO ACTION on what they learn.
And do you know what happens next? 
They never log in to that training again, and the book also goes under their bed and never gets read again.
They repeat this process over and over again, hoping to be successful… Let me be honest with you friend, it does work like that.
If you want to be successful in whatever you're doing. Start taking massive action today…
Here is the key.
Whenever you learn something new, you need to go implement it in your life or business immediately.
Don't say oh, I will keep it and implement it later. Later will never become an action.
Do this and you will see faster results in your life and business than you ever think of.
Alright, now, that you know how to get started and make money with affiliate marketing. 
Let's now look at how you can scale your affiliate business and make more money from it.
Step #9: Perseverance
Making money with affiliate marketing is not a get-rich-quick scheme or overnight success. It takes time, it's a long-term journey.
And the people who are going to make money from it, are those who "don't jump out of the ship before reaching the harbor"
Meaning those who don't quit along the way or give up. They are the people who will really make money out of this business.
You need to understand WHY you this business in the first place and then be ready to fight through the hard times.
It's not going to be easy but it's worth the effort.
start affiliate marketing
Best Way To Scale Your Affiliate Marketing Business
"Yes, affiliate marketing is probably the most scalable online business. However, the best way to scale it up quickly and also have a multiple stream income is to focus on high ticket products and recurring income commission programs (stern).
As long as you focus on one thing and don't jump from one product to another, you'll be able to grow or scale your affiliate business to where you want it to be"
Now, as you plan to scale your business, promoting low-ticket products is not a good idea. 
It's going to be very difficult to scale your business that way because you're going to need a lot of traffic to be able to do so.
Companies like Amazon and the rest, pay their affiliate commission rate between 1% – 15% for every sale they generate (this is based on categories).
For example, if you're utilizing paid marketing to promote a product with low commission, you're going to run lost and not even talk of making a profit.
Most often, low-ticket products are promoted through organic marketing which might be somehow scalable.
But it's going to take a very long time, hard work, and some massive effort upfront to be able to make any significant income.
Unlike promoting high ticket affiliate products which pay you a higher commission for just one sale.
So, what's high ticket affiliate marketing?
"A high ticket affiliate marketing is when you promote or market a product or service that costs $1000 and more (stern). 
By promoting this type of product, you get to make a higher commission per single sale. They give commission between $500 and more per sale."
"To put it simply – a high affiliate marketing is when you sell an expensive product or service to your audience where you make a very high commission when they buy the product from you."
A lot of people think promoting a high ticket offer is going to require you to put in more effort and different marketing methods than promoting a low ticket offer.
But, to be honest with you, the effort you put into promoting a low-ticket offer is the same effort you put into promoting a high-ticket offer.
However, the only difference between these two is that with a high ticket the reward is greater than a low-ticket offer.
You can run paid ads to promote high-ticket offers and the return of your investment will even be higher than the advertisement budget.
Why?
Because you get to make a higher commission. 
But with a low ticket, you can't use a paid marketing method to promote it because your outcome profit is not going to even reach the cost you spend on paid advertisements.
So, again the best way to scale your income in affiliate marketing is to focus on high ticket products and monthly recurring commission products.
[READ NEXT]… What Is A Recurring Commission Affiliate Program? (recurring commission programs
(Pin This Into Your Pinterest Board)
CONCLUSION!
Affiliate Marketing is the coolest method of making money online as a complete beginner. You can begin making your first dollar online as an affiliate.
Following the steps and the strategy above, you will be able to make your first dollar with affiliate marketing and also skyrocket your product sales more than you ever thought possible.
And you'll be glad you took the time and effort to build your own affiliate marketing business.
Thanks! For reading… If you have any questions or help, let me know in the comment below.
Affiliate Marketing FAQs
Is affiliate marketing easy?
"No, affiliate marketing is not easy, though the concept seems to be easy in theory, in practice, it is very difficult. It takes hard work, time, effort, consistency, and willingness to learn and following the right path to get results (stern).
97% of people who engage in affiliate marketing fail simply because they approach this business as a quick way of making money and aren't willing to learn, take action, and not be coachable."… Read more
Can affiliate marketing make you rich?
Well, the simple answer is yes, affiliate marketing can make you reach but in order to get rich doing it, it going to require a couple of thing such as:
Set up a good website and start a youtube channel. 
Provide value that solves other people's problems. 
Build an email list and build trust with your list. 
Promote high-ticket offers and recurring commission products to your list. 
Put in the time and be consistent. 
Be patience
How much money can you make as an affiliate marketer?
Affiliate income is not consistent. You'll have to look at income on an annual basis instead of monthly. A decent affiliate can make anywhere from $10,000 a year to $400,000. A super affiliate can make upwards of $1,500,000 a year. Source