Affiliate marketing is a proven business model that all big brands and online entrepreneurs use to increase their revenue but is it an easy business model? Let's take a look at that.
Is affiliate marketing an easy lucrative business model?
"Well to put it simply – yes, affiliate marketing can be lucrative as long as you put in the necessary work, effort, consistency, and the time it requires to grow. And you have the patience enough to stick with it for the long run (stern).
But to be honest with you, it's not a quick way of making money online as a lot of people make it to be, however, your marketing effort, skillset, and the kind of offer you promote play a huge role whether or not it's going to be easy for you".
In other words…
"The concept of affiliate marketing is easy when compared to other online business models, however, it is not as easy as most people claim it to be, it requires hard work upfront, proper planning, education, dedication, perseverance, and above all patience in order to succeed at it".
Read on to learn more about your question. Plus how to start affiliate marketing and some of the best to make your affiliate marketing business effective or lucrative.
With that being said, let's dive in…
| Click Here To Get FREE Affiliate Marketing Training Course You Need To Succeed Online |
Is Affiliate Marketing An Easy Lucrative Business
Yes, it is. The actual business model is lucrative but it's not easy. The reason why affiliate marketing beat all form of making money online is that it does not require:
You to create your own product
Provide customer support
Refund
Store and shipping of the product
And many more.
And the risk involved in affiliate marketing is very low because your main goal as an affiliate is to just focus on marketing the product.
However, the only issue a lot of people face that makes affiliate marketing hard for them is their expectations.
Why…?
A lot of people approach this business model as a quick way of making money online. Or the solution to their financial problem.
What I mean here is that they want to see results as quickly as possible. And if they don't meet that expectation they get discouraged and gave up
But, here is the thing… 
In any business, especially if it's your first time, it's going to take a fair amount of time to grow.
Though you may make a few incomes in it along the way, however, to make a very decent income from it, it's going to take time and some sort of massive work.
TAKE NOTE!.. Running an affiliate marketing business is like giving birth to a newly born baby. 
When the baby is young, you need to invest a lot of quality time, energy, and sometimes money on the baby for years without him or her paying you back.
Now, you'd have to continue taking care of your baby until one day, he or she grows up and starts supporting you back financially in your old age.
(Please that's just an example).
So, my friend, that's how you have to treat your affiliate marketing business. 
Have a long-term mindset and persevere through the ups and down until success.
My requirement is to commit at least 2 to 3 years into your business and see what happens before you quit or jump to something else.
How To Make Your Affiliate Marketing Business Easy And Lucrative
Many people think writing a piece of content and inserting affiliate links in the post is what's going to make them money. No, there's more to that.
Below is the best way to make affiliate marketing effective and lucrative:
 1. Know Who Your Targeted Audience Are
Your target audience is a group of people or someone in your niche who may be interested in or more like to buy your product.
Your goal as an affiliate is to find where they mostly hang out online and help them discover the right product they are in need of.
You need to help them understand why your product is good for them, what problems and pains it solves. 
And then help them make a buying decision.
And as they are ready to buy the product from you. You need to provide them a link to the product so they can complete the purchase.
2. Know What Your Buyers Want
Determining the buyer's intent of your idea or target audience is extremely important. Once you know what your potential customers are in need of or looking for.
It makes it easy for you to know the right keywords to use in your content when promoting your product. 
Also, it helps you to know what questions your target audiences are typing into the search engine when looking for the product you're an affiliate for.
Once you've figured out the right keywords and questions your audience is searching for, it's time to start writing some high-quality, valuable content related to those keywords.
And as your content is ready you need to insert your affiliate link in your content and publish it.
IMPORTANT!.. Don't spam your link all across your post, let it come naturally, meaning (you should only place your link in the part of your post that makes sense).
3. Follow A Mentor
Affiliate marketing is a broad topic and trying to learn everything by yourself will lead you nowhere but rather failure and frustration
So, taking your time to learn from someone who's already successful with what you're doing will be of good help. 
Take some guidance and advice from your mentor, or any other person in your industry who is successful with what you're doing.
Doing so will help you avoid and bypass so many things that might hold you back from success.
So where can I find an affiliate marketing mentor?
"That's a great question – there are so many places online where you can find affiliate marketing mentors to follow and learn from them". To know where to find one, check out this post here".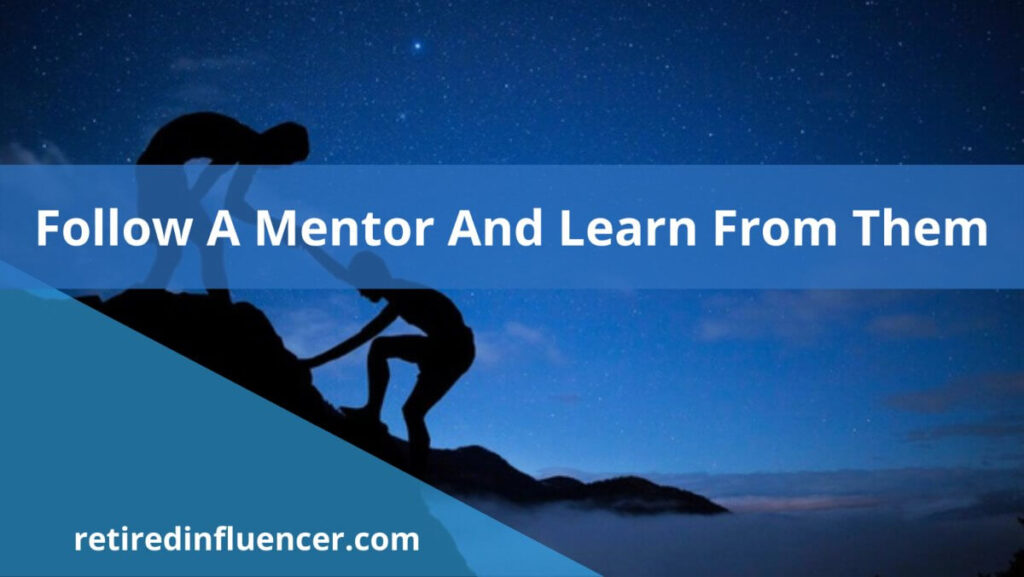 4. Focus On Traffic Generation
Traffic in affiliate marketing is extremely important and without it, meaning, you won't make money in your business.
Now, there are two main types of traffic. Free and paid traffic, for the majority of affiliates, when they first get started they mainly focus on free traffic.
And then later switched to paid traffic when they started making some profit in their business. 
The difference between free and paid traffic is that… With free you have to spend tons and tons of time in order to drive traffic to your offer.
However, once you've built it up, over time it can be very much profitable.
Where to get free organic traffic?
There are so many places to drive free organic traffic to your affiliate offer. Some of the best free traffic sources are:
YouTube
Pinterest
Blog
Facebook
LinkedIn
Instagram
Twitter
Reddit
Quora
Niche blog Commenting 
While paid traffic is the quickest way of driving traffic to your blog or offers. 
If you want the fastest ways to get results or sales in your business, paid traffic is the best option for that.
Some of the best places to run paid advertisements are:
Facebook ads
Google AdWords
YouTube ads
Twitter ads
Instagram ads… etc
Though, paid advertisement is good in terms of scaling your income and business.
However, you need to have proper knowledge and training about it so you can be able to know how to run it successfully.
But if not – you're going to lose a lot of money.
5. Provide Helpful Information
The only way people are going to feel like buying what you're promoting is when you help them achieve their desired goals and also build trust with them.
So, how are you going to do that…?
You do that by simply providing relevant, high-quality, and valuable content that helps solve a particular problem, pains that your target market is having a challenge with.
And as you do that a number of times. They will begin to Know, Like, and Trust you and even start to see you as an expert on the subject.
And when it happens like that, they will begin to TRUST all your recommendations and that's where the sale starts to roll in.
For some people, they will just want to buy from you simply for helping them.
6. Be Patience
Patience is so powerful,  a person who has the patience to stay with something long enough which is not moving fast will probably come out victorious.
We all know that making money online with affiliate marketing is not an overnight process. It takes a very long time to make money from it.
So, be patient with your business. Don't stop or quit when you're putting in tons of time and effort but still, you're not seeing any result.
I believe you heard these sayings before…
Patience is not the ability to wait, but the ability to keep a good attitude while waiting.
Click To Tweet
With love and patience, nothing is impossible.
Click To Tweet
Patience and perseverance have a magical effect before which difficulties disappear and obstacles vanish.
Click To Tweet
One minute of patience, ten years of peace.
Click To Tweet
Here are other ways to make affiliate marketing easy and effective or lucrative.
Plan out your goals every week or month.
Stay active.
Build a team.
Be passionate about what you're doing.
Don't try to do too many things all at once – Take one step at a time.
 Know the product you're promoting.
Work hard.
Post content consistently.
Okay, now that you know affiliate marketing is lucrative and how to make it effective. Let's look at how to become an affiliate marketer but first…
Made with Visme Infographic Maker
What Is Affiliate Marketing?
"Well, in the simplest form, affiliate marketing is when you earn a piece of commission for promoting or selling other people's products or services. These products can either be created by an individual or a company".
Here is how the whole process work.
A company or an individual who wants to market their product to a huge number of people creates an affiliate program and allows anyone to join for free.
However, some of the companies out there will require you to provide some information about you and your business before allowing you to join their program.
Why…?
They do that simply to see if you're the right fit or the type of affiliate they're looking for to promote their product.
Typically, most companies look for an affiliate that has some sort of influence or some level of expertise in the industry they are in who can reach their ideal customers easily.
Okay, once you join the program. The company will then give you access to some helpful resources such as free training, promotional banners, sales letters, etc.
Why all these things…?
They want you to succeed because your success is also their success and your success is also tied to their reputation.
Here is the main part – as you're now an affiliate marketer of the company, you're then given a unique link that is tied to your account.
This link is used to track and record any traffic and sales you send into their system so that they will be able to pay a commission for any sale you generate.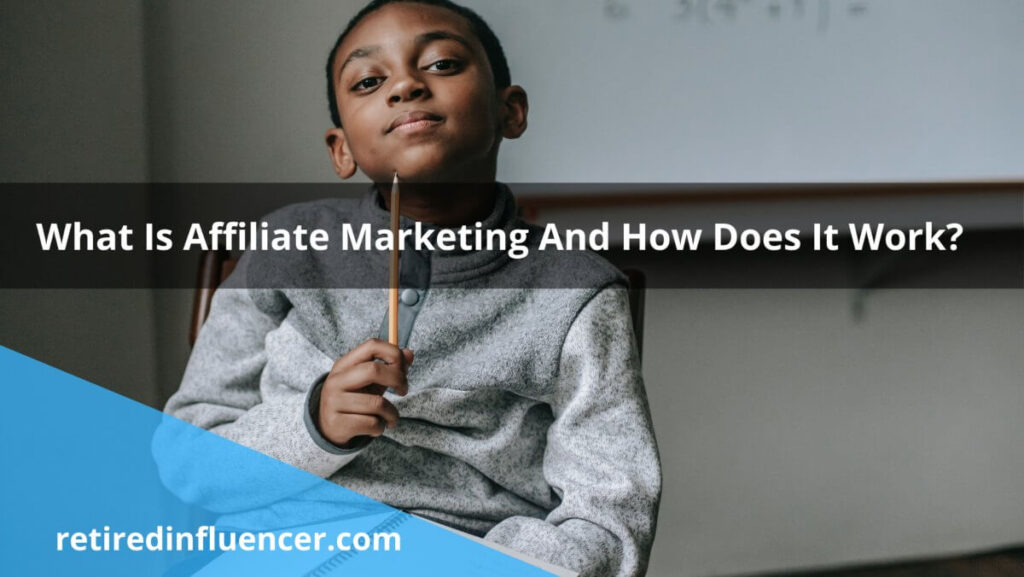 How To Start Affiliate Marketing For Free
What's the best way to start affiliate marketing with no money?
To put it simply – there are many ways in which you can make money online with affiliate marketing without investing any money.
But, first and foremost, you need to Decide On A Niche: A niche is a topic you're interested in, passionate about, or want to learn about.
Now, as your niche is ready, the next thing you need is to Pick A Affiliate Product: You need to pick a product that's related to your niche. 
To find products related to your niche you simply hover to Google and type In (your niche name + affiliate products) and you'll find some cool ones to join.
Or you can search some of the popular affiliate networks sites such as:
Okay, once your affiliate offer is ready, you need to Pick A Promotional Platform: This platform is the channel in which you're going to market your product to people online.
There are so many platforms out there online you can choose from…
So what's the best platform to promote affiliate products for free?
YouTube: You can create a YouTube channel and then start posting valuable video content that educates, teaches, and helps people. You can also create a video about the product you promote and tell people how the product works and how it's going to benefit them.
Pinterest Groups Boards: Create a business account with Pinterest and follow popular group boards related to your niche and then create a pin and link the pin to your affiliate offer. As you link the pin to your offer, you can then post the pin on the group board.
Facebook Groups: Find and join Facebook groups that are congruent with your niche and then become an active and helpful member in the group by answering and posting valuable content. As you do that for quite some time, the members in the group will begin to know, like, and trust you. And most of them will start to send you friend requests and ask you about what you do and you can take it from there.
Now, once you've picked your desired platform, you need to Produce High-quality Content on a daily basis on that platform for the following reasons:
In order to establish yourself as an expert in the eyes of your ideal customers.
To build trust and relationships with your audience.
To grow your audience or followers fast.
To tell people about your product and how it's going to benefit them.
Finally, you need to Build An Email List. It's often said that email is the lifeblood of your business, and that's absolutely true.
One of the best ways to make money with affiliate marketing is to build an email list of a target audience.
Who you can market your product to over and over again until they decide to buy.
 Now, to build an email list, you need to create something called a capture page. 
This page is what visitors from your content are going to opt-in their email addresses so you can be able to build your list.
Now, to be able to create this capture page to build your email list, you're going to need an email software tool.
There are a handful of email service providers out but the one I'll recommend for you is GetResponse.
Why GetResponse…?
Getresponse is an amazing tool, it has both a capture page and an effective autoresponder all built-in-one place that allows you to easily capture your visitor's email addresses.
And also be able to market your product to your list leveraging the power of email marketing.
You can read my review of GetResponse here.
I also have another post that goes into detail with step-by-step how to start and grow your affiliate marketing business with tips and strategies… Check it out Here.
how to start affiliate marketing for free</
How Fast Can You Make Money With Affiliate Marketing?
"Making money with affiliate marketing takes a very long time, it can take you 6 to 12 months or more to make your commission. So, the fastest and best way to earn your first income is to use paid marketing which is quicker than organic methods".
Paid marketing is the best way to totally go about this.
However, the only problem with paid marketing is that it requires skills, proper training, knowledge, and money in order to make it profitable.
Take note!.. When you're going to use paid marketing as the primary method of promoting your product.
 Make sure you focus only on high-ticket affiliate programs.
Why a high ticket…?
The reason behind this is that, with high ticket products, you stand the chance of earning more income from just a single sale.
Which can allow you to cover up some income you spend on paid ads.
Furthermore, there are some rules that apply with running paid ads to promote an affiliate offer and that's they don't allow you to promote your affiliate link directly.
So, what do I have to do…?
This is simple, when promoting your affiliate offer with paid ads, make sure you set up a landing page first.
And then offer the customer a freebie to get them on your list and as they are on your list you can then promote your product to them.
Okay, now that you know and understand this whole thing called affiliate marketing is not some sort of get-rich-quick method or click a button and make money kind of stuff.
So, if you're ready and serious and want to learn how you can get started in affiliate marketing and build a profitable business from it… 
Check out my Resource Page for my #1 recommended program… This program offers free one-on-one coaches that work directly with you.
And also they have high ticket products that pay a higher commission, meaning you can say goodbye to small commissions.
(Pin This Into Your Pinterest)
CONCLUSION!
At the end of the day, I will say affiliate marketing can be easy and it can be hard, however, it all depends on your learning curve, effort, and willingness to take action.
Running an online business requires patience, consistency, and hard work. If you have these three things then success is bound to happen for you.
So in the beginning, just focus on delivering helpful, quality information and be consistent.
Affiliate Marketing FAQs
What makes a good affiliate marketer?
"There are so many things that make a good affiliate. A good affiliate has some sort of knowledge about what they are sharing and focuses on helping their customer rather than just trying to sell to them (stern)".
"A good affiliate used, test the product they're recommending to see if it's going to help meet the needs of the customer or not before promoting it".
How much money can you make off affiliate marketing?
"To put it simply – affiliate income is not predictable, however, successful affiliates who are considered to be experts can make somewhere between $10,000 to $50,000 and more per month. While super affiliate can make somewhere between $75,000 to $100,000 per month" 
How can I be successful in affiliate marketing?
"First and foremost, you need to understand that affiliate marketing is a business and in order to become successful with it, you need to treat it like a real business. You also need to do your research and get a good foundation about things like "Do's and Don't"… Read more.
What is better than affiliate marketing?
"In my opinion, investment is better than affiliate marketing because you get paid without having to do any work or sell any product. However, affiliate marketing is perhaps one of the best business models which can allow anyone to become rich when done correctly".
Does affiliate marketing work?
"Yes it works,  and it's still a good way of making money online. For most companies and internet marketers, affiliate marketing is one of the best ways they make money from their business, however, it doesn't work for anybody though"… Read more.