Affiliate marketing is one of the largest income sources for most entrepreneurs and since it was introduced into the internet in the year 1989, billions of dollars have been generated from this industry, making it one of the most popular ways to make money online.
Yes, affiliate marketing has been proven to work. There are people making extra money and a full-time income from affiliate marketing. However, effort, commitment, consistency, and hard work is needed.
Everyone can succeed with affiliate marketing if you are willing to put in the work it requires and also invest in knowledge and training to improve your skillset as a marketer.
You failing with affiliate marketing can depend on how you go about building your affiliate marketing business. There are WRONG and RIGHT ways to do affiliate marketing.
Here is why some people fail with affiliate marketing….
1. Paid traffic – A lot of affiliates ( especially beginning affiliates) use paid marketing to drive traffic to their products. They spend their money on paid ads, more than they earn which result in a loss.
And when they come to realize what works and what doesn't work, some adjust their marketing strategy but the majority of them try to give up assuming that affiliate marketing does not work.
2. Providing wrong Content and Product – A lot of affiliates build a website to drive traffic to their offer by ranking on search engines such as Google. This strategy fails most affiliates for some reasons:
Building a website for affiliate marketing business is a lucrative strategy to drive tons of traffic to your offers, but your content might not rank at all if you create the wrong kind of content for your offer.
Maybe you do create the right kind of content and you are getting traffic to your websites, you can as well fail if your content is not congruent to your product or your content does not provide value the visitors are looking for.
Though affiliate marketing does work, there are still many ways to do it wrong and fail at it. The business model itself has been proven to work perfectly.
But keep in mind, there are tons of affiliate programs out there to promote. However, not all of them pay the same kind of commission for promoting their product.
For instance, most digital products offer 40% – 50% commission, while physical products usually offer 2-3-10% commission. Not all of them will offer the same kind of commissions.
Now, using paid marketing strategies, promoting low commission affiliate products will likely result in a big failure for you.
Leveraging paid marketing, you will struggle to make a profit from your business unless your value-ladder is large enough.
Now, let's take a look at ways you can start affiliate marketing the right way and be successful…
Download our Affiliate marketing ebook for free to learn step-by-step how to build a 6-figure online business leveraging the power of affiliate marketing. DOWNLOAD HERE.
(Disclosure: This page contains affiliate links, meaning we receive a small commission if you decide to make a purchase through our links, which is no cost to you. This helps us to focus on delivering more content for you and others ) Thanks For Support!
The Best Way To Make Affiliate Marketing Work
Affiliate marketing has definitely worked for a lot of people and a lot of people have also failed with affiliate marketing.
But you can succeed in this business model only if follow a proven method and do it right.
Running a successful affiliate marketing business has a proven 7-step method and when you follow the steps properly success is bound to happen for you.
1. Choose a Niche – 2. Select a Product – 3. Build a Website – 4. Do Keywords Research – 5. Create quality Content – 6. Build an Email List – 7. Drive Traffic
THESE ARE THE PROVEN STEPS TO AFFILIATE MARKETING:
1. Choose a Niche – A niche is a topic you are going to be writing content around on your website and this has to be about a specific topic you are interested in.
Have knowledge and experience about, so you can offer value to your audience and also stick with it for the long haul.
Here are some profitable Niches you can make a lot of money from.
Health – People all around the world will always want to be healthier, want to build muscles, want to lose weight.
Wealth – A lot of people around the globe will want to improve their finances situations, for most of them, how to start and grow a business and for some, how to invest.
Relationship – We are all human and we all make a mistake and in one way or the other we may want to repair the damage caused in our relations, being marriage, friendship, co-worker…
These are the 3 profitable evergreen niches, meaning there is a high demand for products in any of these niches and people are always looking for ways to solve their problems in any of these niches.
And if you can build a business around one of them and help people. You can make very decent money from it.
2. Select a Product – With affiliate marketing, you need to have something to sell and you want to find a product you believe in or have used yourself and then focus on it.
Don't overwhelm yourself by marketing different affiliate products all at once, so choose only one product and stick with it.
You will be able to know what your audience needs are and also establish yourself as a go-to-person in your niches if you focus on one thing.
Focusing on multiple products, you are going to need a lot more effort to attract the same audience as focusing on one product.
So why don't you focus on one thing to move faster, rather than multiple products which will slow down your growth.
Do You Want To Learn Step-By-Step How To Build A 6-Figure Online Business With Affiliate Marketing From Scratch?… Click Here To Join Now.
3. Build a Website – After you have chosen your niche and a product, you have to focus all your marketing effort on one platform and you have to build your website relevant to the niche and product you have chosen.
 For example, your niche is in the Health and Fitness space, and you know your audience is likely to be people who want to lose weight, build muscle, want to be healthier, etc. 
And now, if you want to create content on your website, it has to be congruent to the kind of audience you have and are targeting and so do your PRODUCT as well. You can't promote weight loss products to Cat sellers.
4. Do Keywords Research – Next, you will have to target those audiences and figure out what phrase, terms, and information they are looking for in the search engines (Google)…
In order to attract the right kind of audience who is interested in your offer and more likely to purchase the product, you are promoting as an affiliate.
And as you have figured out their interest and what they want, you then need to figure out what type of content is best for doing just that.
5. Create quality Content – This is where you serve and solves your target audience problems and challenges they are facing. 
It is said content is king and that's halfway true but quality content is indeed king.
You don't get to have a successful affiliate marketing business, without first doing the work (helping others) and online that work is content creation.

6. Build an Email List – This is the most important part of affiliate marketing, and if you are running an affiliate marketing business and you are not building an email list, guess what, you are leaving huge money on the table.
It is often said, your money is in the list and that is TRUE, online people are more skeptical when it comes to buying a product. 
And what you have to do is to first build a landing page for your offer to first capture visitors' email addresses before sending them to a product, so you can build your email list.
And remarket your product to them through an autoresponder if they don't buy the offer at their first exposure, which most people don't.
The biggest mistake I see most affiliates make is, promoting their affiliate link raw like that without capturing the buyer email address.
And if you are running an affiliate marketing business and you are sending people to a raw link without capturing their EMAIL ADDRESS, guess what, you're leaving YOU out of the EQUATION. 
Building an email list is going to do two major thing and these are:
1. Build TRUST and Relationship – Succeeding online TRUST really matters and it's the way people are going to feel more connected to you and decide to buy what you are recommending.
And this can be done by continuing to provide more value to them as they are in your list, and this must be a value that solves a problem in a particular area. 
However, it must be congruent with your niche. This could be in the form of free training, PDF download, or valuable content.
And as you have done this for the long run, they will begin to KNOW, LIKE, and TRUST you and also see you as an expert in the industry.
2. Sell – And as they begin to see you as an expert, they will be interested and be willing to purchase from you, whatever you recommended to them. 
Now, building an email list can increase the chance of you making more money in your business. 
But there are a couple of software that you're going to need to run this successfully (eg, Aweber, LeadPage, Getresponse…. Etc )
But the one I'll recommend you take advantage of is Getresponse, why? Because GetResponse is reported to be the world's easiest email marketing software to send email autoresponders to your list.
I've used Getresponse myself and still using it and my experience with them was amazing.
It has amazing features that you can expect from email marketing such as webinars, campaigns, online surveys, effective follow-up autoresponder… etc.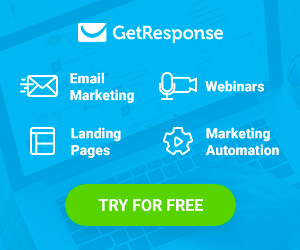 You can get started with Getresponds Here for free (30 free trial)
(This is an affiliate link meaning, I'll receive a small commission if you decide to go through my link, which is no additional cost to you but help me to focus on delivery more content for you and others) Thanks For Support.
Here is the Link to Getresponse again. 
7. Drive Traffic – Now, you have to get people to your content, your website, your product, and your capture page and this means you must build traffic strategy.
There are different types of traffic but the main form is free and paid traffic, Paid traffic is faster and the sooner you can get the better, but if you can afford it. 
But it's absolutely fine to start with free traffic such as:
Social Media Marketing
Guest Blogging
Forum Marketing
Email Marketing
You don't have to master all of these methods at once, you can make money when you manage the proper use of SEO, but the most important thing is to get eyeballs on your content.
Download our Affiliate marketing ebook for free to learn step-by-step how to build a 6-figure online business leveraging the power of affiliate marketing. DOWNLOAD HERE
Who is the most successful affiliate marketer? There are lots of entrepreneurs who are making huge money as affiliate marketers. You may recognize some of these people as successful marketers.
Pat Flynn
Neil Patel
Tai Lopez
Nathan Lucas
Stefan James
Mark Ling
Mike Dillard
Tim Ferriss
Is affiliate marketing still profitable? Yes, affiliate marketing is still profitable but it has to be done the right way. You cannot just share your affiliate link and then watch the money roll into your bank account. You need to really put in the time, effort, and be consistent in order to be successful.
[READ NEXT!]..Discover The Best Way To Start Making Money Online With Affiliate Marketing… Click Here To Read The Post.
CONCLUSION!
Affiliate marketing is presented to be the best way for beginners to earn a passive income online, and can start with zero experience!
There are tons of people who have used affiliate marketing to create multiple 6-figure online businesses! 
And it's not as difficult as many people think it is, and you can be successful with a business by simply putting in massive work, effort, commitment to learning, and not giving up!
It's true that there are many people who have failed with affiliate marketing. But it's also true that many people have succeeded with this business and are making a decent income.
The number one reason, most people fail at running an online business is lack of commitment and perseverance.
Along the way, things are going to get difficult, but you just have to simply put the forth effort and not give up and press on! and press on!…
If you have reached the end of this post, BRAVO!… Let us know what you think in the comment below and if you need help with anything,  please don't hesitate to let us know and how we can help you… We are here to help you…Your opinion matters to us a lot!
Do You Want To Learn Step-By-Step How To Build  A 6-Figure Online Business With  Affiliate Marketing From Scratch?… Click Here To Join Now.
Download Our Ebook for FREE and learn step-by-step How To Build A 6-figure Business Leveraging The Power Of Affiliate Marketing
[Retired Influencer is dedicated to making money online with affiliate marketing, so please do come back to read more of our post on affiliate marketing and how to to become successful online]
HOPE TO HEAR YOUR SUCCESS STORY SOON!
BRIGHT KERSH (Retired Influencer.com)