Affiliate marketing is a 14 billion dollar industry, 81% of marketers and 84% of publishers leverage the power of affiliate marketing. In 2017 $8.9 billion is being generated in sales, 2019 $6.5 billion, and in 2020 $6.8 billion, and in 2021 that figure is expected to go up, and I still wonder why do affiliate fail…
First thing first, understand failure is part of the process and you need to understand what works and what doesn't work (trials and errors) and then work on it till you succeed.
The main reason why many affiliate marketers fail to make money online is that they fail to learn, implement, and don't want to spend money.
Speaking of affiliate marketing is a broad topic, and if you don't know everything about it ( what it is exactly about, how it works, pros and cons, ups and down) you are likely to make mistakes.

But if you want to avoid all those mistakes which will eventually lead to absolute failure, you need to commit to learning everything you can and implement as you learn and also stick with one strategy method for a long period of time and master it.
So stick with one method and learn all that you can.
If you can afford, enrolling in a course is great, or learning from other great affiliates who are already successful with what you are doing, may also be a good choice if you really want to dominate in this business model.
Search engine optimization (SEO) is also another important thing you need to learn unless you are an SEO expert or you have the fund to invest in a paid advertisement to reach your customers which might not be profitable when you are just getting started.
So in simple and short, you need to become a friend of Google by following and learning its rules, so they can show you some love by sending high-quality traffic to your site which might turn into a big revenue for you.
That being said, failure is not an option, you can avoid it by focusing on your affiliate marketing business by learning all that is needed to be learned and put in more EFFORT and CONSISTENCY.
Let's further take a look at other reasons why people fail with affiliate marketing.
Download our Affiliate marketing ebook for free to learn step-by-step how to build a 6-figure online business leveraging the power of affiliate marketing. DOWNLOAD HERE
(Disclosure: This page contains affiliate links, meaning we receive a small commission if you decide to make a purchase through our links, which is no cost to you. This helps us to focus on delivering more content for you and others ) Thanks For Support!
Reason Why 97% Of Affiliate Marketer Fail Online
Most people get into affiliate marketing without really knowing what to do and in the end, they get confused and frustrated and give up.
If you don't want to be like them then take note of this.
People Don't Have Patience Enough
Affiliate marketing is not a get rich quick scheme, it's a delay gratification meaning it's going to take a long time to get your desired result.
Every successful entrepreneur you see online today, they didn't become successful overnight, they worked for years to get to where they are today.
Solution…
Making money with affiliate marketing is not easy, so be patient and take massive action on your business and give it a chance for at least a year or more to see what happens.
Don't Focus On Providing Valuable Information
A lot of people sign up to an affiliate program and then go to different YouTube channels, Social media groups ( Facebook, Pinterest, LinkedIn… etc), forums (Reddit and Quora… etc), and blogs and then say something like this " do you want to make money online? Then click the link and join now" and they add their affiliate link at the end.

This sort of marketing is very bad…
Wasting your time and effort doing this sort of thing is not going to profit you and in fact, you are not going to make money doing that.
Most of the time, you will be banned from those platforms for doing such a thing, especially with YouTube and Facebook, they will get your account blocked instantly.
It has happened to me before, I did that for almost a year but never got any result then I thought of giving up until I figured it out and started writing useful content on my blog, and traffic and sales just took off fast.
Solution
Online content is said to be king and without it, you are doomed to fail, so whatever niche or business you find yourself in, you need to focus on providing valuable content that teaches, educates, and helps people solve their problems.
Shiny Object Syndrome ( Not focusing on one thing)
This is one of the things that delay most people's success. People don't focus on one method of making money online, they move from one program to another ( I also did this when I first get started)
People don't have the patient to stick to one thing for a long period of time before moving to another thing and in the end, they end up failing and for some, they will say the program doesn't work.
Solution…
Stick to one thing till you master it and you are making enough money from it before moving to something different.
Failure to do that, you are going to overwhelm yourself and in the end, you will end up not making money with none of them.
[READ]… 10 Silly Affiliate Marketing Mistakes To Avoid And Solutions
Not Treating It Like A Business
Just like any type of business out there, affiliate marketing is also a business model and it requires time and dedication just as how you wake up early and go to your 9 to 5 job and work.
Failure to wake up and dedicate some time to building your business to move it forward, you are not going to get the desired result.
Solution…
Wake up every day and put massive action into your business to move it forward.
What if I'm working a full-time job?
If you are working a full-time job, then wake up early and put in at least an hour or two every day but if you can wake early then sacrifice some time after work and do something before going to bed.
Remember, the path to achieving success in your business is to take massive action. There's no off day until you achieve what you want.
It Takes Work (Hustle)
We live in a microwave world now, where people want instant results without doing anything, however, when it comes to making money online and probably with affiliate marketing you need to hustle and work hard.
Without putting in the effort, commitment, and massive work, count yourself out.
In your first year or two to three years, you are really going to struggle and this is where most people jump off the ship before they reach the harbor (quit).
Solution…
If you really want to make money online and probably have the freedom to do more of what you love, then you need to be willing to HUSTLE every single day and that is to create useful content that people are looking for.
Because without content you ain't going nowhere.
Quick Expectation
Most people start affiliate marketing as a quick way to make money online, to solve their financial situation.
And as along the way, they found out that it's a long term business that requires some skillset and dedication, then they lose interest and give up.
Solution…
Affiliate marketing is a business, and business needs time to grow. And if you want to make money from it, you need to give this business time and dedication.
Lack Of Proper Training And Guidance
Affiliate marketing is a broad topic with too much training, courses, and with the so-called gurus claiming you can make money with little or no effort.
And many people fall for those lies and never take the right route to approach this business model.
Solution…
To avoid failure. Find a mentor or a good course and commit to learning and researching all you can and take action on what you learn until you start seeing the results.
Joining The Wrong Affiliate Programs
Your success and your failure depend on the type of affiliate program you sign up with because not all affiliate programs are good or legit. There are really bad and good ones out there.
For some programs, they don't pay a good commission rate and for some, they don't pay the commission they promise, with some they run away with your income.
For some, they have poor products that don't add value to your customer's lives which at the end result in you losing the TRUST and relationship you built with them.

Solution…
Don't just sign up for any affiliate program you come across on the internet without first doing thorough research about them.
The best thing to do is to buy the product yourself and test it before expanding it to your audience.
Bad Hosting
A website is an important tool in affiliate marketing, however, a slow loading website discourages visitors from coming back to your site.
Remember, without people visiting your site, you won't make any money and If a visitor leaves your site due to slow loading, it will go against you and all your effort and hard work will be absolutely useless.
Also, Google hates a slow loading website and will not rank it on top of SERPs and that can really be a big blow to you and your business because without traffic you are doomed to fail.
Solution….
Hosting plays a big and important role in making your website load faster for your visitors.
It's important to choose the right hosting company to host your site.
There are many hosting companies out there such as ( Bluehost, Hostgator, Godaddy, Siteground, etc).
But the one I'll recommend for you is Bluehost.
Why…?
Bluehost is one of the best hosting companies out there, it secures your site, makes your site load faster, offers a free SSL certificate, and a free domain for one whole year and it's also cheap.
You can get started with Bluehost Here and get your site up and running under 30 minutes.
(I'm an affiliate to Bluehost, meaning if you go through my link I will receive a small commission which is no additional cost to you but help to focus on delivery more helpful content for and others) Thanks For Support!
Here is the Link to Bluehost again.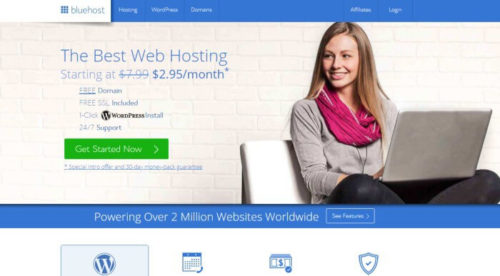 Not Targeting The Right Keywords
Keywords also play an important role in terms of driving targeted traffic to your site and offer.
Day in, day out, people are constantly searching the internet for a website with content that correlates with the Keyword they type into search engines.
Failure to produce the right kind of content that matches the user intent, you might be losing out some huge amount of traffic to your site and offers.
Solution…
Write content that matches the searcher's intent and well format with graphs, pictures, and video, doing this provides better user experience and allows you to build the Know, Like, and TRUST with your readers.
This TRUST factor is what will make them click on your affiliate links and purchase what you are recommending.
PRO TIP: Focus on long-tail keywords because they really do well in terms of attracting the right traffic to your site.
Underestimating The Power Of Relationships
Every successful business is built on TRUST and relationships by interacting and helping its readers or customers with helpful content or information.
And if you are not doing any of that, you are not going to really do well because it trust and good relationships that lead to sales.
Solution…
Try to offer help to people whenever they ask or even if they don't ask.
You should also start to build an email list of your visitors and subscribers and start to provide more helpful tips and information in order to help them solve their pains and also to build a strong relationship with them.
Building a strong relationship between you and your readers or customers can help you increase your revenue.
Focusing On Selling And Not Really Helping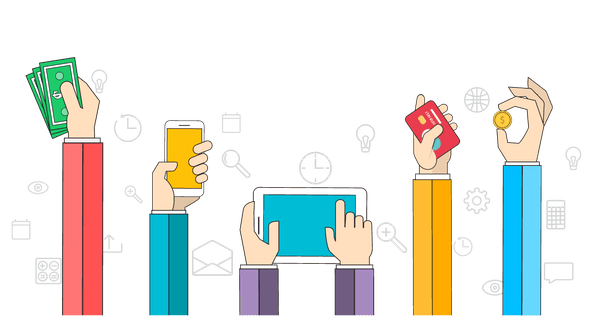 All that people focus on is SELL! SELL!! SELL!!! Without offering any help to their audience that will help them solve their NEEDS and if the people don't buy they get discouraged and want to throw in the towel (they want to give up).
Remember, business is ALL about helping people and if your business doesn't help people, then you don't run a business.
Solution…
To stand out from the rest of the affiliates who are still struggling, you need to switch from selling mode to helping mode and aim to help your target audience more than anybody else in the marketplace.
Not Investing Into Your Business ( Tools)
Before you can run a successful affiliate business and make money from it, there are some tools you are going to need such as eBooks, autoresponder software, video making tools (camera, light, microphone, etc), training, service, etc, before you can grow it to a point where you might be making money from it.
Solution…
Though you can still succeed without investing in a ton of tools but without them, it's going to get tougher and longer than you may think, which many people don't have the patience enough to tolerate.
So invest in your business, though, first it might look like you are wasting your money but in the end it all worth it.
Lack Of Discipline
Becoming successful with anything, it takes discipline to stay focused even though you are not seeing the result.
Most people fail simply because they don't motivate themselves to continue when they are not getting the result.
Solution…
In the world of Steven Pressfield, he said ( " Do The Work. Overcome Resistance and Get Out Of Your Own Way" ).
Stop being lazy and focus on the THINGS that will help grow your business.
Download our Affiliate marketing ebook for free to learn step-by-step how to build a 6-figure online business leveraging the power of affiliate marketing. DOWNLOAD HERE
Lack Of  Passion
In the world of Steve Job, he wrote ( Without passion, any rational human being will quit).
Now, if you start affiliate marketing for the sake of making money, what if you don't make any money? You will carry your bag and leave this industry.
Solution…
If you want to succeed, do what you love, interested in, and passionate about. And then put all in.
Lack Of Time Management
If you treat affiliate marketing as a hobby, you will get a hobby result and if you treat it like a business, you will get a business result.
If you are not putting enough time into growing your business, you are not going to make it.
Solution…
Wasting your time on unnecessary things like watching videos on YouTube, Spending to much time on social media doing nothing will delay your success.
Instead, focus on activities that will help move your business forward and also put in more time into your business, maybe a minimum of 3-4 hours a day or more could be okay.
Technical Issues
A lot of affiliate marketers don't have any knowledge in technology, so when they encounter a problem with their website such as technical issues, design, site structure, you name it, and if they can't fix it they get frustrated.
Solution…
Reach out for help or take some courses. There are tons of free videos on YouTube that can help you fix those issues.
Those are some of the reasons why most people fail with affiliate marketing.
Now, let's hear in the comment which one you make when you first get started or still making now…?
[READ]… The Biggest Mistakes In Affiliate Marketing
Affiliate Marketing Failure Rate
Out of the 100% of affiliate marketers out there, 97% fail due to high expectations, lack of knowledge about the topic, and a get-rich-quick mindset.
Making money with affiliate marketing is a long term game, but most people take this business model as a quick way to make money online, and when they are in for months or even years and they don't make any income they get discouraged and quit.
Do you want a proven way on how to start and build a 6-figure online business leveraging the power of affiliate…? Check my #1 recommended program that will walk you step-by-step to do that
Why Affiliate Marketing Does Not Work
There are so many reasons why affiliate marketing does not work for many people. However, it does not work for an affiliate that quit and doesn't sustain their effort for the long-haul.
Another thing is, many affiliates don't get the proper training or education, they just join any affiliate program and start producing any kind of content and then rely on Google to send organic (free) traffic to their site.
However, Google doesn't like a beginning affiliate whose aim is to promote a product and make money. Unless you focus on producing some real VALUE before Google can put you on the top of the search.
Though some rules may change how we approach affiliate marketing. But the actual business still does work. The question is how much time and effort and value are you willing to put in every day.
Affiliate marketing success Rate
Success doesn't happen automatically, it is created by YOU. Out of the $14 billion generated in affiliate marketing, that only comes from 3% of affiliates who are willing to learn, plan, work hard, find their niche, and stay positive.
If you take a look at that percentage, you might think that it's a small number, however, if you compare that to people in the brinks and mortar business who are successful, they are very few.
5 Tips To Be Successful At Affiliate Marketing
If you are planning to make a living off affiliate marketing, you want to make sure it's successful.
Let's take a look at that and what you need to do:
1. Do A Research – It takes more than just posting an affiliate link on your website and then waiting for some miracle to happen.
You need to take your time and do research to ensure you understand the niche you are in, what opportunities exist, and if there are any risks.
You also need to make sure you know all the current trends and how your affiliate product fits into that.
2. Start With A Simple Step – Learn to walk before you run. Take your time to discover how things work and then make your biggest decision. Start with applying for an affiliate program that you are interested in.
Opt for automated ad code, so that the network manager can access your ads, update them, and be able to change them anytime for special occasions like  Easter, Christmas, and Valentine's day.
3. Understand The Basic Of SEO And The Associated Tools – You need to understand the concept of SEO and how it really works, the role of keywords, and then find the right tools to help you know what is working and what is not working.
4. Show Your Passion In What You Do – If you are not passionate about the niche you are in and the product you are going to sell, then it's not the right one for you. Take some time to check what is good about the product, why you like it and why would you use it.
That way, you will feel motivated by promoting it to others.
Also, write a genuine, valuable, high-quality, and honest review about the product to increase your sales. And also promote your product showing your passion.
5. Know Who Your Audiences Are – Before promoting any product to your audience, you need to first ask yourself this question.
What does the profile of my potential customer look like for the product?
What does the profile of the visitors to my site look like?
Is this product going to help them achieve their goals?
If you get the answer to that fine but if you don't, then, you need to go back to the drawing board and find a different product that matches your audience profile.
There you go. Put these 5 steps above to your affiliate marketing business and enjoy increased success.
AFFILIATE MARKETING FAQ!
Can You Really Make Money With Affiliate Marketing? Yes, you can, you can make extra income or even a full-time income with affiliate marketing if you put in significant effort, produce relevant content, and build an audience. You can't just build a website, throw up affiliate links, and expect to make money.
Is Affiliate Marketing So Hard? Affiliate marketing seems to be simple, but it's not. The process looks easy but there's more that is involved in it. It requires knowledge, effort, consistency, and planning. Be careful with any program promising quick and easy riches.
Conclusion
Affiliate marketing is just a business model that can filthy make you rich if done correctly. To avoid failure, you need to commit to learning everything you can.
However, we learn, grow, and become better people from our past mistakes. Remember, failure is part of the way to success because we don't control everything we need to do and know.
But that does not mean, you have to be doing the same thing over and over again and expecting a different result.
Good entrepreneurs are made by failing and keep trying.
If you have reached the end of this post, BRAVO! Let us know what you think in the comment below.
And if you have any questions or anything, please don't hesitate to leave it in the comment section as well… We are here to help you!!!
Don't forget to share…
Do You Want To Learn Step-By-Step How To Build A 6-Figure Online Business With Affiliate Marketing From Scratch?… Click Here To Join Now.
Download Our Ebook for FREE and learn step-by-step How To Build A 6-figure Business Leveraging The Power Of Affiliate Marketing
[Retired Influencer.com is dedicated to making money online with affiliate marketing, so please do come back to read more of our post on affiliate marketing and how to to become successful online]
Happy To Hear Your Success Story Soon!
BRIGHT KERSH (Retired Influencer)