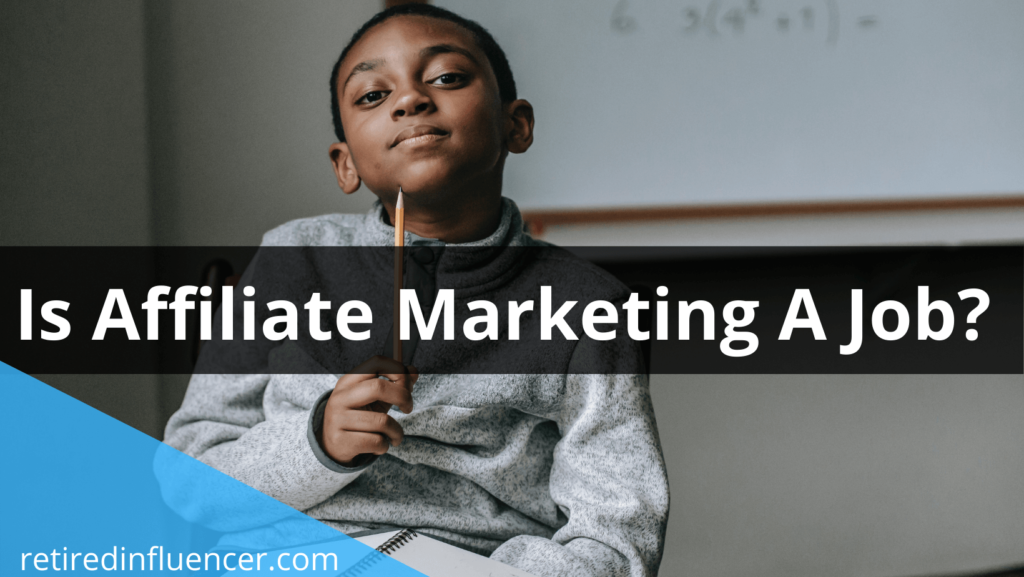 Affiliate marketing on the other hand is a good career that can help you generate unlimited earning potential if you put time and effort into it and stay consistent. 
Is affiliate marketing a job?
"Well, to put it simply – yes it is because it takes real work just like any other business in order to become successful with affiliate marketing. However, there are people who suggest that it's easy and you don't have to do any work and you'll start to make money. That's not true (stern).
We all know that as with everything in this life, you will have to put in some sort of work, energy, time, and effort to see success, especially if it's your first time. And so does affiliate marketing as well".
"So, in my opinion, yes, affiliate marketing is absolutely a job. Though as an affiliate marketer, you're working for yourself, you still have a task you must complete similar to a job. However, you have complete control or power over those task unlike your typical job"
Now, if you plan on running affiliate marketing as a full-time job. There are some key elements you need to master in order to run affiliate marketing successfully as a job.
Below are the key elements you need as an affiliate marketer:
Choose a profitable niche and have a great offer
Content creation 
Drive targeted traffic to your offer
Mastering email marketing
Executing strategies to increase your profit
Decide if paid traffic is good for you or not
Read on as we discuss each of the points above. Plus, tips to run affiliate marketing successfully as a career and many more.
So, without wasting much time let's dive in… But first.
Who Is An Affiliate Marketer?
Here is my definition – an affiliate marketer is simply an individual or a person who share or recommends a product created by a company or an individual to his or her audience or followers either on a blog post, YouTube video, or social media post in exchange for a commission when someone clicks on his or her link and purchase the product.
The affiliate gets paid a commission based on the percentage of the product. Most of the affiliate products out there offer commission rates between 30% to 75% or even 100%.
So, for instance, if an affiliate marketer promotes a product that pays a 33% commission rate and the actual product costs $15.
That means the affiliate marketer will be earning somewhere $5 per referral. 
Do affiliate marketers work for a company? No, they don't. Affiliates work completely for themselves. They are not employed by any company. They choose to work with any company of their choice and which one not to work with. 
What do affiliates sell? Generally, affiliate marketers sell products or services online created by other people. These products can either be physical or digital products. However, most top affiliates create their own product that they promote by themselves.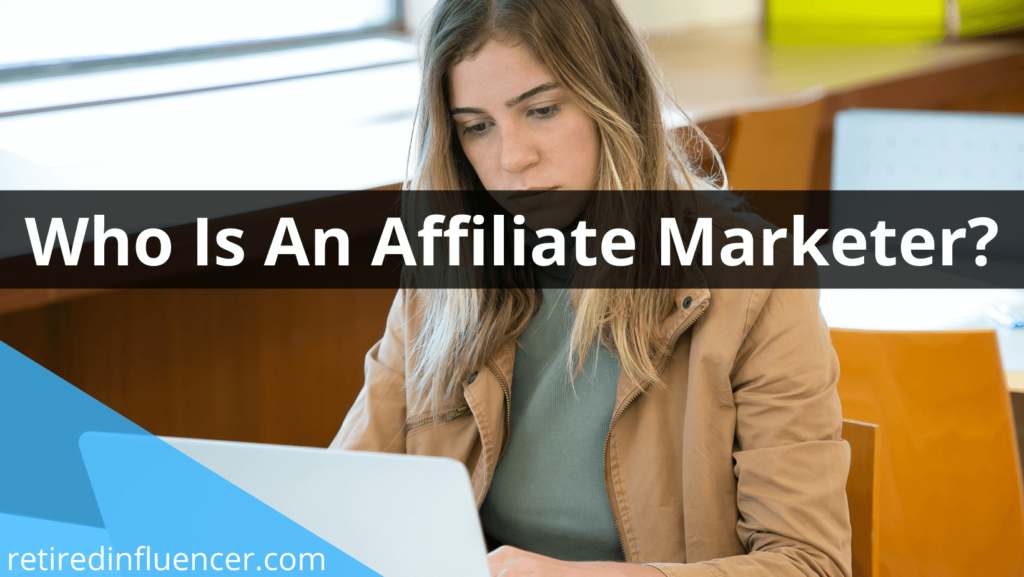 What is Affiliate Marketers Job
Well, there're tons of things you need to do as affiliate marketers in order to make money in your affiliate business. Below I share with you some of them.
Choose Profitable Niche And Have Great Offer
Everything starts with a niche.
A niche is a topic or a field you're interested in, passionate about, or want to learn about. 
Now, a profitable niche is an industry where the demand for products is high. And people are willing to spend money on a product more than once. 
Examples of profitable niches are health, wealth, and relationship.
Now, as your niche is ready, the next thing we are going to do is to find trustworthy, reputable companies or affiliate networks that have products related to your niche. 
In my opinion, I believe one of the best and biggest (if not the biggest) places to find products in any niche is ClickBank and Amazon.
However, you can also Google search (your niche name + affiliate programs) and you will discover some cool ones.
MY REQUIREMENT!.. I suggest you look for a company or program that pays at least 50% to 75% commission rate, especially the ones that pay a monthly recurring commission.
IMPORTANT: Your success as an affiliate depends on the niche and the product you promote. If you pick a niche and product you don't have any knowledge about or you're not interested in.
I bet you, you're only setting yourself up for failure. 
Why…?
For instance, if you pick a niche that you don't have any knowledge about, guess what, you'll struggle with content creation.
And if you're not able to create content that your audience is in need of, you won't be able to build TRUST with them and eventually convert them into customers overtime.
And on the other hand, If you have knowledge about your niche but you're not passionate or interested in it. 
I tell you from experience, you won't be able to stick with it for the long run when the going gets tough.
So, my requirement is to have knowledge about the niche you're in and also be passionate about it.
Drive Targeted Traffic To Your Offer
Traffic is very crucial for your success and without it, meaning you won't make money in your business. 
So, what I want you to do is to learn the skills of how to drive highly qualified and targeted traffic to your offer.
Who may be interested in what you offer and be more likely to purchase it.
So, how do you drive targeted traffic to your offer…?
First and foremost, you need to do keyword research to find out what key phrases or terms people are typing into search engines like Google.
When searching or looking for the product you're an affiliate for or what solution they're looking for to their problem that your product can solve.
Now, In order to figure out all that you're going to need keyword research tools.
There're a handful of keyword research tools out there.
There're paid and free keyword research tools. For paid keyword research tools I recommend SEMrush and LongTail Pro.
These two keyword research tools are advanced tools. It helps you in many ways, from SEO, to content quality, site audit and competition analysis, and so on.
For free keyword tools, you can check Ubersuggest.
Okay, now that you know what terms or questions people are searching for that are related to your niche or offer. 
The next thing we are going to do is to create helpful, high-quality, and relevant content around those search terms we found.
So, is that all…?
Yes, that's what you need to do to drive targeted traffic to your offer. It's simple right?
But wait, there's more to that and that's….
Creation Quality Content
As an affiliate, one of the main things you should focus on everyday is content. Create valuable content for your target market to consume.
Creating content purposely to help others and also around what your product or services actually 'Does', thus, the solution it provides, and the problem it solves.
Is the key to succeeding with affiliate marketing…
Rather than just pitching, spamming, and dropping your affiliate link all across social media hoping someone might click on it and buy your offer.
(That sort of marketing strategy is an old-school strategy that will get you nowhere).
Now, here is what I want you to take note of.
If you focus on helping your audience first by adding value to their life, overtime they will start to Know, Like, and Trust you and begin to see you as an expert in the industry.
And this will allow you to build strong relationships with them and easily turn them into loyal customers overtime.
And be able to sell more products to them over and over again.
By the way, what is valuable content? Great question!
"A valuable content is any piece of information that addresses your audience's biggest challenge, problem, and pain and provides a solution to their problems".
Your content can be in the form of video, blog posts, free PDF downloads, Facebook posts, etc.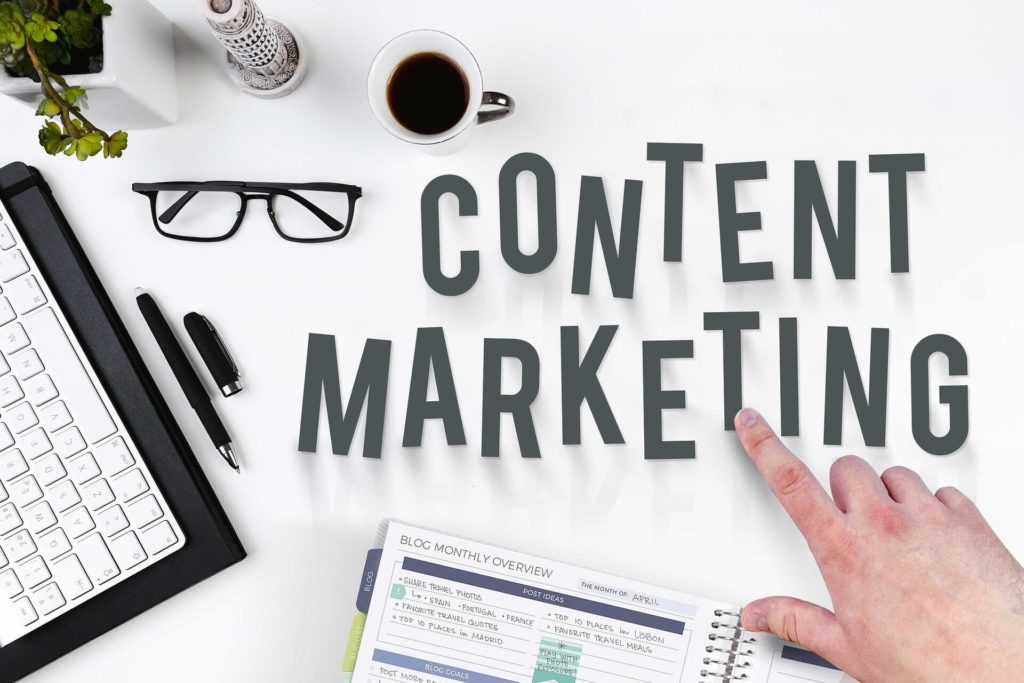 Mastering Email Marketing
Email marketing still remains the #1 way of growing and scaling online businesses. Every successful affiliate marketer I know about, all leverage the power of email marketing.
So, if you're an affiliate and you're reading this post today I'm here to offer some well-earned advice. It's extremely important you include email marketing in your business.
Why…?
This is simple… So that you can get the chance to remarket your product to the same customer over and over again until they decide to buy.
Now, the reason why I said it's important you do email marketing is that online people are skeptical when it comes to buying stuff online.
The majority of people who see your offer for the first time are not going to buy but if you get them on your list. 
Now, you have the chance to remarket the same product to them again and again.
In my opinion, unless you build your own email list, you're unlikely to make money in your business.
Why..?
I will tell you why… When people see your offer for the first time, they won't feel like buying simply because they don't TRUST you.
If I said they don't trust you, what I mean is that they don't see you as a legit source or the right person.
But when you have them on your email list. 
And you follow up with them through an email autoresponder on a daily basis and start adding value to them by creating content that helps, teaches, and educates them. 
That's where you'll start to build TRUST with them little by little. And eventually, start to recommend your offer to them.
Okay, there you go… The power is now in your hands to decide if you want to build an email list or not.
Now, to build an email list there are a couple of tools you're going to need to do so, such as, (ConvertKit, GetResponse, Aweber, Leadpage, etc). 
But the one I will recommend for you is GetResponse.
Why…?
GetResponse has both a landing page and an effective autoresponder all built in one place. Meaning you don't have to pay any extra money for any other tool.
You can capture leads and follow-up with them through autoresponder using GetResponse.
At the time of writing this post I still use GetResponse and my experience with them was amazing. 
You can read my review of GetResponse Here.
Executing Strategies To Increase Profit
As an Affiliate  Marketer, you need to develop and execute strategies to increase profits in the program or service you're promoting. 
Because your main goal as an affiliate marketer is to make sales in the product you're promoting.
Okay, how can I go about that…? Great question!
So, what you're going to do is to first research and identify what the market or your ideal customers are in need of or struggling with.
And now, as you've identified that you'll need to then take time and look for a product or service that you think will help solve the problem, pain, and challenges of the market.
And simply recommend it to them in a nice way. And if they buy, great.
Learn Paid Marketing
If you're looking for ways to scale your business faster, paid marketing might be the best option. 
However, you need proper training, guidance, and experience in order to make it successful.
So, make sure you understand how paid marketing works, if not, you're going to lose huge money when you attempt it.
There are tons of videos on YouTube teaching people how to run paid marketing. In my humble opinion, I will not recommend that you watch those videos.
Why…? Thank you for asking that.
Here is why… Many of those videos on YouTube are out of date and lack crucial elements of running paid ads successfully.
Please don't watch those videos…
But rather, find a good training course from an expert who is already successful with paid marketing, join their course and learn from them exactly.
how to make your affiliate marketing profitable
by Bright Kersh
Is It Good To Become An Affiliate Marketer?
"Well, the answer to that is yes, being an affiliate marketer can allow you to make a decent income simply by recommending other people's products to your audience through blog posts, videos, or social media (stern)".
"Being an affiliate gives you time freedom while you focus on running other businesses. You can spend less than 5 to 6 hours a week working on your business and generate a very good amount of income for years to come".
(If only you take the right approach).
Being an affiliate marketer is good because you don't have to worry about things like product creation, customer service, shipping of the product, refunds, and so on. 
Your main goal is to just share information about the product and if someone clicks on your link and buys the product you get paid (commission).
On this note, let me give you some reasons why you need to start affiliate marketing:
1. It Easy To Get Started
Most businesses out there take time to set up, but with affiliate marketing, just less than 5 minutes you can sign up with an affiliate network.
And start promoting their product as your own.
One amazing thing is that most affiliate networks are free to join, all that is needed is your name and email account and you're off to go.
Amazingly, as you sign up with the affiliate network, it doesn't take days, weeks, or even months to get your account approved. 
The vast majority of the affiliate programs will approve your account instantly.
2. It's A Scalable Business
Affiliate marketing is the only business that's scalable. You can sell multiple products at different price levels to the same person over and over again as long as they are interested in the offer.
One thing I also like is that as your business grows, you don't have to hire people to help you out. You can use an automated system.
Therefore, your business won't consume all your time and energy.
3. Unlimited Income
There's no specific amount designed for you to earn with affiliate marketing. This means the amount you can earn is unlimited.
IMPORTANT: I don't mean you'll become a millionaire doing affiliate marketing. Though it's possible, it's going to take a fair amount of time and hard work to make it possible.
However, in my personal analysis.
"You can earn somewhere from $0 to $100,000 or more with affiliate marketing if only you're willing to put in the necessary effort, time and invest in yourself".
4. You Are Your Own Boss
As an affiliate, you're your own boss, meaning you decide what time or hours to work. You can work from the comfort of your own home or on vacation as long as you have a laptop and internet connection.
One amazing thing I like so much is that you control the amount you want to earn as long as you know what you're doing and put in the effort and time.
I want you to remember this…
The effort and time you put into your business determine the result you'll get.
Click To Tweet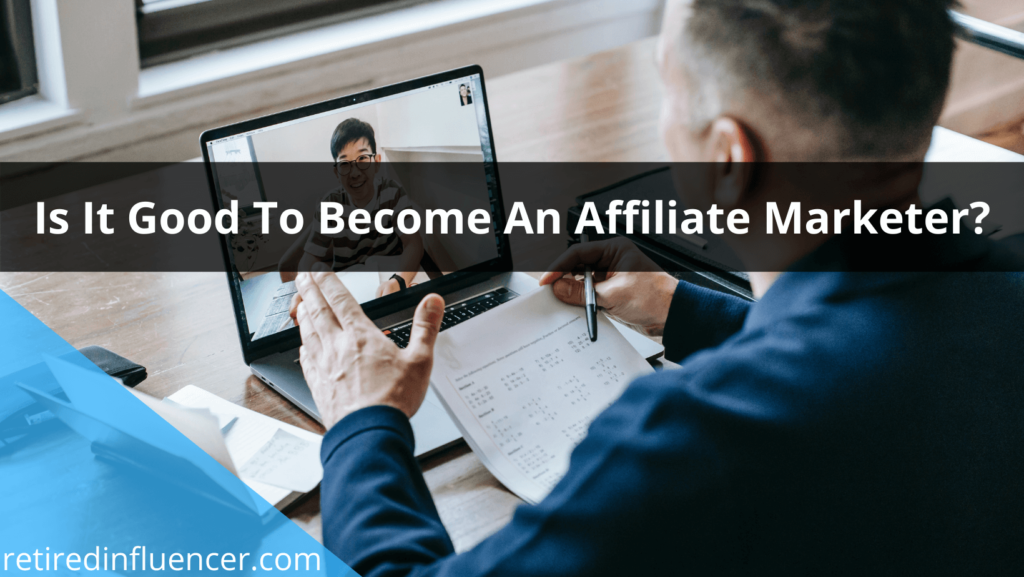 5. Passive Income
One beautiful thing about being an affiliate marketer is, you can earn money without having to put in any work again as long as you set up things properly.
Once you set up an automated system properly in place, you can earn money on autopilot, while you focus on other things. 
However, this requires some hard work, time, dedication, in the beginning, to get to that point but once you don't give up in the beginning it's possible
I have another post that I share more about how to turn affiliate marketing into a passive income business… You can check it out Here.
6. You Decide What To Sell And Whom To Work With
The beauty of affiliate marketing is that you decide whom to work with, what program, service or brand to promote or join.
Nobody can force you to promote their offer you don't believe in or haven't used yourself. 
I suggest, you only promote products you have used yourself and that have benefited you.
Why…?
Promoting products that are a good fit for your audience will help you build some sort of TRUST and reputation with them.
And if they trust you, they're likely to buy anything you recommend because they know it's going to help them.
7. You Solve Other People's Problems and Pains
You can become an affiliate in a specific niche or field you're knowledgeable about and help others by producing helpful information (content) that helps solve problems, challenges, and pains people are facing.
And as you continue to share this information for free, the market audience will begin to see you as an expert or got-to-person for help and information. 
And overtime the market audience will start to build Trust and Relationship with you.
And this will put you in a position where you'll get the chance to easily recommend your product to them. 
This is the strategy I see all top affiliates utilize.
Now, as you know the benefits of becoming an affiliate marketer. Let's take a look at how to actually become an affiliate marketer.
Why affiliate marketing is important? "Affiliate marketing is a very lucrative and scalable business and it allows you to make money without having to create your own product or service. Especially if you're just getting started and looking for ways to start or build your own online business".
How To Become An Affiliate Marketer
Before I share with you how to become an affiliate marketer, I would like to throw some light on a couple of things you should take note of.
Affiliate marketing doesn't work like how it used to back in the days. Back in the day, you could throw your affiliate link anywhere online and eventually make money.
But the sad thing now is that it doesn't work like that anymore. It's hard nowadays to get people to click on your affiliate link and eventually make a purchase.
It takes a lot of time, hard work, consistency, high-quality content, and trust-building to start seeing results with affiliate marketing.
So, as an affiliate, you need to develop and have a couple of skills in order to dominate in the niche you are in.
You need skills such as:
Creative ideas
Willingness to learn
Content creation
Right mindset
Data analysis skills
learning how to use tools
Discipline
Patience
Here Is A Simple Steps To Become An Affiliate Marketer:
Step #1: Pick A Niche
Everything starts by picking a niche. A niche is simply a topic you're interested in or want to learn about.
There are tons of niches out there from health to technologies. However, I recommend you pick an evergreen niche.
Evergreen niches are niches where people are constantly looking for products to buy. These niches sell products year after year.
Example of evergreen niches are:
Step #2: Join Affiliate Programs
Now, as your niche is ready, the next thing you need is to decide what kind of product to promote.
There are dozens of products out there, most of them are 100% free to join. Find one that's related to your niche and join and start promoting it.
To find an affiliate product to promote, you can hover to some of the top brands like,
Or you can simply Google search (your niche + affiliate program) and I believe you'll find some cool ones.
Now, in case don't find any profitable product to promote, in the make money online niche, you can check my Resource Page for my #1 recommended program.
This program offers high ticket products, meaning no more small commission. It has a team that does all the selling for you and also offers one-on-one coaches that work directly with you.
Step #3: Decide On A Platform
I hope you have picked the right product? Good. Now, you have to decide where you're going to promote that product.
There are so many promotional platforms out there, such as blogs, YouTube, or social media. Those are all great platforms.
However, in my opinion, I recommend you have your own website while you use other platforms like YouTube and social media as extra traffic sources.
Why…?
Because you totally own your website and you can freely post your affiliate link without any restrictions.
Creating a blog is super easy. I have a post that walks you step-by-step on how to start a blog successfully and some helpful tips on how to grow your blog.
Step #4: Build An Email List
Don't become a salesperson in all your posts or videos. Focusing on money first can lead you to focus on the wrong thing that can literally slow down your progress.
So, what do I have to do…?
I recommend you build an email list first. 
Don't send people directly to affiliate links, first and foremost set up a landing page and then offer freebies to your visitors to give you their email addresses.
And as they're on your list, you don't want to send people away by your affiliate offers. You should start by adding value to their lives and then slowly offering your affiliate offer to your list.
Taking this approach, I believe is the best way to get the most of your affiliate business.
I have a post that goes more in detail on how to start affiliate marketing and actually make money from it… You can check it out Here.
Step #5: Learn Marketing
Learning how to market especially to the right audience is extremely important for your success. However, this takes time, effort, some sort of education, and a little investment.
Learning how to market to the right audience, not just anyone you meet online can dramatically help you grow your business and increase your income.
So, make sure you learn marketing.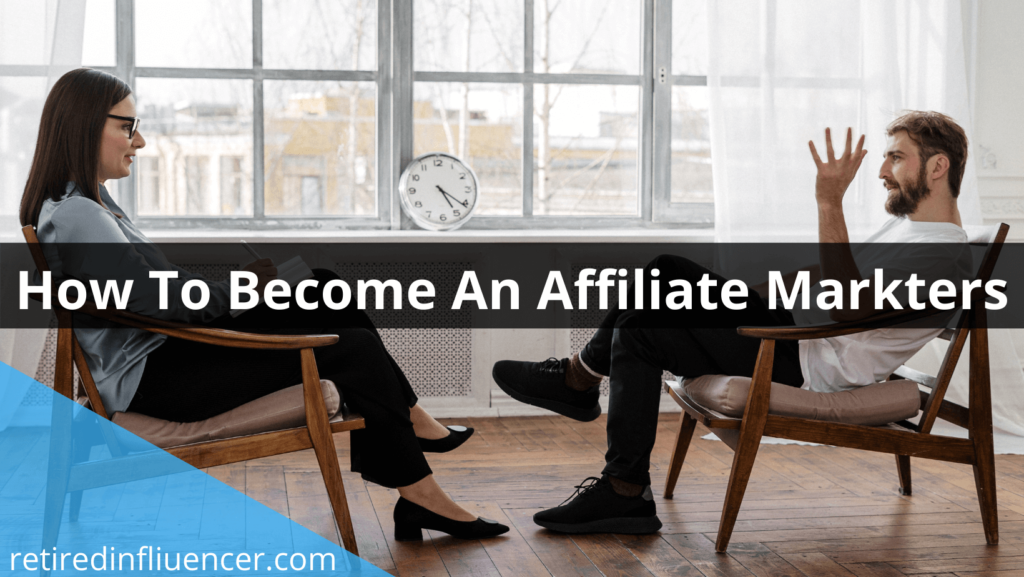 How Do I Get A Job In Affiliate Marketing
Affiliate marketing is a legitimate business that you can start by yourself and from the comfort of your own home with little or no investment.
You can work in your own space without any boss yelling at you. However, if you want to start or make affiliate marketing a job.
First and foremost, you need to start by picking a niche, build a website and a YouTube channel (highly recommended), and then find profitable products to promote.
IMPORTANT…
You need to focus on providing valuable content for free for people to consume so that you can turn them into potential customers overtime.
Below are some of the things you need to do (duties) as an affiliate marketer when running affiliate marketing as a job.
Content creation (that's the main key to success)
Identify the right affiliate programs
Idea validation
Marketing
Producing honest and high-quality product reviews.
Do Affiliate Get Paid
"To be honest with you – yes, they do, because ever since I started affiliate marketing I get paid for each and every customer that signs up or purchases a product from a company that I recommend".
The thing is if you generate sales for the company or program you're with you'll surely get paid. However, if you do not, they won't pay you.
Remember this: Affiliate marketing is a process of promoting someone else's product and if someone clicks on your link and buys the product you earn a commission (income).
So, until someone clicks on your link and buys the product they won't pay you. Please get this in your head. (just a joke). (:
However, if you make a sale and you are not being paid, then you need to run away from that program.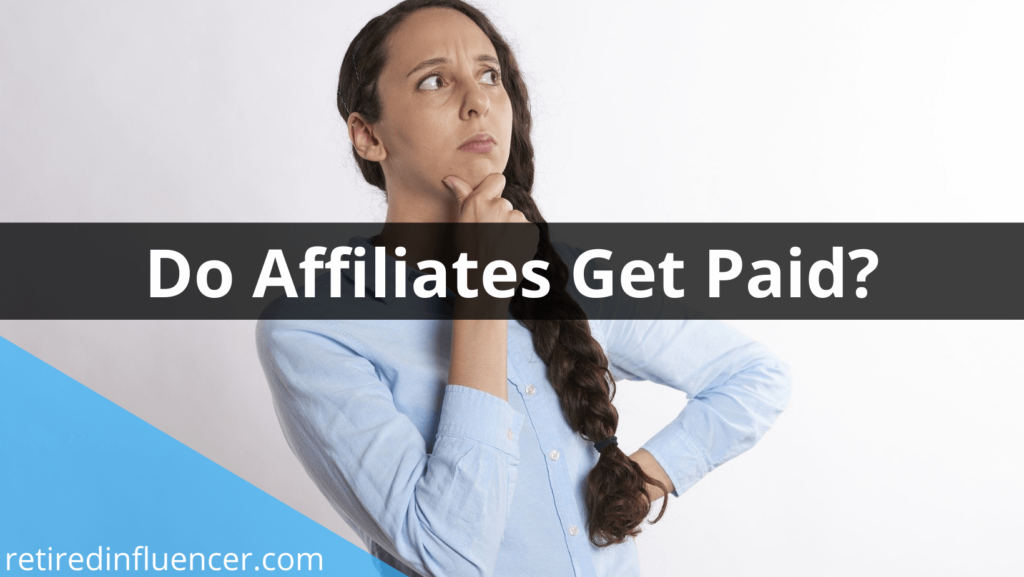 Some Potential Pitfalls To Avoid As An Affiliate
Affiliate marketing is like a jungle. And in the jungle, to survive you need to walk with knowledge.
In the same way, to succeed as an affiliate, there are some common mistakes you need to avoid. Below I share a few of them with you.
No Proper Education And Training
Affiliate marketing is a broad topic. If you don't have enough or any knowledge about the industry such as 
What is it all about?
How does it work?
What works and what doesn't
Do's and Don't
Pros and Cons, etc.
You're likely to make tons of mistakes which will eventually lead you to absolute failure. So, before you get into this industry make sure you learn much about it.
Focusing On Money And Not Adding Value
The best strategy to get the most out of affiliate marketing is to first focus on creating and building content for your target audience to consume before promoting a product to them later.
However, a lot of people do the opposite, they concentrate on making money first and leaving the customer's needs behind.
That's not the best way to do affiliate marketing. First, I want you to focus on creating actual value that people are desperately looking for to read, watch, and consume.
And as a result of that, you can then offer them something of value for free and get them to your email list and from there you can start promoting your offer to them.
TAKE NOTE!… Don't become a salesperson in your emails. It should be balanced ( add value and promote).
Promoting Fake Product For The Seek Of Commission
As an affiliate, your target is to help your customers as much as you can by recommending products that help them solve their problems.
However, people like you and I, (just a joke). 
We try to promote any kind of product we come across without knowing if it's the right fit for our audience or not. 
Simply because that program promises to pay us a big commission.
Well taking this approach, to me is a very disgraceful thing you can do as an affiliate. We're not here to make some quick money here and there and go.
We are here to build trust with our audience and make a decent income in the long run. So, please take this from me (I'm not an expert, I'm just an affiliate like you).
Here is my requirement…
Never promote any product for the sake of commission but rather promote a product that's going to help your audience achieve their desired goals.
How to know if an affiliate product is a right fit for your audience? "Well, to put it simply – the best way to know if affiliate offer is right for your audience or not, is to first buy the product and try it by yourself and if it helps you then it's surely going to help your audience as well".
If you fail to take this approach, 
It's going to be difficult for you to promote the product convincingly and confidently.
You won't be able to create content around the product that will drive a customer to want to buy this.
You'll fail to create interest or desire in the eye of your ideal customers.
I have a post where I share 10 reasons why affiliates fail, plus how not to fail with affiliate marketing… You can check it out Here.
Tips To Run Affiliate Marketing Successfully As A Career
Running affiliate marketing as a career can sometimes be challenging, especially when it's your first time.
"However, to run affiliate marketing as a business or a career, you need to, first of all, learn how to market, how to promote products the right way to the right audience (stern).
And be willing to put in much effort, dedication, and persistence". 
Below are some key elements to help run your affiliate marketing career successfully:
Have The Right Mindset
Mindset is everything. Making up your mind that I won't quit or give up until I succeed is very important.
In my opinion, I believe the best way to succeed in anything, especially running an online business, is to have a "never say die attitude"… 
Deciding that no matter how long it takes you're going to do this until you succeed is what will lead you to success.
Also, another thing I want you to also have is knowing "Your Why". Knowing why you start something is the fuel that will keep you on fire even if you face tough times.
Research And Pick High In-Demand Product
Research and find out products that the market is in need of, products that will help your audience, and products that you can sell not once but all year round.
TAKE NOTE!… Make sure the product you pick is congruent (it matches) with your niche.
IMPORTANT… Make sure you take your time to…
Check the commission structure of the product, thus, what commission rate the program pays you when you promote their offer and when you are getting paid when some purchases the product from you.
Take that into consideration when picking any product.
Choose Low Competition Keyword With Low search Volume
As the internet is rapidly growing, with billions of websites out there. Ranking your website or blog on search engines like Google can be challenging and difficult in some cases.
So, the best approach I want you to take is to focus on low-competition keywords so that you can easily rank your site on search engines.
And start getting some targeted audience to your content which you can start to convert into loyal customers overtime.
Don't Focus On One Traffic Source
When you're first getting started I want you to focus on one traffic source but as time goes on, and you have had enough success with that platform.
I want you to utilize other traffic sources to promote your offer. 
Why…?
Taking this approach will help you drive tons of targeted traffic to your offer. 
Because, the more targeted eyeballs (traffic) you drive to your product the more your chances are of making money in the long run.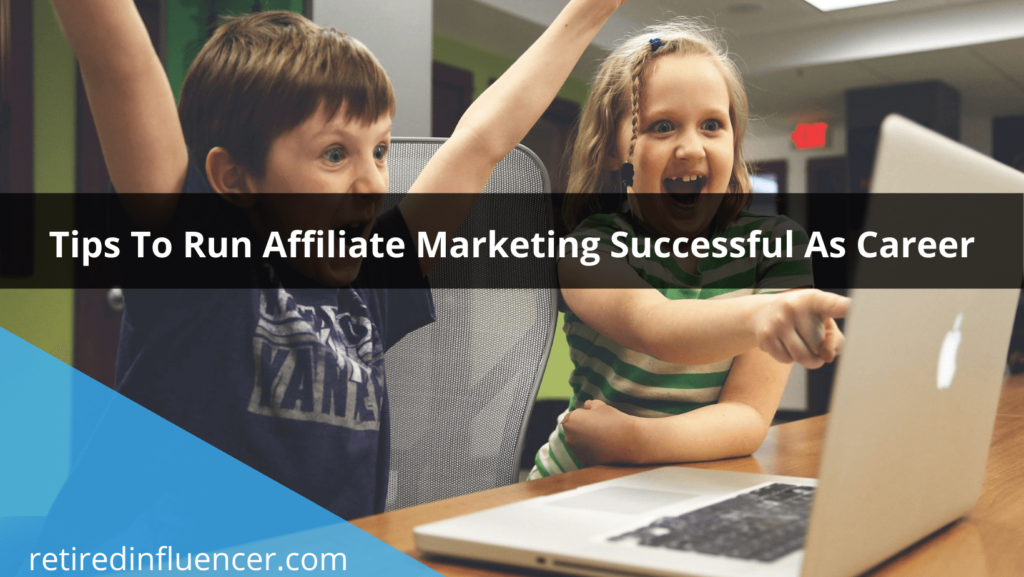 Try Your Best To Stay Current
Affiliate marketing is a very big, saturated, and competitive industry. As time goes on people are constantly coming up with new methods, strategies, and techniques of promoting products.
If you and I stick with the old way of promoting an affiliate offer, we are going to be far behind. So, try to stay current on what is working and what's not working.
Work With The Right Brand, Company, Or Merchant
Well, I want you to get this into your head. Not all companies out there is a good fit for you to recommend to your audience.
Why am I saying this… Anytime you promote products, you're also promoting yourself and your company. 
So, what are you trying to say…?
Here is what I mean, if you recommend a product created by another person and your customers go on and buy the product through your recommendation.
However, upon buying the product if your customer comes to realize that what you recommend wasn't as good as you promise or they come back unhappy.
Guess what damage that can do to you…? 
The TRUST you spend years building with your audience can be destroyed in an instant and your credibility and reputation can be ruined in the long-haul.
So, please and please try to choose wisely.
CONCLUSION!
So, that's it. Affiliate marketing is an awesome business model that can filthy make you rich when done correctly.
However, it's not structured like a typical 9 to 5 job where you have to report to a boss in a particular company or organization. 
You're your own boss and the result you get comes directly from your own effort.
And remember, it's not an overnight or get-rich-quick kind of stuff. It takes time, real work, consistency, and above all patience to make it successful.
However, if you have any other business, I definitely recommend adding affiliate marketing as one of your streams of income.
Affiliate Marketing FAQs
Is affiliate marketing a full-time job?
"Well, you decide whether to run it as a full-time job or part-time job. If you have enough money that can sustain you, then you can quit your day job and devote all your time to affiliate marketing (stern).
If you don't have enough money saved up for rent and food, I won't recommend you running affiliate marketing as a full-time job. Keep your day job until you start making consistent profit per month in your affiliate business to sustain you and your family".
Can affiliate marketing be a career?
"Yes, it can. Affiliate marketing is one of the best ways of earning money online without investment or creating your own product. You can make a good career in affiliate marketing by learning skills such as content writing, SEO, marketing, etc, which can allow you to earn a good income online".
Is affiliate marketing an easy job?
"Well, to be honest with you no, affiliate marketing is not an easy way of making money online, however, it's also not that hard. When I first got started it took me 2 years to get my first commission because I was focusing on the wrong thing (stern).
It's easy when you know the correct strategies, such as doing proper research and choosing the right product, traffic source, learning SEO, being consistent, and building an email list. Without this, it will be very difficult for you to make money"… Read more.