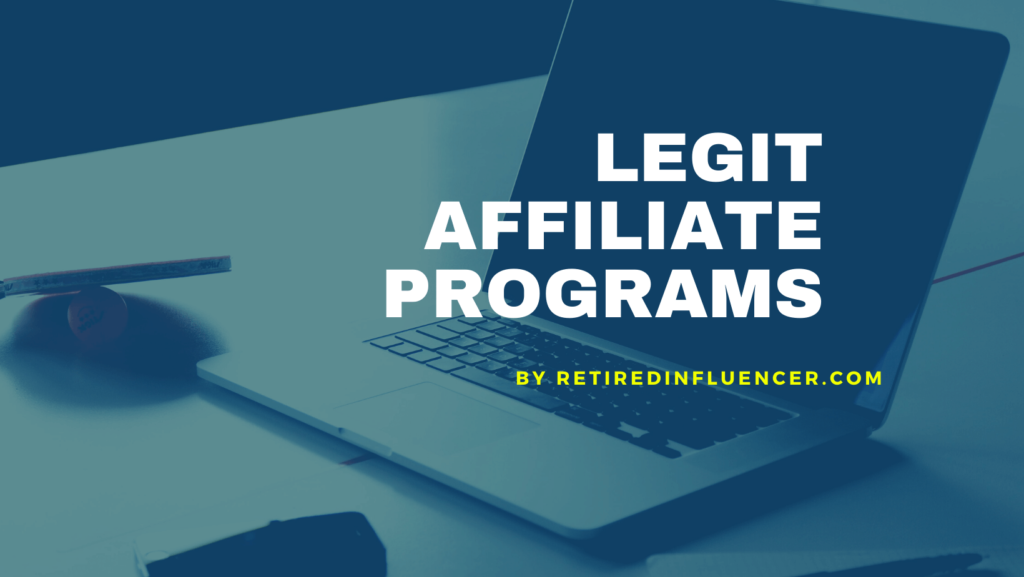 Finding a legitimate or safe affiliate program is not easy nowadays since there are so many fake programs out there, so, before choosing or joining any affiliate program, you should first do thorough research about the product or company.
How to know if an affiliate program is legit or not? To put it simply – there are many ways to know if an affiliate program is legit or not. However, the best way is to simply buy the product yourself, test it out and have personal experience with it, that way you will know whether it is legit or not.
Taking this approach is going to help you have 100% knowledge about the product and feel confident when recommending it to others. 
Because you know it's going to add value to your ideal customer's lives.
But guess what? Most affiliates do the opposite, they promote products that they are not familiar with or never used before.
And this leads many of them not actually promoting the right kind of product to their audience which later leads to absolute failure in the long-haul.
If your goal is to earn passive income online with affiliate marketing, then be sure to only promote products you have used before and you benefit from it. 
And your audience will be happy with you and thank you for recommending it to them because it has helped them solve their pains and problems.
Why is it important to recommend a quality or legit program to an audience?
This is simple – when you recommend a quality, legit program to your audience and it helps them, it helps you build TRUST and a relationship with them which will even pay off better in the long run.
So, in this post, we are going to look at some of the ways to know or determine if an affiliate program is legit or not. So be sure to read to the end.
With that being said let's dive.
Here Are 6 Ways To Know If An Affiliate Program Is Legit Or Fake
Since the rapid growth of the internet, it's so easy to find any product and services to promote to an audience.
So, make sure you promote legitimate companies with legit products. 
It's by far the best and safe way to generate significant income online by promoting their product or services to your ideal customers.
Never ruin your credibility or reputation with your audience by promoting fake products, it will harm you and your business in the long-haul.
Below are some of the ways in which you can find out if an affiliate program is safe for you to use:
1. Do Research
Research simply means carrying out a test. It's normally done when someone has a question or is looking for an answer to a specific question. The answer can often come from an expert in that field.
It's important to take time and do research when you're not sure or clear about something.
So, when you're going to buy or join any program online it's very important to carry out some sort of research before taking any further steps.
And after you carry out that research and you're satisfied with the results, you can then go ahead and purchase that product.
But, how do you do research?
There are several you can do research on. You can do research by looking through books, reading different relevant articles, asking questions in that field, etc.
Make sure to note down any piece of information, including any new ideas that the research gives you about what you're looking for.
But, if during your course of the research and you didn't find any meaningful answer about the program you want to join.
It's a sign that it has a low value. Don't stress yourself joining that program. 
2. Work With Top Brands
Work with top brands and respected programs and tools you know in your field and are trusted by many people or furthermore, just stick to well-known affiliate networks such as:
ShareAsale
Amazon
ClickBank
JvZoo
CJ affiliate, etc.
With these networks, there are few rules involved when you want to join, also, their customer support team is active 24 hours a day, 7 days a week, and this shows that they want to do stuff right and they are legit.
Any program you want to join, if it's not on a major network, that's a good sign it might not be" LEGIT" and you need to research more about it.
Furthermore, any program that sounds too good to be true, probably it is, and you need to take a closer look at that program.
So, in everything, you want to start with a small test to see what works before expanding.
Don't ever buy anything online before you fully know what it involves. So, do yourself a huge favor to check out.
But, if it's on a major network as I mentioned early on that's okay but if it is not, take time to check it well.
3. Beware Of Get Rich Quick Programs
To make money online, it takes real effort, skillset, hard work, consistency, and above all need to be patient, there's nothing like get-rich-quick or overnight success online.
If a program is promising to help you make $10,000 in one month, you need to RUN away from that program because, in reality, it's not going to happen.
If a program or course can help you make $10,000 per month without you doing anything, we all will be rich by now.
Also, if on the sales page of the program, they are showing fancy cars, big mansions, etc, it's a big sign that that program is not legit.
Furthermore, if they are standing in front of or driving a Lamborghini while trying to pitch their program to you, that's also another sign of a fake program.
They rented all those fancy cars and mansions simply to convince people like you and I to buy their programs and courses. please Run.
5. Read Honest Review
You can quickly go to Google and YouTube and look for different reviews about the program. You'll quickly have an idea of the program is good or not.
NOTE: Don't read any reviews that all they focus on is to sell you the product. Look for those that provide you with thorough information about the program such as: How it's going to help you, how it's used, pros, and cons about the program, etc.
If upon reading tons of reviews about the product and you're still not sure about the program. Simply don't buy or join it.
6. Check The Background Of The Program
You can check the background of a company to determine if their service is safe or not.
Run some research on social media, check their Facebook page.
Take a trial run on their program if it's free to join.
If the program is run by an individual, check their boi, their YouTube channel.
Check how long they've been in business.
Are they associated with a major affiliate platform like ClickBank, Amazon, ShareASale, etc.
Pay attention to whether their brand is credible ( Check if they have an official website).
REMEMBER: The best way to grow your business, or increase brand awareness and earn consistent passive income online is by offering a product with the best value.
If you're looking for the best, legit program. Check my product page for my #1 recommended program to learn and make a full-time income online with affiliate marketing.
Which affiliate networks are legit
To put it simply – Affiliate marketing is a legitimate way of making money online, however, not all affiliate networks are legal. Some affiliate networks can be classified as MLN (multi-level-marketing).
Affiliate networks come in many types of offers and promotions. In the digital marketing world, ClickBank is one of the best and most popular affiliate networks out there.
The reason is that you can join for free, you can add your unique affiliate ID to any offer they have on their platform or join any merchant and promote their product.
They also provide you with all the necessary tools for more marketing and driving traffic to your sales page.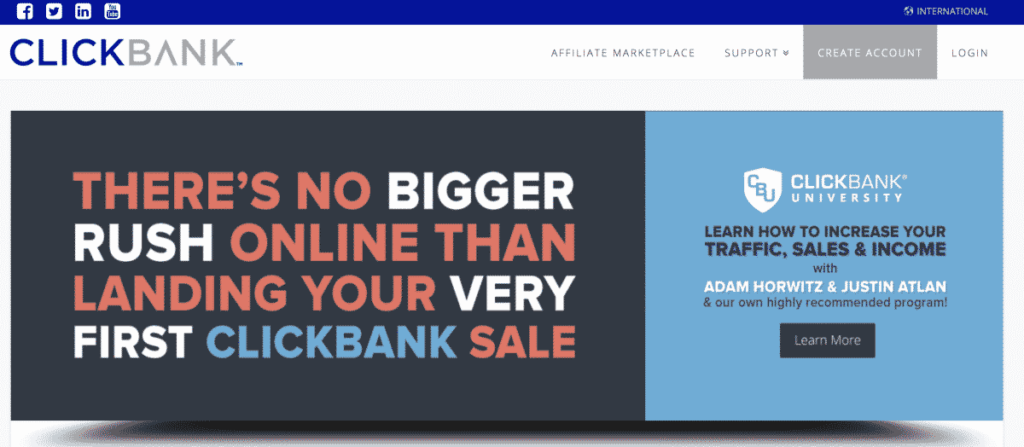 Pros And Cons Of ClickBank
Pros:
– They have tons of small niche offers that are not available on other affiliate platforms. 
– They pay commission to their affiliate on a weekly basis.
– They have many products that offer upsells which can increase your income.
Cons:
Sometimes, their customer support team is slow in response.
Here some other best advertising affiliate networks:
Above are some of the legit places to find some best affiliate programs to promote to your audience. 
Do you want to earn a full-time income online? If yes, check my #1 recommended and legit program for making money online… Click Here to join now.
['Read Next]… Is Affiliate Marketing Still Profitable For Bloggers?
(Pin This Into Your Pinterest Board)
CONCLUSION!
It takes a lot of time, skills, and marketing to make money online especially with affiliate marketing, there's nothing like GET-RICH-QUICK online.
Beware of any program promising to make you rich overnight.
Work on finding the right product, learn how to be an affiliate marketer, and learn skills such as, how to create quality, relevant, engaging content.
And in the long run, success is bound to happen if you don't give up.