Statistics show that 81% if brand and 84% of publishers are leveraging the power of affiliate marketing, therefore, If you're looking for a profitable way to make money online, then affiliate marketing might be of good help but first what is an affiliate program?
An affiliate program is a referral marketing strategy that has become increasingly easy to track and monetize things commonly used online. It acts as a mediator that provides a link between website publishers and a company.
Getting into the right affiliate programs or networks can play a huge role in your success.
Most affiliate programs help businesses and entrepreneurs like you and I to connect with potential buyers and make money, which allows us to create passive income streams in the long-haul.
Most online companies use an affiliate network to create the out bond sales result. The main purpose of this is to get ideal customers from the website's visitors.
(Disclosure: This page contains affiliate links, meaning we receive a small commission if you decide to make a purchase through our links, which is no cost to you. This helps us to focus on delivering more content for you and others ) Thanks For Support!
How Do Affiliate Programs Work
Online companies or middlemen that serve the same market but with none competitive product, work together with affiliates and merchants to drive traffic to exchange for sales and commission. 
For example, if a person that blog about how to lose weight was to become an affiliate for a weight loss product or company and place an affiliate link or banner in their blog post or website and with this, the person can earn a commission when a purchase is made by their readers or audience.
When you join any affiliate company, you're given a unique link or code, it's that link you'll promote and when your reader clicks on that link, the network will quickly place a cookie on their computer or device in order to identify which affiliate link they click.
And if they go on to buy the product, you (the affiliate) you're compensated. But if they didn't buy the product immediately, but later on bought it, let's say within 30 or 60 days as the cookie duration, you'll still get paid commission.
But remember, this can only happen if the buyer or your customer buys the product within the cookie duration and they have not cleared the cookie from their device.
But in a nutshell, this is a win-win situation for both affiliates and merchants.
How To Keep Track Of Your Affiliate Link And Sales?
To succeed and increase your potential earnings in affiliate marketing, you need to get clear on how your audience or visitors are engaging with your affiliate link and your conversion rate.
While it can be overwhelming to take time out of your day tracking all your affiliate links to see what's working and what's not. 
There're various tracking tools to keep you updated and provide you with stats about your affiliate links. You can easily get to know how many people visit your link, the commission you earn, etc. 
Some of these tools even handle automated commission payout.
Just remember, any form of affiliate marketing model, there're some really cool tools that can help you keep track, manage, analyze statistics, and understand every sale you make. 
Below Are Some Of The Best Affiliate Tracking Tools:
Post Affiliate Pro – It's the world's best affiliate tracking software and trusted by over 27,000 companies all around the world. If you have an online store or eCommerce website this tool can be in help.
If you want to manage, track your affiliate link and network, Post Affiliate Pro allows you to do all of that successfully. It also allows you to structure your commission and also monitor your commission all in one place.
Post Affiliate Pro also comes with powerful features such as:
Affiliate Tracking
Banner Management
Commission Management
Affiliate Management
Fraud Detection, etc
Everflow – This is also one of the largest tracking tools out there on the internet. It's trusted by some of the well-known brands in the world such as ( Indeed, Purple, dunq, DFO, Gridwise, Twillory, AdColony, etc.). 
Everflow comes with some of the advanced and smart report functionality and campaign management. 
To start with Everflow, it cost about $200 per month but it worth it because it has some great features such as:
Real-Time Analytics
Clickless Tracking
Fraud Detection
Affiliate & Tracking Management
Commission & Banner management, etc
ClickMater – This tool is purposely designed to help online marketers and advertisers like you and I to compare, monitor, optimize all our affiliate links in one place to increase conversion rate.
ClickMeter is user-friendly and customizable and records all actions or activities and provides real-time reports on your affiliate program and it helps you to take action based on the data information it provides.
If you're a top online marketer or just starting up ClickMater might be the best solution for you. 
Here is some feature of ClickMeter:
Affiliate Management
Affiliate Link Tracking
Fraud Detection
Commission Management
Email/Newsletter Communication, etc
What Percentage Of Commission Do Affiliate Programs Pay?
The commission rate depends on the kind of product and network you're working with or promoting. Whether digital (downloadable) or physical products (eg. computer, camera).
Digital product general pays higher commission rates somewhere between 20% – 50% and above because it costs less money to produce the products. While, physical product general pays a low percentage, usually ranging from 5% – 10%.
Most digital products pay monthly recurring commission, meaning you get paid month after month for selling the product once but with the physical product, you only get paid once.
ClickBank is a well-known marketplace that mainly focuses on digital products and with physical products you can look over to Amazon.
Let's look at some differences between digital and physical products:
| | |
| --- | --- |
| DIGITAL PRODUCTS | PHYSICAL PRODUCT |
| 1. It pays a higher commission | Low commission |
| 2. It cost less money to create the product | It expensive to create the product |
| 3. It offers recurring income | Single income |
| 4. No shipping cost | Involve shipping cost |
Type Of Affiliate Programs
There are 3 main types of affiliate programs that are popular and often leverage by most people and are used by both vendors and affiliate networks. 
However, some of these types of programs are mostly low ticket, but it's understood by many affiliate marketers out there.
Cost Per Action (CPA): This type of affiliate marketing is when an advertiser pays you (the affiliate)  whenever someone clicks on your link a completes a certain task design by the advertiser.
These are the most common CPA offers:
Lead generational form
Purchases
Free trial sign-ups
Email submit offers, etc
Pay-Per-View (PPV): This is when you're paid for clicking or viewing a company ad, banners, or product ads. 
These are the common offer of PPV:
Banners,
Advertisement (ads)
Pay-Per-Sale (PPS): This is a type of marketing where advertisers or product owners paid an affiliate base on the number of sales generated. 
Here are offers of PPS:
Some companies offer you two tiers commission, earning you a higher percentage of income. Let' see what two-tier affiliate programs are?
Two-tier affiliate programs are brands or programs that allow one to earn a commission not only on his own sale of a product but sales from other people he refers or brings into the system as an affiliate.
Payment Method Use By Affiliate Programs 
There are various payment methods provide by programs such as:
PayPal
Direct Deposit
Prepaid Debit Card
Gift Cards
Checks, etc
But, most of the programs utilize PayPal and direct deposit to generated payment either automatically or manually.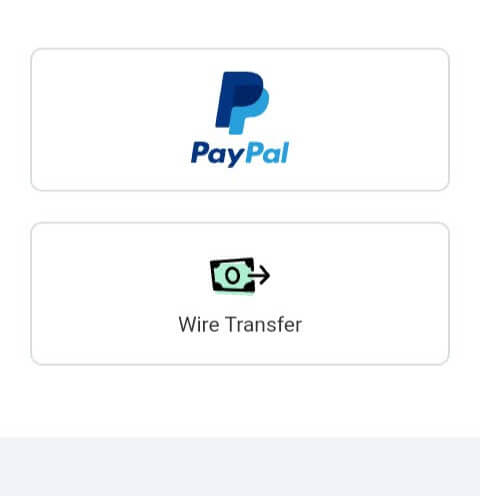 But you need to understand that, you only get paid when a sale is made. 
Keep this in mind when you request a payout commission, some affiliate program payout commission monthly basis, while a certain amount is achieved. 
But some do payout commission instantly while a sale is made.
Why having And Join Affiliate Programs?
Firstly, you're able to introduce the company and the company's product to your ideal customers and audience without any hassle.
A lot of people often ask why would a company or individual pay money (commission) to an affiliate for selling their product? And how would it benefit you and the company?
Here Are Some Of The Reasons:
To Increase Sale Of A Product
Well, the main reason behind this is that it's a win-win affair for both parties. Meaning it helps the company get their product seen and sell more of their product without much risk and cost.
However, the company only pays commission until the product is sold, but then they're still going to make a profit even after paying their affiliates (You and I) a commission.  
To Make Money And Freedom
Another reason why affiliate programs are the best way to make money online is that its a win for affiliates. Simply because they don't have to go through the headache of creating their own product and services and not having to worry about refund and customer support.
The only thing the affiliate has to do or be responsible for is to promote the product and get paid for driving as much as target traffic (customers) to buy the product through the link given to them by the affiliate program.
To Help Solves A Customer Problem
Day in, day out, they're people looking for solutions to their problems, and some of this problem might be ( how to make money online, how to lose weight, how to be fit..etc, and most often affiliate programs offer products that can help solve those problems. 
So, its also a win for a customer because they're getting the necessary help and solutions to their problems and pain. 
How Long Has Affiliate Program Been Around
The affiliate program has been around for more than a decade now. The concept of affiliate marketing was introduced on the internet by William J. Tobin in the year 1989. 
Then, later on, paying commission for referral was then introduced in November 1994, but it was not popular till Amazon launched its first affiliate program called Amazon associate in 1996.
So, the Amazon associate program was the first and most popular affiliate program on the internet before any other affiliate programs.
WAIT! let me give you some overview…first, people use to send products door to door around the neighborhood to sell, and if people purchase the product from the salesman, they then get paid by the company or the product owner a percentage of what they sell.
The product they sell is often a physical product (eg, books, pen, shoes, etc), for instance, let say the product costs $50 they would get a percentage of around $10-20 for selling the product even though they are not the owner of the product.
Now, this concept is the same now on the internet but in a different way. Today with the internet, we have the privilege to do all of that without leaving the comfort of our own home.
That's the beauty of the internet we have now…
Let's dive into some of the best affiliate programs you can join today and start making money online.
6 Best Affiliate Programs Examples
There are over thousands of affiliate programs to join but not all of them are legit, however, there are really good ones that pay really good commission for selling their products.
But before you think of joining any affiliate programs out there, you should first do thorough research about them to find out whether it's legit or not before working with them.
So how do you find out whether an affiliate program is legit or not?
Great question… You can simply do this by finding other affiliates who are promoting the same product you plan of promoting and see if they are really making money with it or not and if there are, great.
Now, as you know what makes a good affiliate program, the question, where can you find a product that's congruent with your niche?
Below are some of the best marketplace to find good products to promote. To make things easy we'll be looking at both single and recurring commission affiliate programs.
Single Commission Affiliate Programs.
1. ClickBank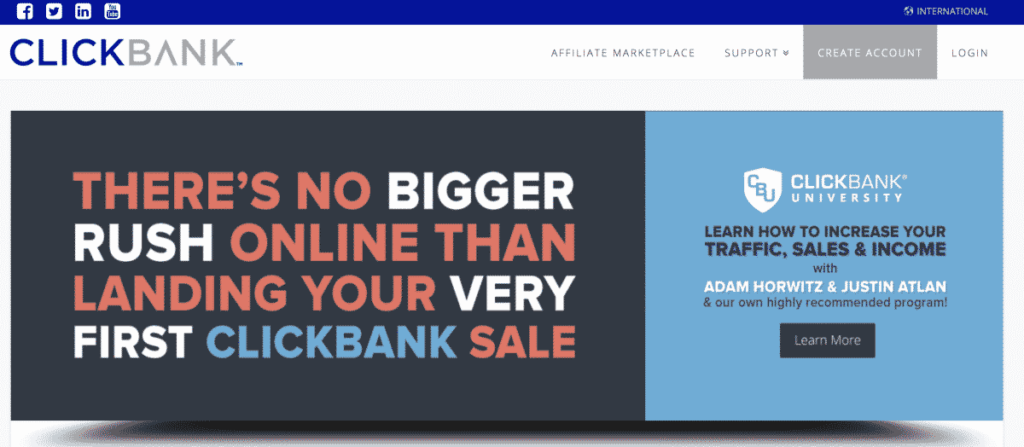 If you are already into affiliate marketing I believe you've already heard and known much about ClickBank?.
To those of you who don't know much about ClickBank. ClickBank is not a product, it's an affiliate network or program with over thousands of products to promote in different niches.
It's one of the leading marketplaces for digital products with over 200 million customers in 190 countries.
They have about 276 product categories and sorted into subcategories which make it easy to find any product of your choice.
One thing that makes ClickBank one of the best and favorite programs for most affiliates is that they offer a high commission. They're commissions range between 40-75%.
Also, when it comes to payment, they pay on-time, and the most amazing thing is that there's no fault with the platform. 
The ClickBank affiliate program has about 6 million entrepreneurs on the platform and over 100,000 active affiliates who are promoting ClickBank products each and every month. ClickBank has reached $2 billion total revenue paid out to affiliates.
As an affiliate of this company, the best way to become successful in promoting their products and services is to learn from other affiliates who are already successful in promoting the same product you plan of promoting. You don't need to reinvest the wheel just model success.
What I Don't Like About ClickBank: Though ClickBank is a great platform for affiliate marketing, one thing about them is that they force affiliates to undergo payment fees.
Another thing is that they don't allow affiliates and product creators to connect or communicate with each other directly.
2. CJ Affiliate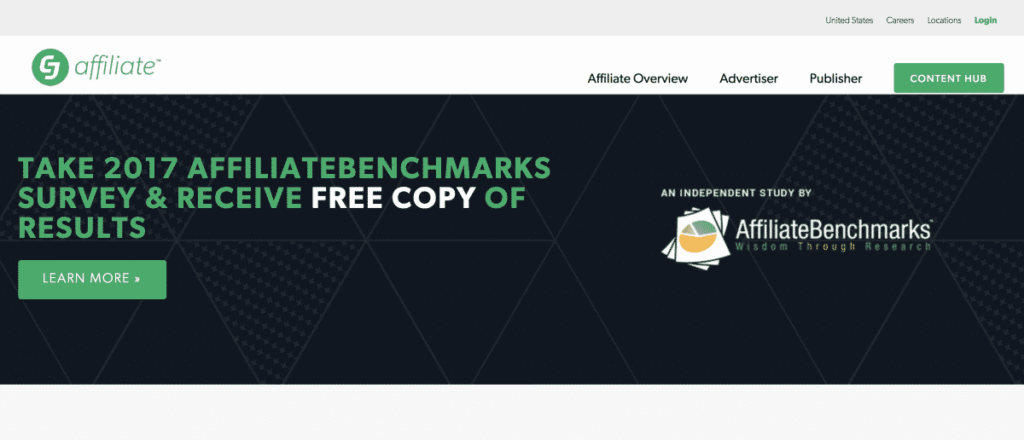 CJ Affiliate was first known as Commission junction. It was founded in the year 1998 and believed to be one of the largest and well-known affiliate networks on the internet.
If you are into affiliate marketing for a while I believe you have probably heard of them before…?
They have multiple products available for anyone to promote irrespective of the size of your niche or traffic level. 
One amazing thing about them is that they offer a long cookie lifetime which makes them one of the best choices as you start this affiliate marketing journey.
Another cool thing is that they have different vendors on different niches, which makes it so easy for you and I to find different offers at the same place once you get approved into their platform.
And as you get the approval, placing your affiliate track code on your website or blog it's easy and straightforward, you don't have to do any coding stuff.
What I Don't Like About CJ Affiliate: CJ Affiliate is a good affiliate network but Since the platform has too many large vendors, their customer support system is very slow in response.
Another thing also is that the platform is not user-friendly especially for beginners, it looks a bit complicated unless you take your time to study it.
3. eBay Partner Network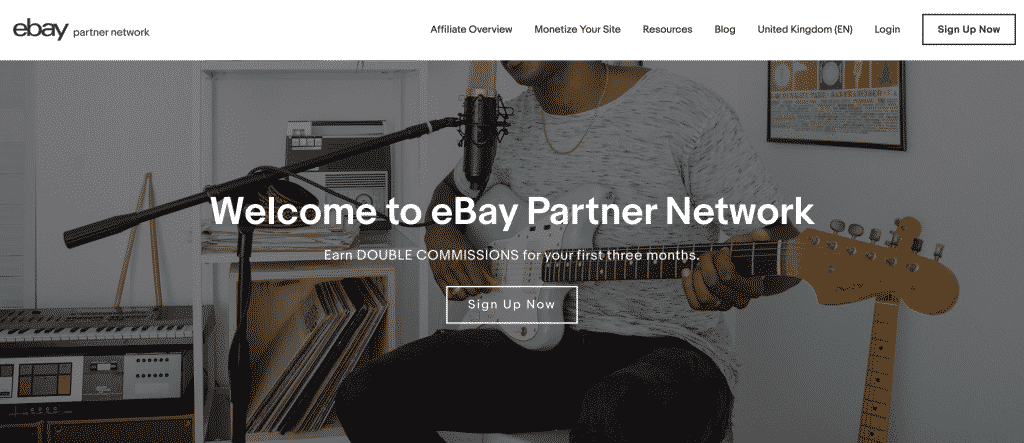 eBay is also one of the largest affiliate marketplaces with over 182 million active buyers worldwide and over 6.7 million sellers. They have an amazing item at a decent price, however, they sell most of their products at a set price.
If you're looking to promote products on eBay as an affiliate, you can absolutely join their platform for free. 
And start promoting their product either through your blog or YouTube channel, or any sort of platform of your choice.
Remember, eBay calls it affiliates as publishers. And joining as a publisher is supper easy as 1.2.3.
As a publisher of eBay, your commission ranges between 50-70% per product sales or auctions.
What I Don't Like About eBay: Though joining eBay as an affiliate is easy and simple and may seem like a perfect platform. They can your account block without any notice or warning if you violate their terms and regulation.
Also, they offer a short cookie lifetime and an auction model of sales which is not really attractive in my opinion.
4. ShareAsale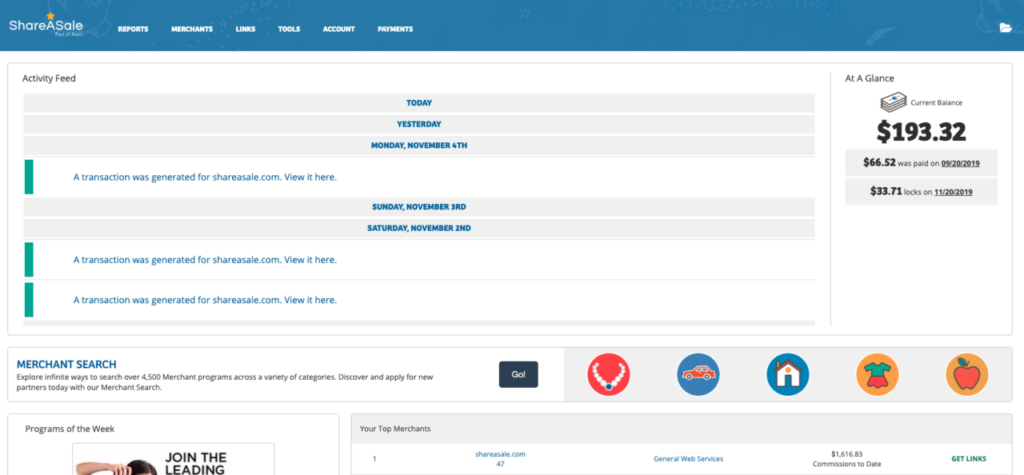 This is also one of the largest and most popular networks on the internet. It has more offers than CJ Affiliate, the platform has over 4,000 merchants with 40 different categories. 
They have something for everyone meaning, they have products for any niche or topic you can think of promoting on your blog or youTube channel as an affiliate.
To become an affiliate of ShareASale it's absolutely free, but you need to get approved by the merchant before you can promote their product. 
Some merchants may approve you instantly, for some they might want to review your traffic level before they accept you as an affiliate into their system.
What I Don't Like About ShareASale: It's difficult to get approval into the system especially when you're a beginner with less traffic.
ShareAsale takes 20% off every transaction you make, so let's say if you earn $7 in commission, they will deduct $1 from your commission, to me I think is not pleasant.
Also, every month, they charge every account $25 and if your account balance is below that, they get your account deleted from their platform.
5. JVZoo Affiliate Network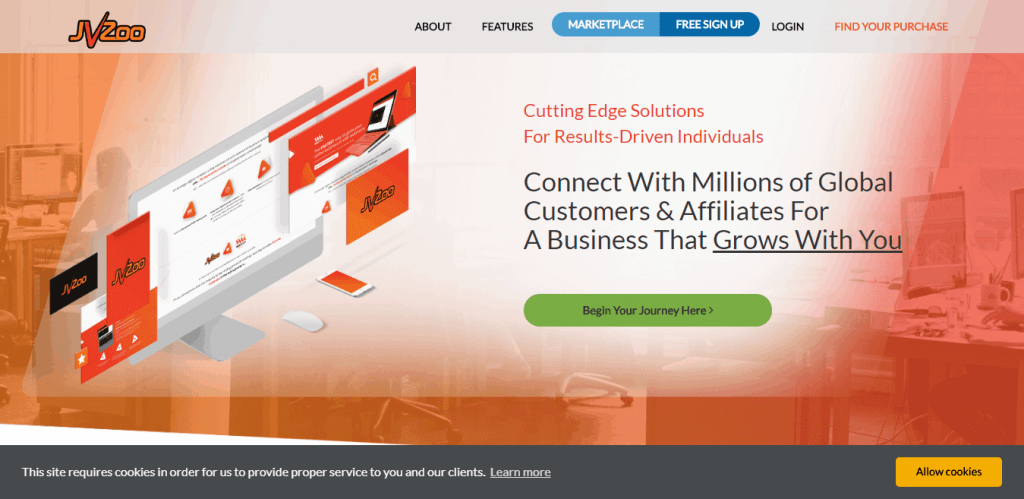 JVZoo is also one of the fastest-growing affiliate networks on the web. It was founded in the year 2001.
With JVZoo, you can promote the listed product as an affiliate or sell your own product on their platform with a fully automated process.
The platform is super easy to use as a complete beginner. The term JVZoo actually stands for (Joint Venture Zoo).
They partner with different vendors and companies, so there's something available for anyone to promote as an affiliate.
The amazing thing about them is that it's absolutely free to join as an affiliate and there's nothing like a monthly fee. However, they charge you 5% for every sale.
You can find any product in any niche on JVZoo, they have about 18 million product units, their main focus is on digital products.
Now, as an affiliate, you can expect to earn a commission range between 30-100% per product which to me, it's pretty cool.
What I Don't Like About JVZoo: Though they pay commission instantly, sometimes it could take a little bit longer than that, probably 90-days.
They're tons of fake products on their platform, so before choosing a product to promote you need to do thorough research about them.
Also, before you can promote any product or service, you need to submit an application and they can choose to approve or reject it.
6. Amazon Associates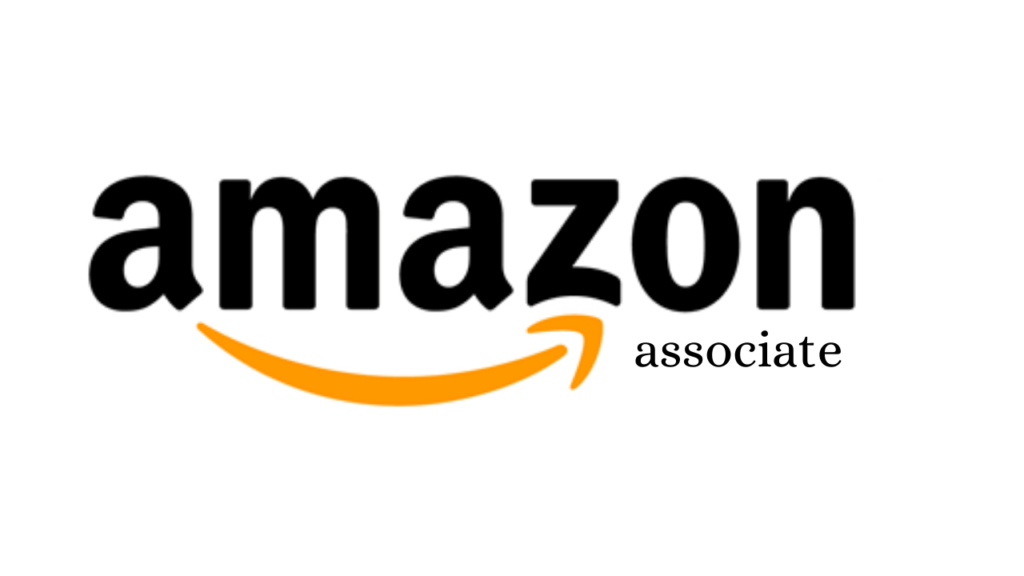 Amazon is called the grandfather of affiliate programs. Amazon associate was the first and also one of the biggest affiliate programs on the globe. It has 12 million products in all niche, from computers to books, wine, weight loss products, etc.
You can become an affiliate of Amazon for free and start promoting their product that falls within your specific niche and start earning some income for yourself if a sale is made.
What I Don't Like About Amazon: Their commission pay to an affiliate is very low, it probably falls between 4-8% per product sale. The only way you can earn a high commission is when you promote things like TV, Fridge, Laptop, etc. in fact promoting such things doesn't sell fast.
Another thing is that they offer a short cookie lifetime.
Above are some of the best affiliate programs to join. But if you would love make a fill-time income online with affiliate marketing.
Check My #1 Recommended Program Here, With Step-By-Step Training On How To Build A 6-Figure Affiliate Marketing Business From Scratch.
Now, let's get down on my best list of products and services of earning a recurring income commission online like a pro.
Recurring Commission Affiliate Programs
This is by far one of my favorites. Who doesn't want to put in the work once and start earning lifetime income month after month without really doing anything again…?
If you don't like a recurring income leave a comment below. NO! but if you do, leave YES I'M IN below…
Before we go over these best recurring income affiliate programs, let's first define what actually is a recurring income and how important it is for your success as an affiliate.
What Is A Recurring Income or product? This is an income received for a work already completed. This income stream allows one to continue receiving an amount of money month after month for the same work regardless of little or no active work. This type of income is also known as passive or residual income.
Now, let's take a look at those recurring programs you can join today and start earning passive income online.
Clickfunnels Affiliate Program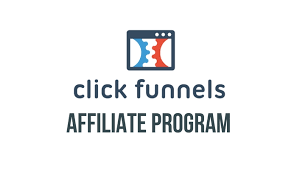 If you're an affiliate marketer or run a small business, I'm pretty sure you have already heard of Clickfunnels before. Clickfunnels was purposely made to help business owners build a sales funnel, increase conversion, and make more money from their business.
The main goal of Clickfunnels is to help its users make money, save time and energy, and don't have to really worry about any sort of technology.
It's easy to set up an account with Clickfunnels and after that, you put up your content and payment method and you're off to go.
They have amazing features such as 
Drag and drop page builder
Beautiful template
A/B Testing
WordPress Plugins
Affiliate Management
Visitors Tracking
E-mail Integration, Notification
Custom Landing Pages With Customizable Templates, etc.
There's no doubt that Clickfunnels is the leading market in the industry of sales funnel.
Now with Clickfunnels Affiliate Program, is one of the best and generous recurring programs out there on the internet. They pay a 40%  life-time recurring commission for all purchases.
They have 30-days cookies set for commission if you share your link to a customer to be recorded. 
This keeps customers you refer to their system to attach to your affiliate account no matter where they are in the world and after 30-days the cookie expires.
They also come up with new products more often, that you can promote and earn additional income such as.
Here are some few products of Clickfunnel and how much you can earn from promoting them:
| | |
| --- | --- |
| Clickfunels Products | Potential Earning/CPA |
| One Funnel Away | $100 |
| DotCom Secrets Book | $264 |
| Expert Secret Book | $428.80 |
| Traffic Secret Book | $264.40 |
| Funnel Challenge  | $100 |
And once you have referred 100 active paying members, you will start earning $500 per month and with 200 active members, you will receive $1,000 a month in commission and they will also cover the lease of your dream car.
Grow Your Business With Clickfunnel Or Join as An Affiliate Here.
SEMrush Affiliate Program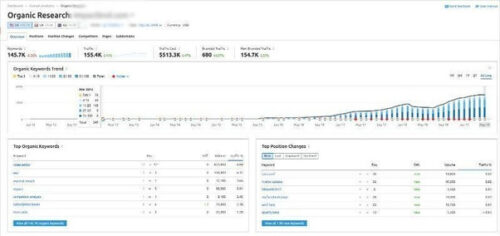 This an SEO tool that helps businesses and individuals to optimize their website for search engine ranking, content marketing PPC, etc. If you run an online business and want to take it to the next level, then SEMrush is your best stop.
It also helps you with your content plan, marketing strategy, and interesting information that you need to rank on a search engine such as:
Organic Research – Ranking on the top page of a search engine can be very difficult if you don't target the right keyword. SEMrush will help you find the number of keywords that rank in the top 20 positions and the competition level.
Advertising Research – Investing in paid ads is very expensive, so it's important you spy on what your competitors are doing and what's working for them before investing your hard-earned money into paid ads. 
With amazing tools in SEMrush, will show you all the necessary data on what's working and what's not.
Broken Link Checker – Having broken links on your site can affect your traffic growth and it's important you keep your eye on that and the tools in SEMrush will help spot all that in your site in a minute.
Website Audit – Why not check how your website is performing? And this will help you look for part of your site that is having an impact on your SEO and search ranking.
Backlinks Analyzer – Do you know getting quality backlinks from other websites to your site help your ranking?  
So in order to know which website links to your site, you can use SEMrush and it will give you all information about a particular site that links to yours. 
Now, joining the SEMrush affiliate program, you can expect to earn $200 for every subscription, $10 for every new lead, and an awesome 40% recurring commission every single month.
Join SEMrush Here To Grow Your Business Or Increase Your Income
Getresponse Affiliate Program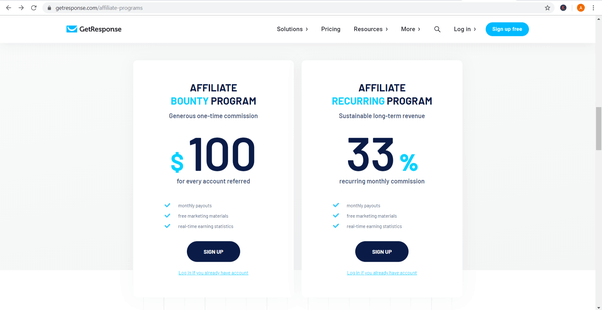 Getresponse is an amazing all-in-one email marketing service. Meaning they offer both landing page, autoresponder, CRM, Webinar hosting, etc.
Their entry plan is very affordable for anyone. If you are an online entrepreneur and looking for automated marketing software for email marketing and funnels, I suggest you try Getreponse to see. 
Getresponse is loaded with as awesome features such as:
Integrations
Sales Tracking
A/B Testing
Custom Landing Pages
Video Email Marketing, etc
Those are all features that will help drive more sales into your business.
To join Getresponse as an affiliate, they'll provide you with all the necessary tools and training you need to boost your income fast. They also offer different referral plans.
Their Affiliate Plan: Getresponse has two affiliate plans, that's one time and recurring income.
With a one-time referral program, you'll earn $100 onetime income per every referral, and this type of payment is not repeated unless you get another person referred again.
2. With the recurring program, you'll receive 33% every single month for every member you refer to the system as long as they remain a paid member. They have payment plans such as "Basic, Plus, Professional Enterprise.  And as your referral upgrades their account your commission increases as well.  
Sign Up With Getresponse Here (30-free trial) Or Join As An Affiliate
LeadPage Affiliate Program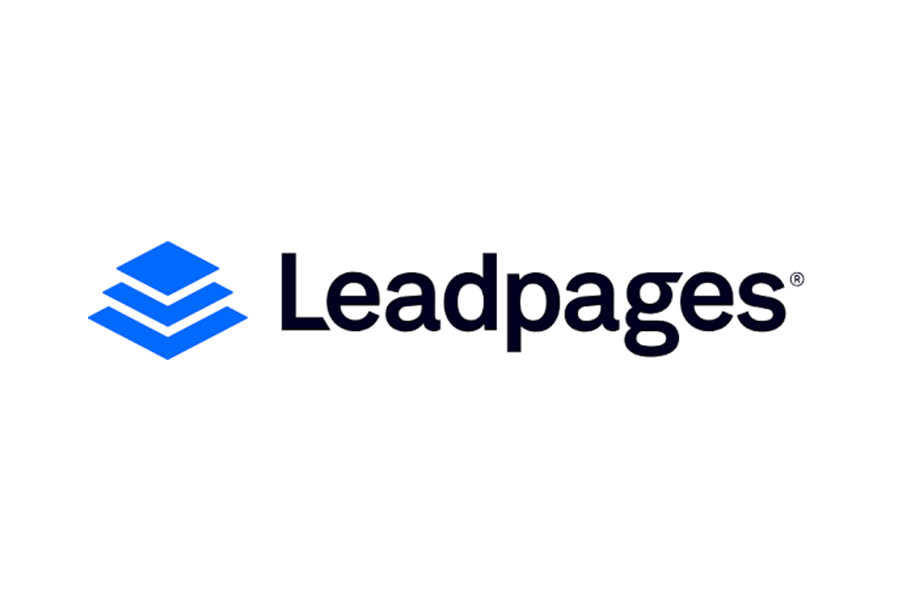 LeadPage is one of the best landing page builders out there on the internet for both small and big companies.
They offer tools that allow you to build your email list, send out a broadcast email to your list, and set up an autoresponder to drive more sales and revenue into your business. They have beautiful landing pages that really convert.
They also offer amazing tool such as:
Drag and Drop Page Builder
Unlimited Pop-up
Alert Bars
Websites Builder
SEO Capability… etc
LeadPage has helped many online businesses to succeed by selling more of their products and increase their revenue simply by using their marketing tools.
Now, the LeadPage affiliate program allows you to earn a 50% recurring commission for all sales you generate as long as the member you refer remains a customer with them.
Join LeadPage Here Now And Let's Grow That Income Fast
Those are some of the best affiliate programs to join today. 
Next, let's quickly look at some differences between choosing a single and recurring commission program.
| | |
| --- | --- |
| Recurring Commission | Single Commission |
| Revenue is predictable | Revenue is not predictable |
| It can be relied on | It can not be relied on |
| Long term income | it's a short term income |
| It come on a regular basis | It does not come on a regular basis |
Now, let me know in the comment below which you're going to join, a single or recurring affiliate program? Let me know your thoughts.
How much Do Affiliate Programs Earn?
Affiliate marketing is rapidly growing. It's reported that affiliate programs generate 15%-30% of sales for merchants. And 23% of merchant income comes from affiliate marketing, meaning affiliate programs are making a decent income.
Let's take a lot out how much some of the affiliate programs are earning and their source of revenue.
| | | | | |
| --- | --- | --- | --- | --- |
| Name of Affiliate Programs | Estimated Revenue Per Month | Source Of Income | Estimated Traffic Per Month | Alexas Global Ranking |
| ClickBank.com | $14,001,120 | Affiliate Programs | 77,790,000 | 1,907 |
| Amazon.com | $525,758,040 | Retails | 2,920,879,110 | 12 |
| ShareAsale.com | $13,839,12 | Ads and Affiliate Programs | 76,890,000 | 1,937 |
| JvZoo.com | $2,242,440 | Ads and Affiliate Programs | 12,459,990 | 5,270 |
| Cj.com | $16,339,320 | Ads and Affiliate Programs | 90,780,000 | 1,474 |
| eBay.com | $388,087,200 | Ads and Affiliate Programs | 2,156,043,960 | 41 |
| Clickfunnels.com | $18,235,080 | Sales Funnel | 101,310,000 | 1,123 |
| SEMrush.com | $9,459,720 | Ads and Affiliate Programs | 52,560,000 | 2,749 |
| Getreponse.com | $13,444,920 | Sales Funnel and Affiliate programs | 74,700,000 | 2,010 |
| LeadPage.com | $5,760 | Affiliate Programs | 33,123 | 899,319 |
3 Mistakes To Avoid When Joining Affiliate Programs
Before then, just remember mistakes are inevitable and are part of the process of success but you can't continue doing the same thing over and over again and expect a different result.
Here Some Of The Mistakes To Avoid When Joining Affiliate Programs:
Don't Go For Competition Niches
If you're just starting up it advisable to go for small niches where the competition is less. 
If you choose competition niches like (Health and fitness, etc) you're going to meet the big guys out there and you as a newbie, you won't be able to stand them. They will crush you down.
Because the competition in that space is too high and it will be difficult for you to make any money, or it might take you years of struggling before you can even make a dime.
Instead of struggling, why don't you find a nice little niche and with a profitable item to sell and start making some income for yourself than to wait years and years and at the end not even making anything.
Remember, what worked yesterday, doesn't mean it will still work today.
Avoid Low Ticket Items
If you plan on making a living off affiliate marketing or probably want to quit your 9 to 5 job, then you should switch from promoting low ticket products to high ticket products. Simple.
Promoting high ticket items can really help your income increase faster than promoting low items. 
I'm not saying promoting low ticket items is bad, it's good but it will take you thousands of sales before making any significant income. But One sale of high ticket items can generate you a reasonable amount which can boost your income.
Though, you may think promoting a high ticket item is going to take a lot more effort than promoting a low ticket item and most people will not buy. 
Nope. It's the same amount of effort and there are people out that are richer than you and I and are willing to take out their credit card and purchase high ticket items simply because they want to better their lives and believe high ticket items have more value than low ticket items.
Promote High In-demand Product
If you don't promote a product that the marketplace is in need of, you're not going to make any sale and what does that mean? Failure and frustration.
So the best thing to do is to research the market to see what's working and what's not and also what the market is actually in need of and provide exactly that.
I believe you have taken note of those things above? Next, let's see how you can join affiliate programs.
[READ]… Does Affiliate Marketing Still Work?
How To Join Affiliate Programs
The question is not how to join affiliate programs, the question is, do you reach the requirement to be accepted into an affiliate program?
So what's the requirement…? The requirement is to have a level of traffic or followers either on your blog or Youtube or whatever platform you choose.
The reason most affiliate programs require you to have a certain level of traffic before accepting you into their system is simply to help you (the affiliate) sell their product fast.
Now, I believe you have some traffic flowing in? The next you need to do now is to search for that affiliate program of your choice but make sure it's congruent (match) with your niche.
To find some really cool affiliate programs just Google (your niche+affiliate programs). For example, if you are in the affiliate marketing niche like me, you can Google affiliate marketing+programs.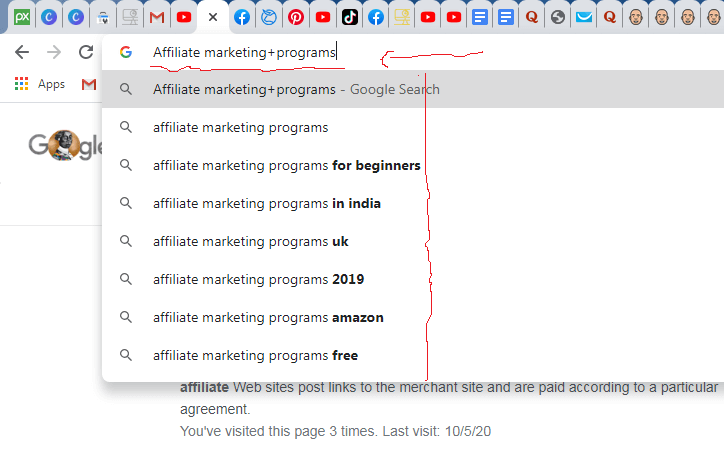 And you will discover very legit ones to join for free and start making some money only if you drive massive targeted traffic to that offer.
As you have found that great program of your choice, the next thing that's left for you now is to just apply to join as an affiliate.
And as you apply to join you need to wait for the moderation.
Let's explain what moderation means? This simply means the time it takes for a merchant or company to process your application for joining their program as an affiliate. They decide whether to approve or decline your application.
They're two types of moderation:
Auto-accept: With this type, the merchant or the company allows the affiliate to be accepted automatically into their program.
Read or hand moderation: With this one, the merchant or the company read all the details you provided on your application form and make a decision to either accept or decline you according to the information you provided.
Now, I'm pretty sure you have been approved and you're ready with your unique affiliate link right? 
For those of you who don't know what affiliate link really means. The link acts as a code or something like an identification number and it's that link you'll drive traffic to. 
And your main goal is to promote that link as best as you can, and if someone clicks on your link and purchases the product you're promoting. 
You'll receive a percentage from the company or the product owner which is termed as 'Commission'.
If you don't know where to promote your product to get eyeballs (traffic) that will convert into a sale. We'll look at that in a moment so keep reading.
The amazing thing about promoting other people's products, as I stated early on is, you don't need to go through all the hustle and the headache of creating a product, refund, customer service, etc. 
The company takes care of all that, your job is to just drive targeted traffic to that offer that'll convert into a sale and you get your commission if they buy.
Okay, now that you have joined your preferred program, the next thing you need to do is choose a platform to promote your product massively to start getting some sales. 
So let's look at some of the ways in which you can promote your product.
Best Way To Promote Affiliate Programs
To promote your affiliate program is very important if you are going to make money. There are two common ways to promote your product and that's free and paid methods.
Below are some of the best way to promote affiliate product:
1. Blogging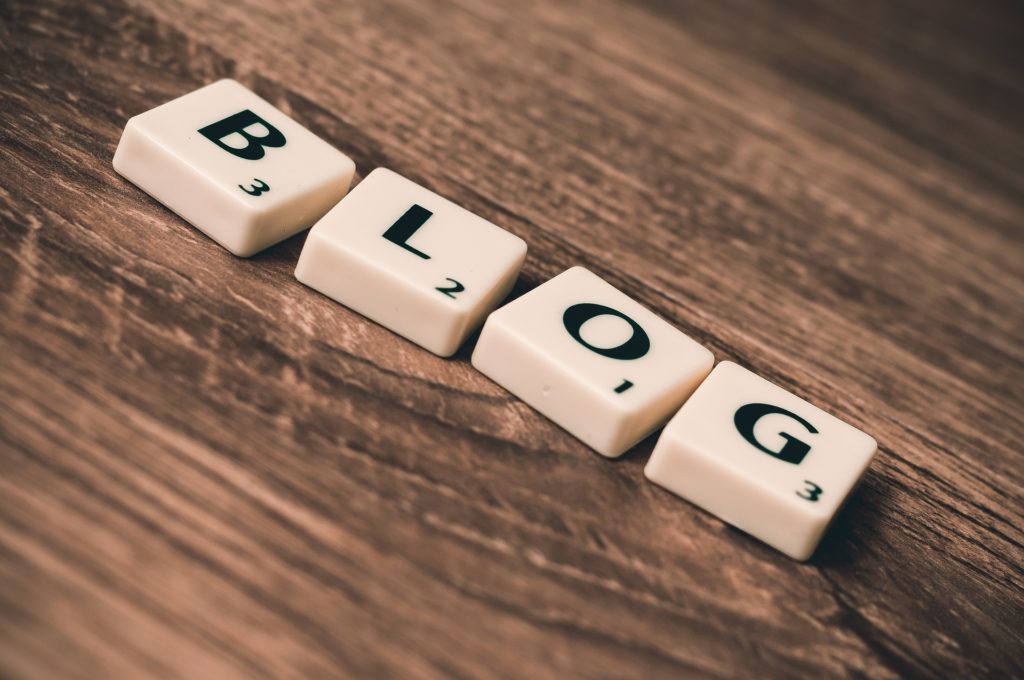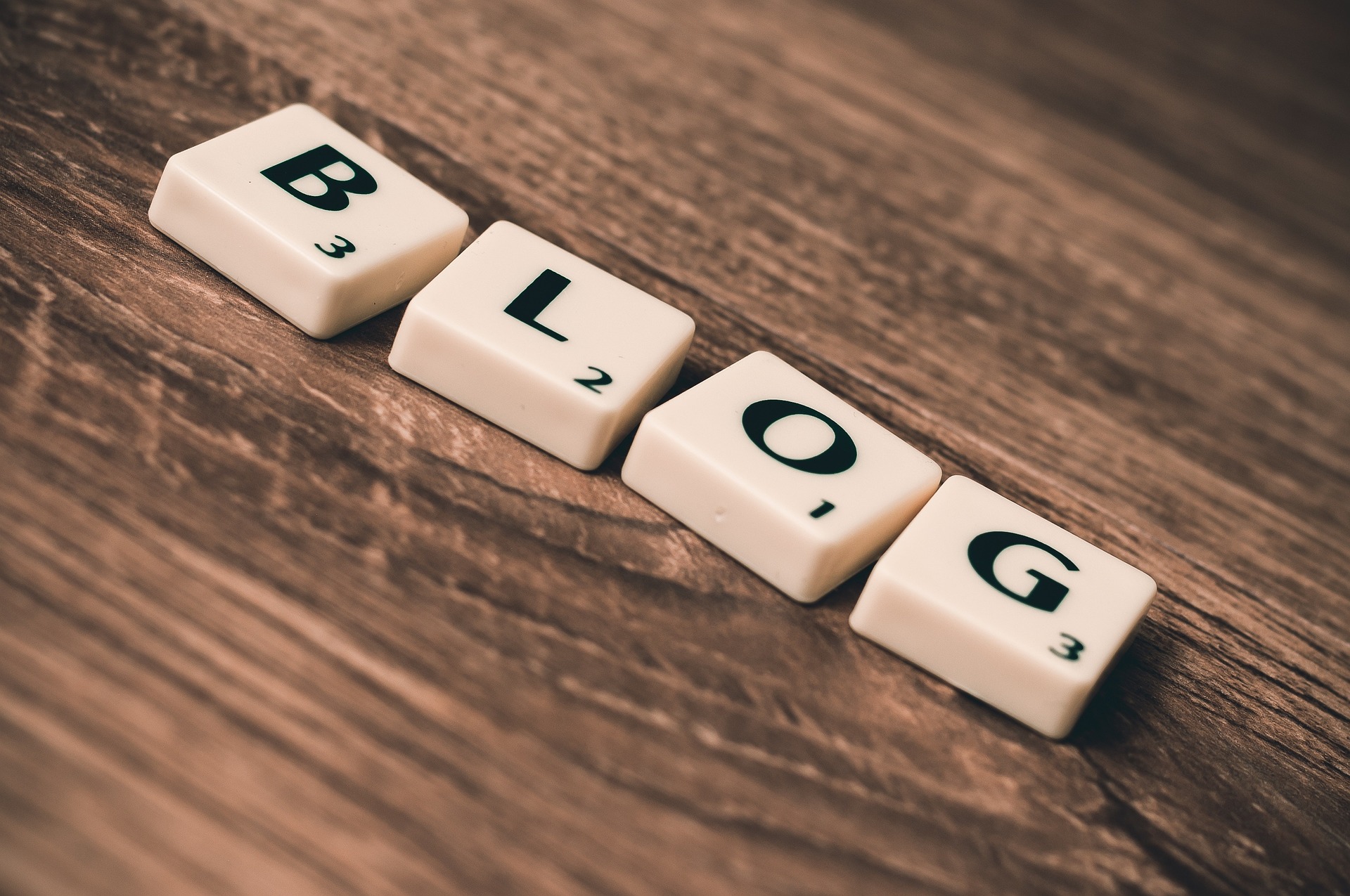 Blogging is the same as article marketing. You produce valuable content and past your affiliate link in your content.
If you can produce quality content that solves people's problems and needs, chances are you'll build your blog to a point where you'll be getting tons of loyal fans per day or month which might turn into customers and followers. 
And it also helps you stand as an authority figure in your niche which will eventually drive more people to click on your affiliate link and purchase what you're recommending or promoting.
Remember, this will only happen if you provide enough value for your readers. 
And also get this in mind, not all your readers that get exposure to your product for the first time will decide to buy it instantly.
So what do I have to do? 
You need to first capture their email address once they visit your website and then remarket the product to them through email marketing if they don't buy at their first exposure.
Another way is to write a product review. Focus on writing genuine, high-quality, and helpful reviews about the product you are promoting.
Producing quality and in-delph reviews on a product can help you drive potential buyers to your offer which will eventually increase your conversion rate (CTR) and sales.
If you're ready to start your blog which is fast and secure and cheap, I'll recommend  Bluehost.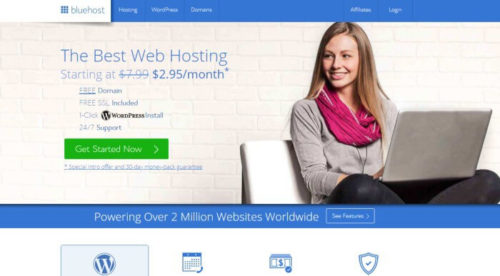 You Can Get Your Blog Set Up With Bluehost Here Just Under 30 Minute
(I'm an affiliate to Bluehost, meaning if you go through my link I'll receive a small commission which s no additional cost to you but help me to focus on delivery more helpful content for you and others)
Here Is The Link To Bluehost Again.
2. YouTube Marketing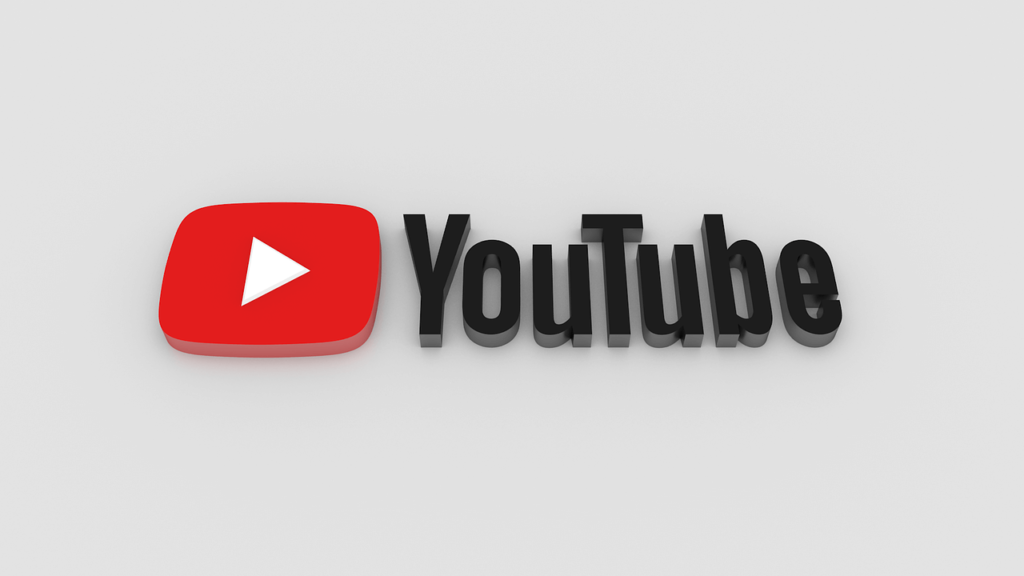 Youtube is also one of the best ways of promoting affiliate products. It's the second-largest search engine in the world besides Google and gets tens of thousands of video views per month. YouTube is owned by Google as well.
Now, the method used on YouTube for promoting affiliate marketing products is simply, you create video content that educates, teaches, and engages, and then recommends a product.
So how do you do this? You need to first find out what phrase and terms people are typing into search engines when looking for the same product you're an affiliate for.
Now, the best way to find out what phrases and terms people are looking for, for free without paying for any sort of expensive keyword research tool is to use Youtube itself.
For example, if your niche is in the "Health and Fitness" space you can type in the primary keyword like "How to lose weight and YouTube will auto-suggest.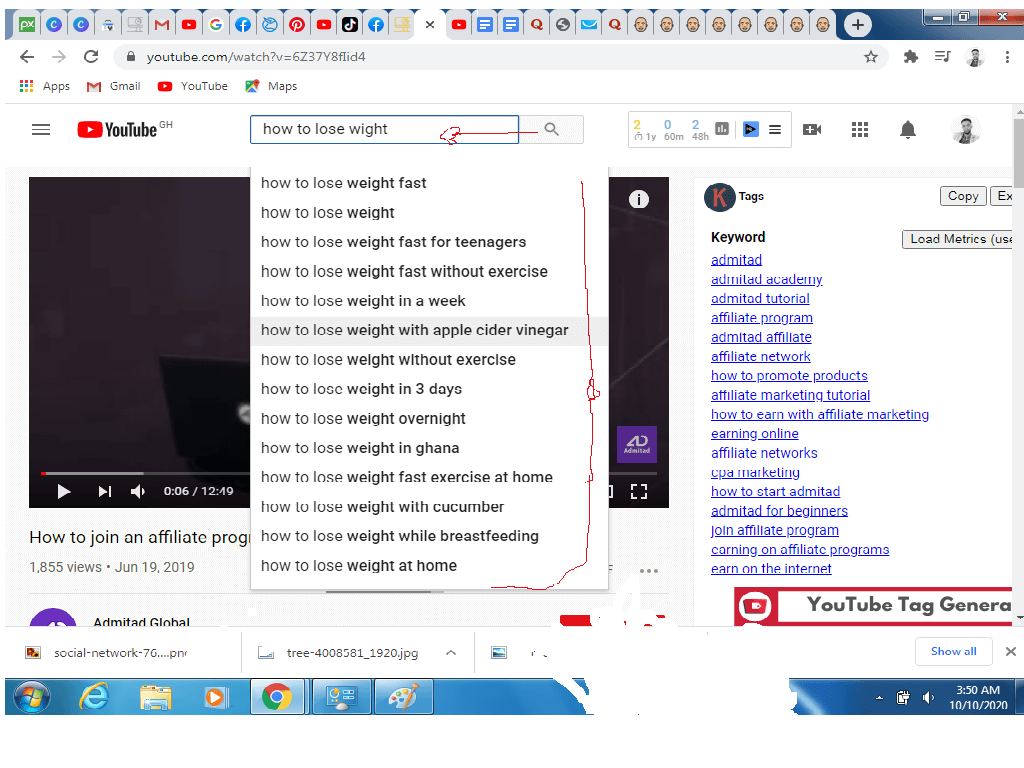 And as those auto-suggest appear, you can take note of them and create helpful videos around those keywords and upload them to your YouTube channel.
You can also do a product review video, where you show step-by-step in detail how the product works and also how it will help the end-user, and then in the description box, you place the link to that product.
And if your subscriber or viewers click on that link and purchase the product you make money.
The best thing about using YouTube for affiliate marketing is that you get targeted visitors which might eventually turn into a big sale.
3. Email Marketing
This is extremely important for your success. If you are an affiliate marketer, email marketing is by far one of the best ways to profit online.
Research has shown that people get to see an offer 7-times before making their mind to buy, so if you are not building an email list and leveraging the power of email marketing, you are leaving huge money on the table, my friend.
Having an email list alone is not enough, you need to build the know, like and trust factor with your list and you do this by continually adding value to their lives on a daily basis while they're on your list.
And as you do that for the long-haul they'll start to TRUST you and start seeing you as an expert and they'll be willing to purchase anything you recommend to them easily.
The amazing thing is that you can promote different products to them or even sell your own product to them in the future.
Though email marketing is powerful, however, all your emails shouldn't be about buy now, buy now. You need to provide value and then recommend a product.
And also, make sure you let them know why they need the product you're recommending and how it's going to really help them better their lives.
One more thing, you should also make sure you let them know the benefit of using the product as well. 
So in simple, all your email you send out shouldn't be about selling and should not come out as spam but it should prove value! value! value! and then sell.
4. Forum Marketing
Forum marketing is also another great way of promoting affiliate products. You can join a popular forum such as (Quora and Reddit, etc).
But you should take note of this, not all forums allow affiliate links on their platform but some do allow it only on your bio or profile.
Remember, you should only join and participate in a forum that is related to your niche and the kind of product you promote.
And as you join, you need to get people's attention. And you do this by participating in a discussion, answering, and helping people in order to build the know, like, and trust factor with people to establish yourself as an expert.
Because it's trustworthiness and expertise that will lead members of the forum you are in whether to buy your product or not.
To play a smart game or make things a lot easier for and also not get kicked out, you should use your affiliate link in your bio or as a signature when you sign up on these forums.
5. Pinterest Marketing
If you promote your product through a blog, I think Pinterest might be the best way for you to promote your products. 
Pinterest allows you to create pins and link either your blog post or affiliate link with the pin you've created and when people click on that pin, they are taken straight to your blog or your product.
Now, in order to get the most out of Pinterest, you need to create a highly engaging and interesting pin that attracts the attention of people to click on it.
And when they go on to click the link and make any purchase, you earn a commission.
6. Banner Ads
If you have your own personal website or a blog, I think this could also be a profitable and tactical way of promoting your affiliate product.
The way this work is, you produce or create content related to the product you have and then paste the banner either on the sidebar or in the article. 
And visitors (traffic) or readers who are in need of that offer in some ways, you could easily start to see some sales coming in for you without you trying to sell to them directly.
The most part of it is that they're talking to a sales page where they get more information about the product.
Hear me on this, if you don't want to go through any headache of building a website and creating content. 
You can buy space on their people's website which has a high volume of traffic and places your banner there as ads. But remember there's a cost involved.
So, for banner ads, what this means is that you'll be getting tons of traffic from a different website that is related to your niche or product.
7. Facebook Groups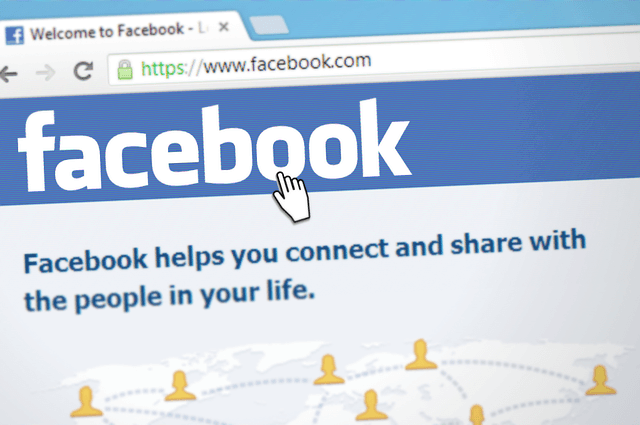 I'm not a big fan of Facebook marketing but if you choose this path then you need to do it right because Facebook doesn't play well with posting affiliate links on their platform.
You can join a Facebook group related to your niche and start posting helpful tips that help people and then offer them freebies to get them into your email list and market your product to them.
I think product reviews really work best on Facebook. And you should be active on the platform on a daily basis to get some attraction.
If your niche is in the make money online space, you should consider joining groups such as (entrepreneurs, make money online, online marketing, and your product categories).
If you have a Facebook page with some number of followers or likes, you can promote your product there as well. You can even pay for advertising on Facebook for promoting your product.
Above are some of the best ways you can easily promote your affiliate program or product. Now, I'm sure you might be wondering okay now that I know where to promote my product, how much can I actually make? Let's take a look at that.
How Much Can You Make With an Affiliate Program?
How much can you actually make with affiliate marketing depend on factors such as"
Your Niche
Product
Experience
Content
Traffic
Let's take a quick look at each of these factors and see what important role it plays in your success.
Niche – In my opinion, I believe the number reason why many people fail to make money online with affiliate marketing is that they choose the wrong kind of niche. They chase commission by going for high competition niche like (health and fitness, etc).
If you want to make money quickly, I believe you should choose a niche you are at least passionate about, have knowledge about, or interested in.
Product – In order to make the most money out of what you're promoting as an affiliate, you need a product that's in high demand, that way you can easily sell it fast.
Experience – What is your knowledge level in the niche you are in? Business is about helping people and the more knowledge you have about the niches you are in, the more value you'll be able to deliver to the marketplace. 
Because the more you help people solve their problems the chances of them clicking on your affiliate link and purchasing what you're recommending.
Content – Online content is KING, you can't become a success overnight without first doing the work, and online that work is creating a helpful, unique, relevant, and steady flow of content for people to consume.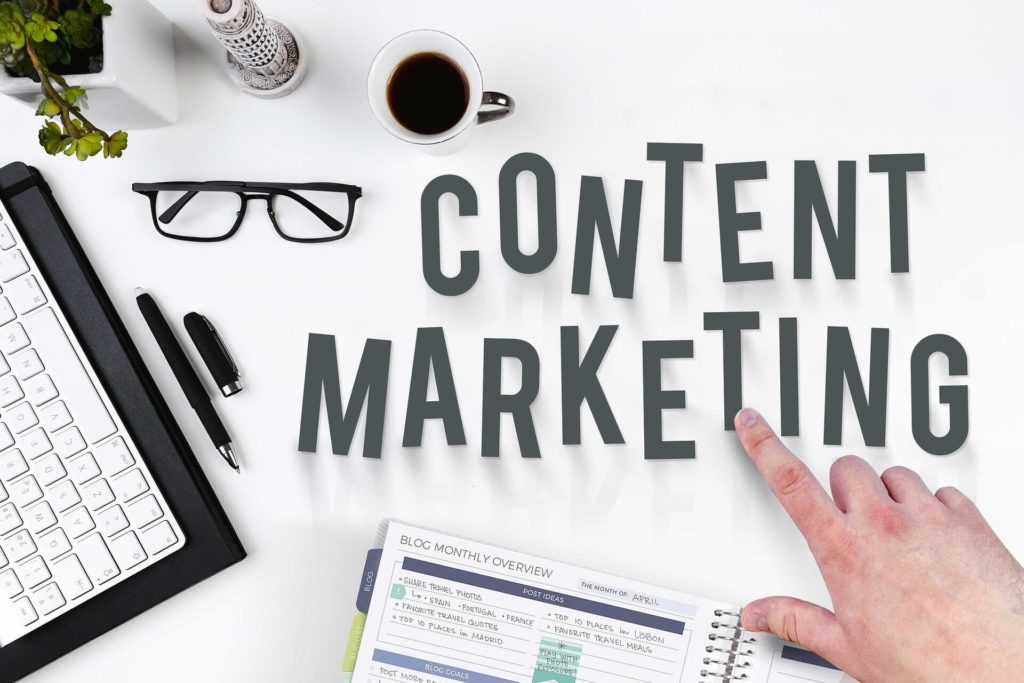 Traffic – This is the machine that will run the whole process of making money online easy for you. Because it's people that'll buy what you are promoting as an affiliate and without them, you won't make a dime, so focus on driving traffic to your offers.
I believe ' Make Money Online Niche' is by far one of the most profitable ways of making a lot of money online nowadays because more people are looking for ways to increase their money, change their financial situation, etc.
It provides the best opportunity for people to start making money online as a complete beginner. Now, You can earn up to $100-$3,000 depending on the type of product you are selling.
And you can also make nothing if you don't put in the work, because making money online is not a get rich quick scheme, it requires massive work, commitment, and consistency.
Now, because of the rise in 'Make money online space' There are many scam affiliate programs out there that promise people huge commissions and never fulfill that promise.
So make sure you do your research about them before you join and promote their stuff.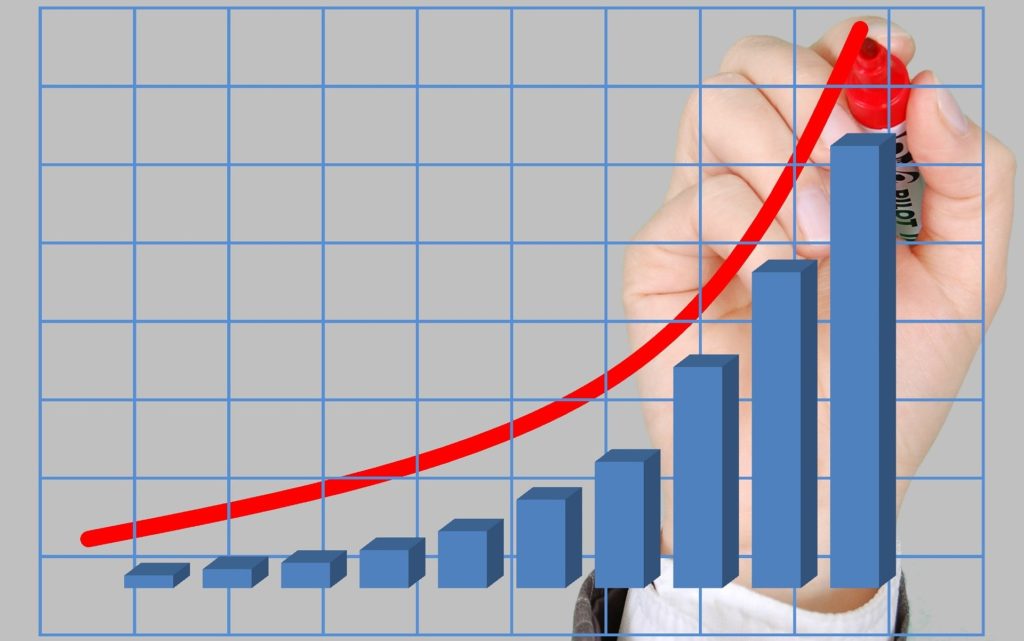 3 Ways To Increase Your Affiliate Earnings
Increasing your income whether your own or someone else's product is not easy if you don't apply a strategic method.  Because nowadays the competition it's a bit tougher, but the good news is that there's a way you can go about this.
Here Are Some Ways To Increase Your Earning In Affiliate marketing:
1. Improve Your SEO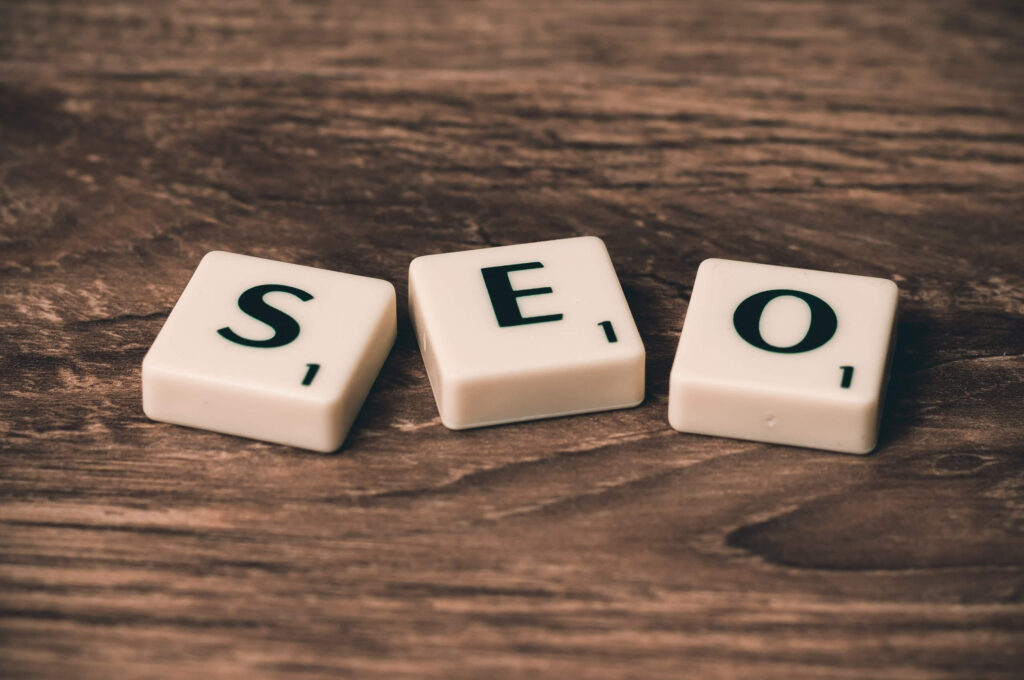 This is by far one of the best ways of increasing product sales. Search engine traffics are high quality and qualified traffic. People that visit your site from a search engine result are always looking for products or solutions to specific problems.
2. Build An Audience
The name of the game of making money online is to build an audience that knows you and trusts your recommendation.
There're various ways you can build an audience and this could be through your email list, Youtube subscriber, social media followers, etc.
Now, as you have those audiences in place, you need to engage and educate them in order to build trust and relationships, in order to sell your product to them.
Online TRUST is extremely important for your success. And it's by far the most important thing you should consider focusing on and you can get this done successfully by simply helping people solve their needs and pains. 
Learn Marketing
It's often said if you are marketing to anybody, you are marketing to nobody. If you're into this to make money, then you need to learn how to properly market your product the right way and to the right person.
You need to know who your target or ideal customers are and who may be likely to buy or interested in whatever you're promoting and target them only.
For example, you can't promote dog food to a cat owner who's looking for cat food to buy.
4 Benefit Of Joining an Affiliate Program
There're tons of benefits to joining an affiliate program. Most affiliate programs allow you to have access to different offers (products, services, tools, and software) without you applying for each of them individually.
Day in, day out internet marketer all across the globe often decide to join affiliate programs simply because of these reasons:
To Make Money
The primary reason why most online entrepreneurs decide to join affiliate programs is to make money and leave a life of freedom.
However, it's interesting that most people who join affiliates do so without any previous experience as an affiliate marketer.
It Easy To Join
It doesn't cost you a dime (no money) to join any affiliate programs and most of them approve instantly.
You Don't Have To Create Your Own Product
The cool thing about joining an affiliate program is that you don't have to go through the headache of creating your own product to make money online. 
You can simply choose someone else's product to promote and still make money.
Each Program Has It Own Commission Rate
You decide how much you want to make. You can find a program that pays a very high commission rate for promoting their product.
For example, you can join a program that pays 70% or more commission rates on every single sale you make. 
You can find some high paying affiliate programs by joining ClickBank. They have many merchants that are willing to pay you high commission for promoting their product.
Though there're many advantages of joining an affiliate program, there's also downside or disadvantages of it as well, so let's quickly take a look at that. 
 3 Disadvantages Of Affiliate programs
We all know that affiliate marketing is one of the best and popular ways of making money online and has changed many people's lives, but they're also disadvantages to it, below are a few of them to take note on.
You Don't Have Control Over The Affiliate Program
You can build an online business with affiliate marketing and become filthy rich. But the company whose product you build your business around it isn't yours.
So, you don't have any control over it and they can get you removed or blocked anytime especially when you violate their rules and regulations.
You Can Easily Lose Your Commission
Although this doesn't normally happen, some do exist. There're cases where your affiliate link gets hijacked by scammers and all your commission are been stolen.
When it happens like that you might not get your commission back. That's why you need to be careful and do a thorough research when choosing your affiliate program and also position yourself well online.
You Can't Build Loyal Customers
Building a customer base can allow you to make more money from the same customer over and over again but the truth is, When you promote someone else's product you may not be able to do so.
Once you send a customer to the vendor website, that customer may not buy anything from you again.
The only way to avoid this is to build an email list or if the product you promote is a recurring income then that's cool but you still need to build an email list to sell more different products to them.
AFFILIATE MARKETING FAQ!
Is Affiliate Marketing Easy? Affiliate marketing is a method of promoting other people's product and services, so it's not easy, there's work involved, it's not a get rich quick method as some people proclaim it to be. Research shows that 97 of people who engage in affiliate marketing fail simply because they're not willing to learn and put in the work.
Wrapping up…
In my opinion, I believe an affiliate marketing program is one of the best ways to make money from your passion and be able to build a strong personal online brand, get traffic, and market online in a variety of different ways.
If you want, you can even be an "affiliate" for your OWN products that you are currently selling, which has a lot of great benefits also. 
So it doesn't matter if you want to promote as an affiliate program or promote your own products.
[READ NEXT]… Can Affiliate Marketing Make You Rich
(Pin This Into Your Pinterest Board)
Conclusion!
Promoting affiliate programs is a great way to build a profitable online business and also increase your marketing skills.
You need to understand that, you are not the only person in the world promoting the affiliate network you join, there are tens of thousands of other people promoting that same product you are an affiliate for.
So, you need to come out with a plan and a strategic method to stand out from other affiliate marketers in order to succeed.
So, now, in Your opinion, what is an affiliate program? Let me know your thoughts in the comment below.
And if I have missed out on some point, let me know as well, and if you have any questions or help with something, don't hesitate to let me know.